'Captain Marvel' Spoiler Discussion Podcast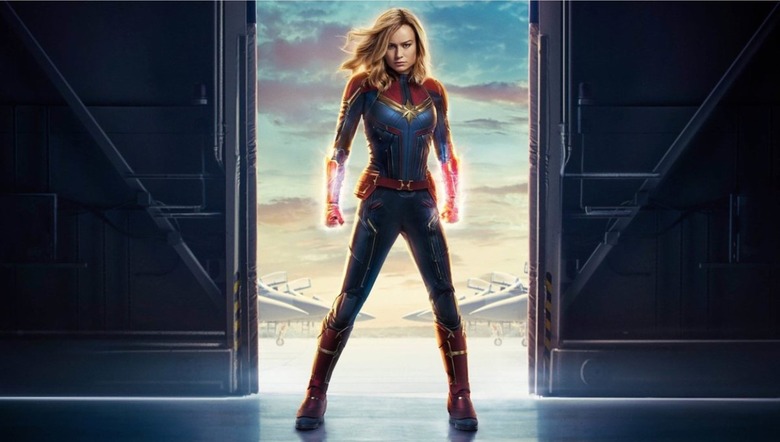 On the March 8, 2019 episode of /Film Daily, /Film editor in Chief Peter Sciretta is joined by /Film weekend editor Brad Oman, writer Hoai-Tran Bui and special guest, Sean Gerber from Superhero News and Marvel Studios News podcast to have a Captain Marvel spoiler discussion.You can subscribe to /Film Daily on iTunes, Google Podcasts, Overcast, Spotify and all the popular podcast apps (here is the RSS URL if you need it).
Opening Banter: If you haven't seen Captain Marvel, don't listen to this episode until you do!In Our Feature Presentation: A Captain Marvel Spoiler Discussion.
Stan Lee's tribute and cameo
The Skrull twist / Mendelsohn
What this means for Secret Invasion
Mar-Vell twist
Why Monica Rambeau Might Be Important To The Future of the MCU
The Tesseract:
How did Wendy Lawson get the Tesseract?
What is a Flerkin?
Why is Goose at the Government base roaming around free?
Where does the stuff inside Goose go?
Is Goose now dead?
Fury's eye injury
The Protector Initiative
The End Credits scene:
'Captain Marvel' Credits Scenes Set Up the Future and Fill in the Past of the Marvel Cinematic Universe
What can we expect in a sequel?
Could it be another prequel?
Ronan The Accuser
Is Captain Marvel too powerful for the MCU?
The Soundtrack
Other Articles Mentioned:
'Captain Marvel' Directors Ryan Fleck and Anna Boden Talk the Genius of Ben Mendelsohn, Renaming Goose the Cat, '90s Music, Stan Lee and More [Interview]
All the other stuff you need to know:
You can find more about all the stories we mentioned on today's show at slashfilm.com, and linked inside the show notes.
/Film Daily is published every weekday, bringing you the most exciting news from the world of movies and television as well as deeper dives into the great features from slashfilm.com.
You can subscribe to /Film Daily on
iTunes
,
Google Podcasts
,
Overcast
,
Spotify
and all the popular podcast apps (
RSS
).
Send your feedback, questions, comments and concerns to us at
peter@slashfilm.com
. Please leave your name and general geographic location in case we mention the e-mail on the air.
Please rate and review the podcast on iTunes, tell your friends and spread the word!
Thanks to Sam Hume for our logo.