Everything Steven Soderbergh Watched And Read In 2018, Including His Forthcoming Netflix Projects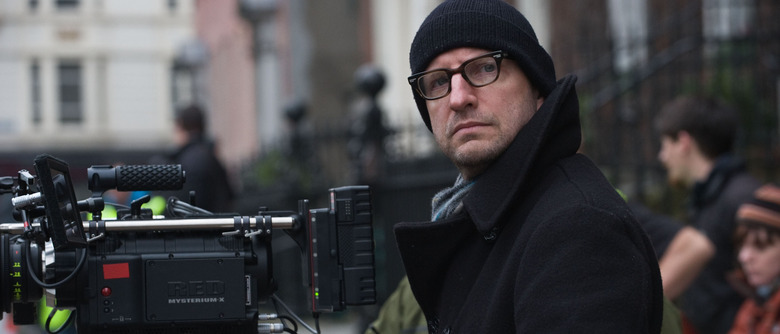 It has become a tradition for Steven Soderbergh to release a list of everything that he watched throughout the preceding year, encompassing feature films, television shows, and short films, and he certainly didn't slow down his viewing habits at all this year, even if he maybe spent too much time watching the Winter Olympics in February last year.
Last year's list from Steven Soderbergh features no less than nine viewings of Ocean's 8, and since the movie didn't come out until June 5, 2018, it should come as no surprise that he watched the movie another three times leading up to its release. Viewing of his own work also included a cut of the sports drama High Flying Bird, which was surprising since he watched it less than a month after production started. Also included is The Laundromat towards the end of the year, Soderbergh's movie about The Panama Papers.
As for the rest of what Steven Soderbergh watched, you can find out more below.
Not even Steven Soderbergh can avoid getting sucked int Peak TV as he took the time to watch Atlanta, Better Call Saul, Maniac, Silicon Valley, Billions and a throwback to Absolutely Fabulous. He also took the time to check out Black Mirror: Bandersnatch, which I'd be interesting in hearing his reaction to, especially after he crafted a similar kind of audience-engaging project with Mosaic.
On the movie side of things, Soderbergh wrapped up the year with awards contenders like A Star Is Born (which inspired him to watch the documentary Lady Gaga: Five Foot Two), Roma, Widows, Vox Lux, If Beale Street Could Talk, BlacKkKlansman and more.
It's also interesting to note that Soderbergh watched Ready Player One twice this year, and his first viewing inspired him to go back and watch Jurassic Park. Other blockbuster viewings included Mission: Impossible – Fallout and Crazy Rich Asians.
Anyway, here's the full list of everything Steven Soderbergh watched in 2018 from his own website:
All caps, bold: MOVIE
All caps, bold, asterisk: SHORT*All caps: TV SERIES
Italics: Book
Quotation marks: "Play"
Italics, quotation marks: "Short Story"
01/01 NK3, Michael Tolkin, DAVE CHAPPELLE: THE BIRD REVELATION
01/02 "The Wolves" by Sarah DeLappe
01/03 ALL THE MONEY IN THE WORLD, ADVISE AND CONSENT
01/04 NOTORIOUS, Your Dad Stole My Rake, Tom Papa
01/05 US FEMALE FIGURE SKATING CHAMPIONSHIPS
01/06 Fire and Fury: Inside the Trump White House, Michael Wolff
01/08 Everybody Lies: Big Data, New Data, and What the Internet Can Tell Us About Who We Are, Seth Stephens-Davidowitz
01/09 SHE'S LOST CONTROL, GLENGARRY GLEN ROSS
01/13 Why We Sleep: Unlocking the Power of Sleep and Dreams, Matthew Walker, DATELINE
01/14 THE NARROW MARGIN('52), THE CANDIDATE
01/18 The Perfect Nanny, Leila Slimani
01/19 KATT WILLIAMS: GREAT AMERICA
01/20 THE NAKED CITY, WHISKY GALORE!
01/21 WHAT'S UP, DOC?
01/22 Crazy Rich Asians, Kevin Kwan, UNSANE
01/24 A Guide for Murdered Children, Sarah Sparrow
01/26 DIRTY MONEY: HARD NOX
01/27 Pachinko, Jin Min Lee, DIRTY MONEY: THE MAPLE SYRUP HEIST
01/28 DIRTY MONEY: DRUG SHORT, LAWRENCE OF ARABIA
01/29 THE APARTMENT
01/30 A FANTASTIC WOMAN
02/01 "Bronze" Jeffrey Eugenides, BUTCH CASSIDY AND THE SUNDANCE KID
02/02 THE MACINTOSH MAN
02/03 SUBURBICON, DIRTY MONEY: PAYDAY, 48 HRS
02/04 The Monk of Mohka, Dave Eggers
02/06 THE KREMLIN LETTER
02/07 THE HIT ('84)
02/08 2018 WINTER OLYMPICS
02/09 THE LOOKING GLASS WAR, LOVELESS
02/11 In Every Moment We Are Alive, Tom Malmquist, 2018 WINTER OLYMPICS
02/12 THE SPY WHO CAME IN FROM THE COLD, I'M ALAN PARTRIDGE
02/13 GATE OF HELL, THE GODFATHER
02/14 The Red-Haired Woman, Orhan Pamuk. CHRIS ROCK: TAMBORINE, THREE DAYS OF THE CONDOR
02/15 THE SOCIAL NETWORK, THE HUSTLER, "Stanville" Rachel Kushner
02/16 Doting, Henry Green, I'M ALAN PARTRIDGE, 2018 WINTER OLYMPICS
02/17 2018 WINTER OLYMPICS
02/18 2018 WINTER OLYMPICS
02/20 2018 WINTER OLYMPICS
02/21 2018 WINTER OLYMPICS
02/22 2018 WINTER OLYMPICS
02/23 I'M ALAN PARTRDIGE (2)
02/25 "Trojan Women" by Euripides
02/27 Begin principal photography on HIGH FLYING BIRD
03/03 ALL ABOUT EVE, BARBARELLA, DATELINE
03/10 VANITY FAIR CONFIDENTIAL, DAS BOOT (restored director's cut)
03/11 STORY OF A PROSTITUTE, "Mrs. Calthorpe" William Trevor, THE AMERICANIZATION OF EMILY
03/12 ATLANTA (3)
03/13 ATLANTA (2), ANNIHILATION
03/14 ATLANTA
03/15 ATLANTA (2), OCEAN'S EIGHT
03/17 HIGH FLYING BIRD, Hotel du Lac, Anita Brookner, ATLANTA, DATELINE, VERONIKA VOSS, DUNE('84)
03/18 RICKY GERVAIS: HUMANITY
03/20 Asymmetry, Lisa Halliday, OCEAN'S EIGHT
03/23 HIGH FLYING BIRD
03/24 Built, Roma Agraval, 48 HRS, ATLANTA
03/25 SILICON VALLEY
03/26 HIGH FLYING BIRD, BILLIONS
03/27Skin in the Game, Nassim Nicholas Taleb
03/28 Live Cinema and Its Techniques, Francis Ford Coppola
03/29 ATLANTA, KNOWING ME KNOWING YOU WITH ALAN PARTRIDGE
03/30 MRS., Caitlin Macy
03/31 EVERYTHING GOES WRONG, THE ZEN DIARIES OF GARRY SHANDLING (PART ONE), SÉANCE ON A WET AFTERNOON
04/01 YOUTH OF THE BEAST, OTHELLO ('52)
04/02 SILICON VALLEY, THE LADYKILLERS ('55)
04/05 ATLANTA
04/06 WILD, WILD COUNTRY (3)
04/07 DATELINE, DAISIES, SEVEN DAYS IN MAY ('64), PANIC ROOM, 48 HRS
04/08 SILICON VALLEY
04/10 BILLIONS, FORBIDDEN PLANET, 2001: A SPACE ODYSSEY, DESISTFILM*,WEDLOCK HOUSE: AN INTERCOURSE*
04/11 DISOBEDIENCE
04/12 ATLANTA
04/14 DOG STAR MAN('61-'64)
04/15 Trick Baby, Iceberg Slim, SILICON VALLEY, BILLIONS
04/17 PENNIES FROM HEAVEN('81)
04/18 BEIRUT
04/20 ATLANTA, GREG DAVIS: YOU MAGNIFICENT BEAST, DATELINE (2)
04/21 BROADCAST NEWS, BRAM STOKER'S DRACULA ('92)
04/22 Space Odyssey, Michael Benson
04/24 OCEAN'S EIGHT, "Travesties" by Tom Stoppard
04/28 ATLANTA, GRADUATION, BILLIONS
04/29 SILICON VALLEY, BILLIONS
04/30 THE SERVANT
05/01 2001: A SPACE ODYSSEY
05/05 Elastic, Leonard Mlodinow, 48 HRS, JOHN MULANEY: KID GORGEOUS
05/08 CHINATOWN
05/09 THE DENVER AIRPORT CONSPIRACY (by SEA)
05/10 The Sky is Falling, Peter Biskind, THE FIREMAN'S BALL, VANITY FAIR CONFIDENTIAL, LAST YEAR AT MARIENBAD
05/11 REVENGE('18), DATELINE
05/12 The Italian Teacher, Tom Rachman, ROOM 104, ANON, 48 HRS, APOCALYPSE NOW,CATCH-22
05/13 Tangerine, Christine Mangan, EVIL GENIUS (4), SILICON VALLEY, Fear of Dying, Erica Jong
05/15 BELOW DECK (2), BILLIONS
05/18 BELOW DECK (2)
05/19 BELOW DECK (2), WOMEN IN LOVE
05/20 BELOW DECK, TOBY DAMMIT
05/21 BELOW DECK (4), BARREN*, BOB & DALE*, DRIVING HOME*, ENOUGH IS ENOUGH*, ESTA NINA LINDA*, THE HERON*, MADRE MARIA*, ROSA'S ESPERANZA*, RUBBERNECK*, SNOWFLAKES*, SUCKER*, THE UNITED STATES OF PARANOIA* 
05/24BELOW DECK (3)
05/25 BELOW DECK (5)
05/26 BELOW DECK (3)
05/27 BELOW DECK (2)
05/28 SWEPT AWAY('74), The Mars Room, Rachel Kushner, JE T'AIME, JE T'AIME, BELOW DECK (5)
05/29 JAWS
06/01 BELOW DECK (5)
06/02 BELOW DECK (2)
06/03 SEVEN BEAUTIES, BELOW DECK (4)
06/04 BELOW DECK (2), HIGH FLYING BIRD
06/05 BOMBSHELL: THE HEDY LAMARR STORY
06/06 THE THICK OF IT
06/07 BEHIND THE WHITE GLASSES, THE _______ REPORT
06/08 DATELINE
06/09 BILLIONS, LADY MACBETH, THE ASPHALT JUNGLE
06/10 AMERICAN ANIMALS
06/11 BILLIONS, RIFFIFI
06/12 DIRTY HARRY
06/14 How to Change Your Mind, Michael Pollan, THE SEDUCTION OF MIMI
06/15 THE _______ REPORT
06/16 DATELINE, 48 HRS
06/17 THE _______ REPORT, THE FUGITIVE KIND, GONE GIRL
06/22 READY PLAYER ONE
06/23 JURASSIC PARK
06/28 THOROUGHBREDS, PSYCHO ('60)
06/29 CALIBRE, DATELINE
06/30 A VERY ENGLISH SCANDAL (3), HARPER
07/01 When Einstein Walked With Godel, Jim Holt
07/02 The Fixer, Bradley Tusk
07/06 THE _______ REPORT, GAUDI'S MESSAGE, PANIC ROOM
07/07 HANNAH GADSBY: NANETTE, THE LIVES OF ELIZABETH AND ESSEX
07/08 THE TENANT, TOMMY
07/10 LOVE & FRIENDSHIP
07/11 A MATTER OF LIFE AND DEATH, THE _______ REPORT
07/12 Eileen, Ottessa Moshfegh
07/13 JIM JEFFERIES: THIS IS ME NOW, DATELINE
07/14 My Year of Rest and Relaxation, Ottessa Moshfegh, THE SCARLETT EMPRESS, MARLENE DIETRICH IN DENMARK 1971
07/18 JAWS
07/19 "Now More Than Ever", Zadie Smith
07/20 AUTHOR: THE JT LEROY STORY
07/21 BATHTUBS OVER BROADWAY, THE DEVIL IS A WOMAN
07/27 ILIZA: ELDER MILLENIAL, ILIZA: CONFIRMED KILLS, THE BREAKING POINT
07/28 THE DAY OF THE JACKAL
07/29 THE SILENCE ('63)
07/31 COMEDY CENTRAL ROAST OF BRUCE WILLIS, CARNAL KNOWLEDGE
08/01 CALIFORNIA SUITE
08/04 War on Peace: The End of Diplomacy and the Decline of American Influence, Ronan Farrow
08/05 WHO'S AFRAID OF VIRGINIA WOOLF?
08/06 ARMY OF SHADOWS, BETTER CALL SAUL
08/07 THE _______ REPORT
08/08 The Flamethrowers, Rachel Kushner, The Incendiaries, R.O. Kwon
08/09 PETULIA, SUCCESSION
08/10 DEMETRI MARTIN: THE OVERTHINKER
08/11 OUT OF THE PAST, THE CENTURY OF THE SELF (PARTS 1, 2, 3)
08/12 MISSION IMPOSSIBLE: FALLOUT
08/13 THE CENTURY OF THE SELF (PART 4), CRUEL GUN STORY
08/16 YOUNG MAN WITH A HORN, Michael Curtiz: A Life in Film, Alan K. Rode
08/18 YANKEE DOODLE DANDY, THE THICK OF IT (2)
08/20 My Struggle: Books 6-9 The End, Karl Ove Knausgaard, BETTER CALL SAUL, PASSAGE TO MARSEILLE
08/21 Hits and Misses,Simon Rich
08/23 FILMWORKER
08/24 HEREDITARY, THE THING FROM ANOTHER WORLD('51)
08/25 Caught, Henry Green, THE MAYFAIR SET (PARTS 1-4)
08/26 ALL WATCHED OVER BY MACHINES OF LOVING GRACE (PARTS 1-3), ABSOLUTELY FABULOUS (3)
08/27 BETTER CALL SAUL, THE ELEMENT OF CRIME
08/28 THE _______ REPORT, ABSOLUTELY FABULOUS (2)
08/31 MARWENCOL, ABSOLUTELY FABULOUS (2)
09/01 ABSOLUTELY FABULOUS (2), FLAMINGO ROAD
09/02 ABSOLUTELY FABULOUS (2), TUCKER: THE MAN AND HIS DREAM, THE GOODBYE GIRL
09/03 AFI LIFETIME ACHIEVEMENT AWARD: A TRIBUTE TO GEORGE CLOONEY, BETTER CALL SAUL
09/04 Party Going, Henry Green
09/07 DEMON SEED
09/08 DOUBLE INDEMNITY, KING KONG ('76)
09/09 THE RIDER, THE THICK OF IT (2)
09/10 LOVE*, REMIND ME*, BETTER CALL SAUL
09/11 IT FELT LIKE A KISS,NANCY 
09/12 Convenience Store Woman, Sayaka Murata, Crudo, Olivia Laing
09/13 THE ANDROMEDA STRAIN('71)
09/14 THE LAND OF STEADY HABITS
09/15 Concluding, Henry Green, FOREVER, ALVAREZ VS GOLOVKIN, OUR MAN IN HAVANA
09/16 Babylon, Yasmina Reza, FOREVER (2), THE CHILDREN ACT 
09/17 70THANNUAL EMMY AWARDS, BETTER CALL SAUL
09/19 EVIL UNDER THE SUN, FABERGE: A LIFE OF ITS OWN
09/20 READY PLAYER ONE
09/22 Cherry, Nico Walker, THE PROFESSIONALS('66), DATELINE, PORTRAIT OF JASON
09/23 MANDY
09/24 BETTER CALL SAUL
09/26 MANIAC (2), THE LONG VOYAGE HOME
09/27 MANIAC
09/28 D.L. HUGHLEY: CONTRARIAN
09/29 MANIAC (3)
10/01 Underbug: An Obsessive Tale of Termites and Technology, Lisa Margonelli, MANIAC (2), FOX AND HIS FRIENDS, JIMI PLAYS MONTEREY
10/03 MANIAC (2)
10/05 Flights, Olga Tokarczuk, BETTER CALL SAUL, THE GOODBYE GIRL
10/06 CALIFORNIA SUITE, PLAZA SUITE, TEA WITH THE DAMES, MACGREGOR VS NURMAGOMEDOV
10/07 NO STONE UNTURNED
10/08 BETTER CALL SAUL
10/09 Inadvertent, Karl Ove Gnausgaard, FOREVER (2)
10/10 NIGHT TRAIN TO MUNICH, FOREVER
10/11 BLACK '47
10/12 THE ROMANOFFS (2)
10/13 THE SUNSHINE BOYS
10/15 Begin principal photography on THE LAUNDROMAT
10/19 THE ROMANOFFS
10/20 TRACEY ULLMAN'S SHOW, THE ALPS MURDERS
10/25 THE ROMANOFFS
10/27 TRACEY ULLMAN'S SHOW
10/31 EIGHT HOURS DON'T MAKE A DAY (2)
11/01 THE ROMANOFFS
11/02 THE SPY WHO WENT INTO THE COLD, MARATHON MAN
11/03 TRACEY ULLMAN'S SHOW, DEUTCHLAND '86 (3), THE TERMINAL MAN
11/06 THE HEADLESS WOMAN
11/10 THE ROMANOFFS, OPERATION ODESSA
11/11 CRAZY RICH ASIANS
11/14 SALLY4EVER
11/17 "Show Recent Some Love", Sam Lipsyte, The End of the Moment We Had, Toshiki Okada, THE ROMANOFFS, SALLY4EVER, THE GETAWAY('72)
11/18 ENEMIES: THE PRESIDENT, JUSTICE, AND THE FBI, SALLY4EVER, BETRAYAL: THE PLOT THAT WON THE WHITE HOUSE
11/21 SEARCHING
11/22 Lake Success, Gary Shteyngart, THEY'LL LOVE ME WHEN I'M DEAD, COLD WAR, THE ROMANOFFS, ALL ABOUT EVE
11/23 TIGER VS PHIL, The Feral Detective, Jonathan Lethem, MINDHUNTER (2), THE KNACK...AND HOW TO GET IT
11/24 SALLY4EVER (2), LES DAMES DU BOIS DE BOLOGNE
11/25 SHIRKERS
11/27 The Witch Elm, Tana French, A STAR IS BORN ('18)
11/30 THE ROAD WARRIOR, KEY LARGO (bye FilmStruck!)
12/01 HAPPY AS LAZZARO
12/02 Transcription, Kate Atkinson, SALLY4EVER, THE RIVER WILD, INSIDE SYRIA'S DEADLY DYNASTY
12/03 Bad Blood: Secrets and Lies in a Silicon Valley Startup, John Carreyrou
12/09 SALLY4EVER, VOX LUX
12/10 PATHS OF GLORY
12/13 THE LAUNDROMAT
12/14 WE ARE NOT DONE YET, THE FAVOURITE
12/15 WIDOWS, ROMA, AT ETERNITY'S GATE
12/16 GAGA: FIVE FOOT TWO
12/20 THE LAUNDROMAT
12/21 VILLAIN('71)
12/22 SHAME ('68), ABSOLUTELY FABULOUS, THE INCREDIBLES 2, CIVILIZATIONS (3)
12/23 A NEW LEAF, 2001: A SPACE ODYSSEY
12/24 The Great Eastern, Howard A. Rodman, STALAG 17, THE TOWERING INFERNO, CIVILIZATIONS
12/25 MINORITY REPORT
12/26 THE 5,000 FINGERS OF DR. T, In Our Mad and Furious City, Guy Gunaratne, BELOW DECK (6)
12/27 BLACKKKLANSMAN, BELOW DECK (6)
12/28 EIGHT HOURS DON'T MAKE A DAY, BANDERSNATCH, BELOW DECK (2), DATELINE
12/29 CIVILIZATIONS, BELOW DECK (4), THE DAY OF THE JACKAL, 48 HOURS
12/30 BELOW DECK (10)
12/31 IF BEALE STREET COULD TALK, 21 Lessons for the 21stCentury, Yuval Noah Harari, CIVILIZATIONS, BELOW DECK (2), THE SOCIAL NETWORK