'The Punisher' Season 2 Teaser: Frank Castle Doesn't Need A Stinkin' Pardon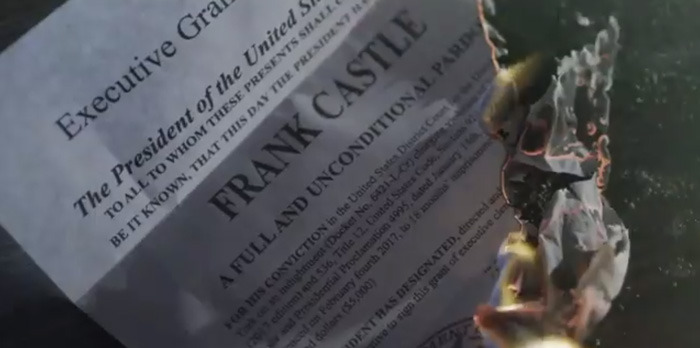 Even though Netflix has been canceling their Marvel television shows like Daredevil, Luke Cage and Iron Fist, there are still two that remain (for now). Jessica Jones has a third season coming sometime this year, and Jon Berthal is also returning as The Punisher. And it would appear that the vigilante who debuted in the Daredevil series will be the first to hit the streaming service in 2019.
A new teaser for The Punisher season 2 arrived on New Year's Day, teasing the return of Frank Castle. There's not much we can glean from the teaser, but it does show us what The Punisher ends up doing with an important piece of paper he received at the end of the first season.
Watch The Punisher season 2 teaser below.
The Punisher Season 2 Teaser
Back to work. pic.twitter.com/egCCC2qX3y

— The Punisher (@ThePunisher) January 1, 2019
Accompanied by a tweet that says "Back to work," it's clear that something inspires Frank Castle to burn the presidential pardon he received at the end of the first season. We're not sure what inspires him to give it up and get back to business, but this is Frank Castle we're talking about, so he was never going to sit around quietly.
Details aren't abundant on the second season of The Punisher, but we do know Ben Barnes will be returning as Billy Russo, and set photos indicate that he might be going full Jigsaw this time. His look isn't quite as dramatic as it was in the comic books, where the character looked like some kind of Two-Face ripoff, but instead his face is pretty scarred up and repaired with surgery.
Otherwise, Deborah Ann Woll (Karen Page), Amber Rose Revah (Dinah Madani), and Jason R. Moore (Curtis Hoyle) will be reprising their roles from the first season. Plus, the show will add some cast members, including Corbin Bernsen (Anderson Schultz), Annette O'Toole (Eliza Schultz), Giorgia Whigham (Amy Bendix), Floriana Lima (Krista Dumont), and Josh Stewart (John Pilgrim).
As for when The Punisher season 2 arrives on Netflix, the teaser above remains vague by only saying "coming soon," but ComicBook.com noticed a since-deleted Twitter update from the Netflix Twitter account for the Middle East and North Africa revealed the release date as January 18, so that's probably a safe bet.
Of course, fans should probably keep their excitement in check. As of now, the fate of Jessica Jones and The Punisher is still up in the air, but I wouldn't count on Netflix keeping those shows around. They don't seem to be too pleased with Disney starting their own streaming service. But there's a chance Netflix's axe could be a blessing in disguise, because Disney might end up reviving those shows for their Disney+ streaming service. Maybe. It's all a big mystery.