'The Mandalorian' Reveals Droid Bounty Hunter IG-88 On The 'Star Wars' Show Set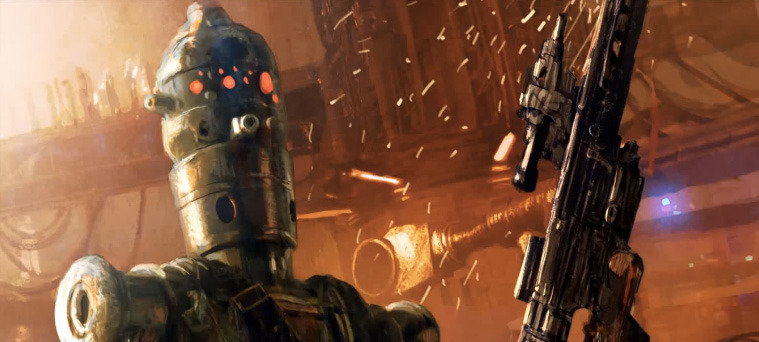 Even though The Mandalorian has officially revealed the cast of the first live-action Star Wars series coming to Disney+ in 2019, there are still plenty of details under wraps. However, one of the rumored elements of the series appears to have been confirmed by a set photo that executive producer Jon Favreau posted to Instagram on Christmas Day. The photo reveals the fan-favorite droid bounty hunter IG-88 on a green screen set, confirming the character's involvement in the show.
Check out IG-88 in The Mandalorian below.
Jon Favreau Reveals IG-88 in The Mandalorian
If you're not one of the hardcore Star Wars fans who immediately knows who IG-88 is, the character first appeared in The Empire Strikes Back as one of several bounty hunters the Empire had recruited to track down our Rebel heroes. This would seem to confirm the recent rumor that the aforementioned line-up of bounty hunters will be part of The Mandalorian somehow, all of which have become fairly popular among Star Wars fans, though not exactly as popular as Boba Fett.
Obviously this is a practical IG-88 on the set of The Mandalorian, but presumably we'll see the droid in action, so he'll likely be put into motion with visual effects. After all, his body is too thin to allow for a human to portray the character like C-3PO, so that would be the easiest way to bring him to life. But I wonder if someone of note will be brought in to provide the droid's robotic voice. We'll have to wait and see.
Hopefully this means the rest of the bounty hunters, including Bossk, Dengar, 4-LOM, and Zuckuss will be part of the proceedings as well. Their presence might also confirm the rumor that there's a MacGuffin at the center of the show that's a human baby. That baby might be the key to bringing back the Mandalorian people after their fall during The Clone Wars, but that's only a rumor at this point. The question is whether Boba Fett will end up being involved in the series somehow too.
The Mandalorian stars Pedro Pascal in the title role of a lone Mandalorian gunfighter in the outer reaches of the galaxy. Carl Weathers, Werner Herzog, Nick Nolte and Gina Carano also have key roles along with Emily Swallow (Supernatural), Omid Abtahi (American Gods) and Giancarlo Esposito (Breaking Bad). The series will have episodes directed by Dave Filoni, Taika Waititi, Bryce Dallas Howard, Deborah Chow, and Rick Famuyiwa.The Mandalorian doesn't have an exact release date, but it will hit Disney+ in 2019.