The 30 Merriest Animated Christmas Movies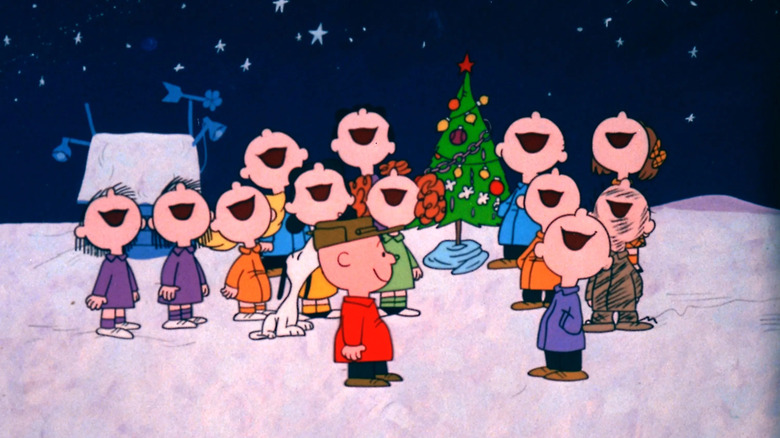 AppleTV+
What makes Christmas special to you? Is it the decorations? Snacks? Good tunes while unwrapping presents? For me and others who love movies and TV, the holiday season doesn't feel complete without some animated content. From TV movies featuring stop-motion creations to hand-drawn tales of heartwarming whimsy, each of these tales brings something unique to jolly celebrations. So much so, that some of these iconic staples have changed how the world looks at Christmas.
But with so many animated pieces to choose from, it seems only fitting to discuss the ones that fill us with the most yuletide cheer. Here, we'll examine everything from Anime to Rankin/Bass-style animation and beloved characters like Charlie Brown and The Grinch. We'll take this snowy path, discovering what makes these projects such merry treasures in the first place. Put on your favorite fuzzy slippers, grab a cup of hot cocoa, and get ready to dive deep into the world of animated Christmas movie magic.
Tokyo Godfathers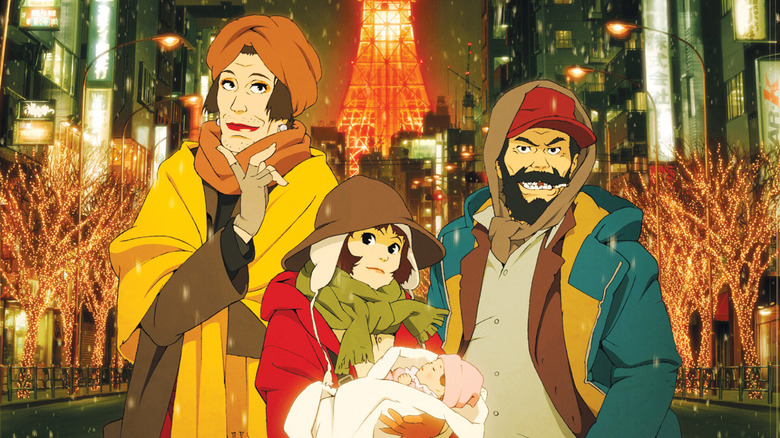 Sony Pictures Entertainment Japan
The holiday legitimacy of Satoshi Kon's 2003 film may be up for debate. But the Frank Capra-esque dramedy that bursts to the seams with empathy makes it a Christmas movie in my book! Loosely based on Peter B. Kyne's novel "Three Godfathers," "Tokyo Godfathers" is a film that follows three unhoused people — a depressed alcoholic named Gin (Tōru Emori), a trans woman named Hana (Yoshiaki Umegaki), and a runaway teen named Miyuki (Aya Okamoto) — discover an abandoned baby on Christmas Eve. The trio decides to find the baby's parents, exploring the seedy underbelly of Tokyo in a heartwarming film: It's an oddly sentimental turn for the anime director — all about the miracle of Christmas.
How The Grinch Stole Christmas!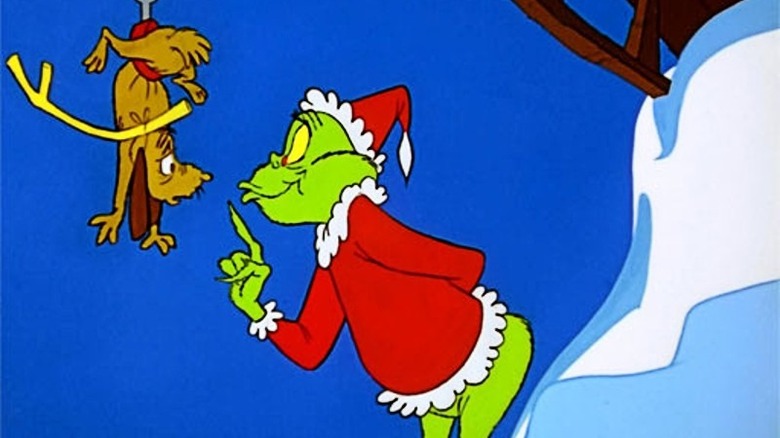 MGM
The live-action and CGI remakes could never live up to the original "How the Grinch Stole Christmas!," which runs at a tight 26 minutes. We don't need any more minutes to tell this classic Dr. Seuss story. The 1966 animated special really has it all from the beginning: Boris Karloff as the narrator, Thurl Ravenscroft's perfect rendition of "You're a Mean One, Mr. Grinch," and a simple, no-frills adaptation of a story about a surly monster who tries to steal Christmas.
Rudolph the Red-Nosed Reindeer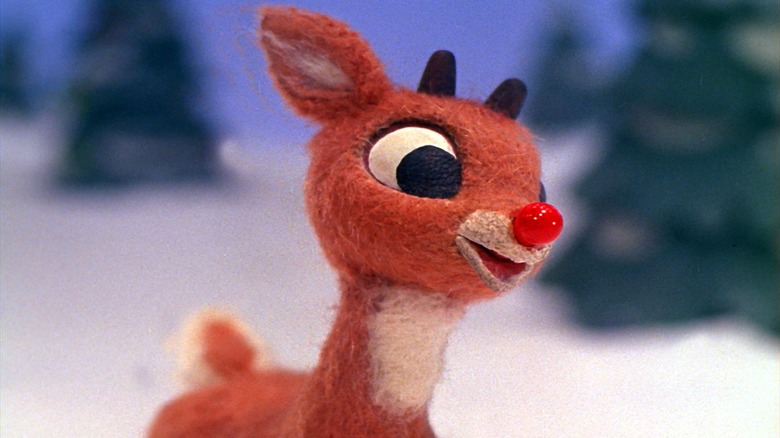 NBCUniversal
"Rudolph the Red-Nosed Reindeer" is the first Rankin/Bass holiday special that spawned an entire industry of stop-motion holiday movies including "The Little Drummer Boy," "Santa Claus is Comin' to Town," and "Jack Frost." This 1964 television special is what you think of when someone mentions stop-motion Christmas movies. But "Rudolph, the Red-Nosed Reindeer" is the original. The 55-minute film follows the classic tale of Rudolph, an outcast reindeer, who ultimately saves Christmas because of his shiny, red nose. With its stunning animation and the iconic recording of "Rudolph the Red-Nosed Reindeer" by Burl Ives, the Rankin/Bass special will forever be a charming classic film for the Christmas season.
A Charlie Brown Christmas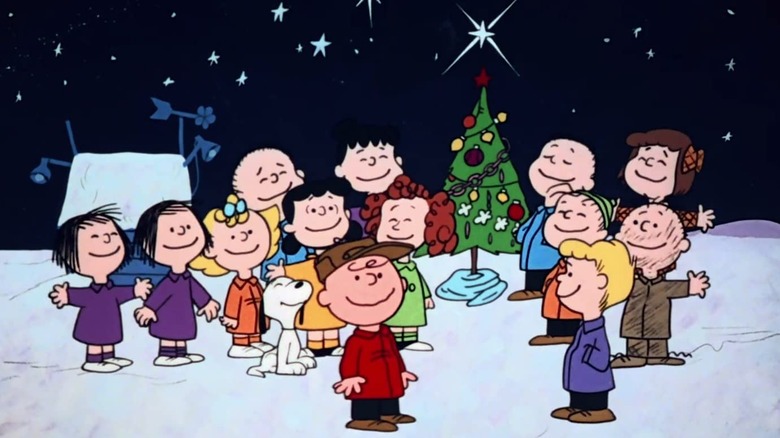 Apple TV+
Come on, you can't have Christmas without the "Peanuts" gang. The 1965 television special has been a staple of the winter season for 50-plus years. (And it will continue to be a staple long after we're dead.) But despite being synonymous with the cheery Christmas season, "A Charlie Brown Christmas" works so well because of its undercurrent of melancholy. The short special follows Charlie (Peter Robbins) as he falls into a depression that is only deepened by the rampant commercialism displayed by his peers — hanging up Christmas lights, exchanging presents, and mocking Charlie's pitiful drooping tree. But in classic holiday special fashion, the gang learns the true spirit of Christmas and comes together in a charming sing-a-long of "Hark! The Herald Angels Sing."
Rise of the Guardians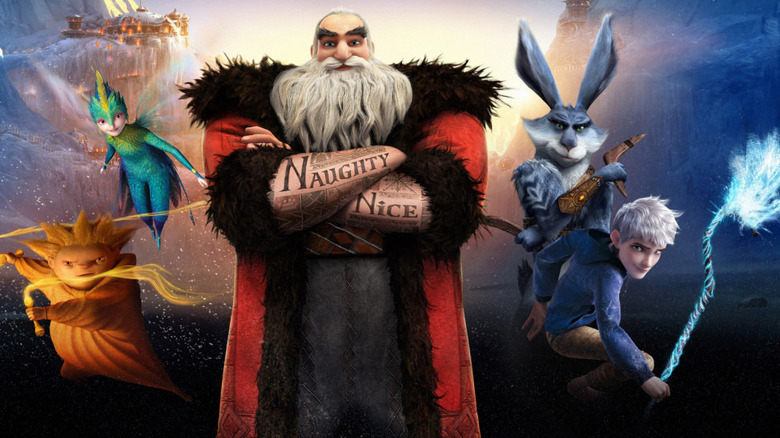 Paramount Pictures
Christmas is usually about nostalgia. But every now and then, a Christmas movie comes in to shake up our usual line-up of 1960s television specials and re-runs of "It's a Wonderful Life." While most modern animated Christmas movies are embarrassingly schmaltzy, the 2012 CGI-animated "Rise of the Guardians" manages to craft an epic adventure that is heavy in sentiment and breathtaking animated sequences.
Known primarily as the "Hot Jack Frost Movie" (voiced by Chris Pine, he's almost an unfairly attractive animated character), "Rise of the Guardians" is not to be confused with the much worse "Legends of the Guardians" owl film. This 2012 film tells the tale of the Guardians — Santa Claus (Alec Baldwin), the Tooth Fairy (Isla Fisher), the Easter Bunny (Hugh Jackman), and the Sandman — who enlist the trickster spirit Jack Frost (Pine) to stop the evil Pitch Black (Jude Law) from engulfing the world in darkness. Directed by Peter Ramsey (co-director of "Spider-Man: Into the Spider-Verse"), "Rise of the Guardians" is a surprisingly affecting and wildly imaginative film.
The Polar Express (2004)
When thinking of divisive Christmas movies, "The Polar Express" takes the cake (and then some)! Adapted from the beloved children's book by Chris Van Allsburg, this flick aims to have any non-believer discover the magic of Christmas (including the lead protagonist) change by the film's end. While it certainly has its cozy elements, what ultimately makes this Robert Zemeckis film so fascinating is how it utilizes its animation technology.
From the overabundance of Tom Hanks to the soulless stares of its varied cast of nameless characters, Zemeckis' obsession with pushing the boundaries of what motion capture could do in 2004 is the film's biggest blessing and curse. Sure, some sequences look incredible almost 20 years later. But most fall into a strange, uncanny valley that only gets more unsettling with time. Still, despite its odd quirks, it's hard not to fall under its spell with its heartwarming conclusion.
Tenchi The Movie 2: Daughter of Darkness (1997)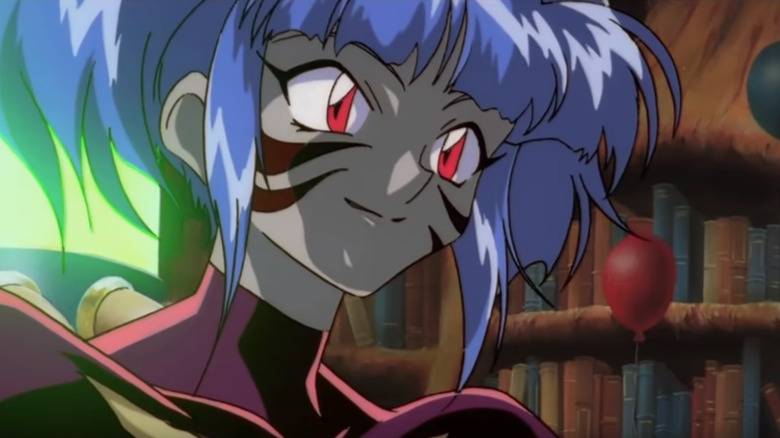 Toei Company/Funimation
In the tradition of holiday movies, some are more fun than great work. "Tenchi The Movie 2: Daughter of Darkness" is a strange piece of anime history, featuring everything from space royalty, toxic crushes, kaiju teddy bears, and, of course, Christmas! Protagonist Tenchi Masaki (Yūko Mizutani) meets a mysterious girl named Mayuka (Junko Iwao), who claims to be his daughter from the future. But who is her mother? How did she arrive at Tenchi's door? That's what the Masaki household — including all of Tenchi's possible alien girlfriends — is wondering, along with why she's so interested in an intergalactic holiday that's aesthetically similar to our merriest of Earth celebrations.
While not meant for the casual viewer nor the run-of-the-mill anime fan, "Tenchi The Movie 2: Daughter of Darkness" is for adult viewers looking for something that feels more akin to "Gremlins" than anything on the Hallmark Channel. How so? Well, does your merry content contain a giant battle featuring demonic toys and an equally creepy anime girl dressed as Santa? (I would wager not too many.) So if you already know how unhinged '90s anime can be, "Daughter of Darkness" will likely be a Christmas ride you'll never forget.
Arthur Christmas (2011)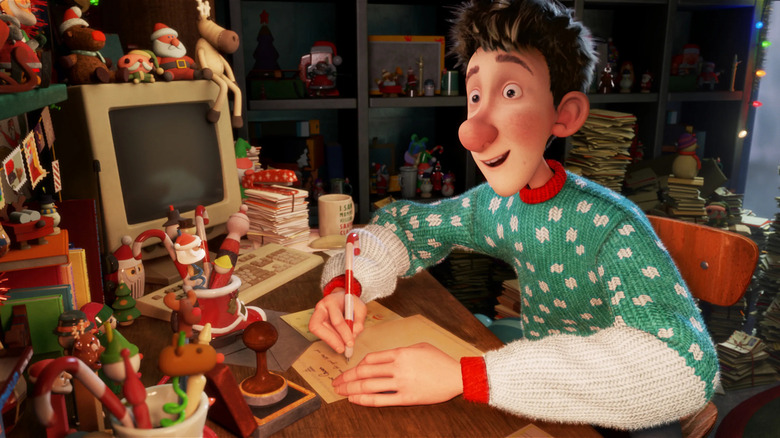 Sony Pictures
A movie that's as cozy as a holiday sweater, Aardman Animation's "Arthur Christmas," directed by Sarah Smith and Barry Cook, is a love letter and a commentary on Christmas. In the film, audiences witness how Santa (Jim Broadbent) has divided his toy-delivering duties between his sons and a hoard of tech-savvy elves. But when Santa's youngest child, Arthur (James McAvoy), finds a child's gift has gone missing due to the new tech, it becomes his mission to fix the little girl's Christmas the old-fashioned way.
With an incredible voice cast and gorgeous animation, "Arthur Christmas" is a hidden gem within the holly, jolly media landscape. Not only does it contain all of the usual charms of other classics within the genre, but it's also a film that isn't afraid to discuss the pros and cons of modern-day Christmas trappings in comedically brilliant ways. Plus, at the heart of the movie is a message about how kindhearted, genuine people deserve to be justly rewarded. That's about as magical as any Christmas movie lesson can be!
The Snowman (1982)
Set to Howard Blake's beautiful melodies, the Academy Award-nominated adaptation of Raymond Briggs' "The Snowman" weaves a tale that's enchanting and haunting. Crafted without dialogue, "The Snowman" follows a young boy who creates a magical snowman on a snowy day. Audiences see the pair try on clothes, ride a motorcycle, and fly into the sky all in one night. But even with all of their fantastical encounters, the beauty of this adventure is the friendship between the two.
Containing stunning watercolor-inspired visuals and delightful animation, the magnificence of "The Snowman" is how it captures the magic of childhood. From the simple sequences of the boy getting ready inside his house to the luscious birds-eye-view shots of locations, director Dianne Jackson portrays Briggs' tale with a sense of wonder that few films contain. Yet the reason "The Snowman" lands on this list is its broad appeal, as it leaves just as big an impression on young viewers as it does on those young at heart.
The Nutcracker Prince (1990)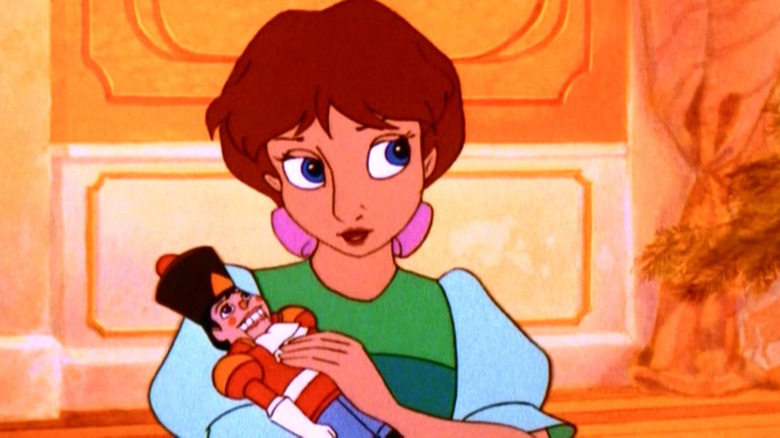 Lacewood Productions
In the '90s, movie studios tried their hardest to reproduce the brilliance of Disney's animated renaissance. One example is Paul Schibli's "The Nutcracker Prince," a big-eyed adaptation of the classic E. T. A. Hoffmann tale. The story follows Clara (Megan Follows), a curious girl whose gifted a nutcracker from her magical godfather, Uncle Drosselmeier (Peter Boretski), on Christmas Eve. As everyone in her house falls asleep, Clara discovers that her new present may be a boy under a curse — making her prim and proper life a bit more exciting. But when the Mouse King (Mike MacDonald) comes to seek his revenge against "the Prince of the Dolls," it's up to Clara and the Nutcracker (Kiefer Sutherland) to protect their friends and family.
With its stacked cast of voice talent and its sprinklings of rotoscoped-animation dancing, "The Nutcracker Prince" is hard not to love. From the Victorian-era vibes of the opening sequence to the sweeping finale, it's a movie that captures the romantic notions of the holidays charmingly. Sure, the Mouse King is annoying, and the explanation of The Nutcracker's origins is downright odd, but that still doesn't take away from what the film gets right most of all: that growing up (especially during Christmas) is scary.
Annabelle's Wish (1997)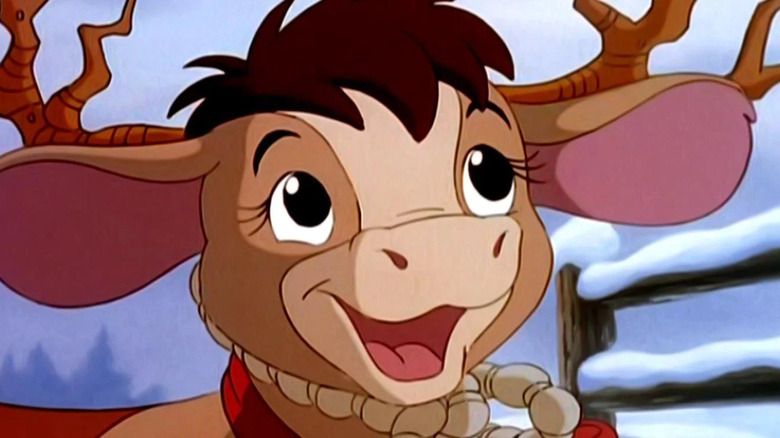 Hallmark
If you were a '90s kid, chances are a few direct-to-video or made-for-TV Christmas flicks entered your household — like Jacob Marley took over Scrooge's residence. One such movie that entered (and has yet to leave my lineup) is "Annabelle's Wish," a Ralph Edwards Films project that doesn't have the most exciting aesthetic presentation. But what this odd little movie lacks in visual splendor, it makes up for in heartwarming mushy feelings. Based on Dan Henderson's short story, the film revolves around a calf (Kath Soucie) who, after seeing Santa fly, dreams of becoming one of his reindeer. But when Annabelle bonds with her new human friend, Billy, her life (and wish) change unexpectedly.
Like many TV movies of the time, "Annabelle's Wish" definitely has its quirks. Cloris Leachman's Aunt Agnes is a cheap Cruella rip-off, the animation produces some meme-worthy imagery, and Randy Travis' narration comes off more SNL than Masterpiece Theater. But when Alison Krauss' sweet vocals take over a montage or two, and the film reaches its third act twist, you'd have to be the Grinch not to fall for the inherent sweetness of this Christmas treat.
Frosty The Snowman (1969)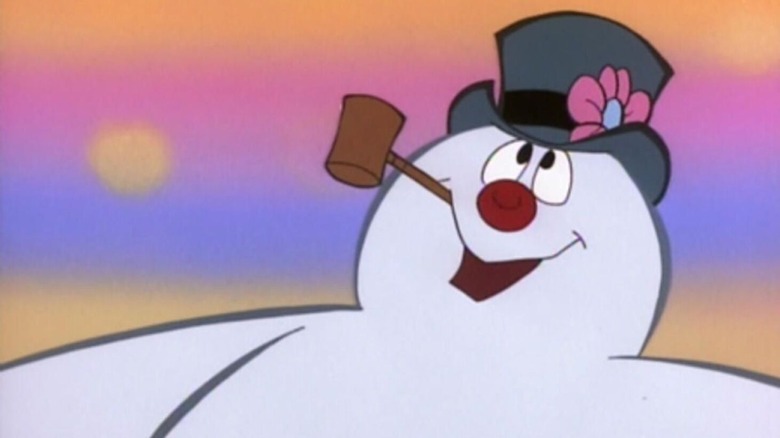 Rankin/Bass Productions
When people hear Rankin/Bass, many only remember their collection of stop-motion creations. But the company did make a handful of hand-drawn animated classics, including the beloved 1969's "Frosty The Snowman." Based on the famous song written by Walter Rollins & Steve Nelson, the special follows a group of school children who, with the help of a magical hat, bring their snowman, Frosty (Jackie Vernon), to life. But since the temperatures are changing, it's up to the kids to get their enchanting friend to a place he'll never melt, the North Pole.
Despite its silly premise, what makes "Frosty The Snowman" such a treat is the love and care put into it. From the whimsical character designs by legendary artist Paul Coker to the heartwarming magic at the center of its narrative, it's a flick that evokes the childlike wonder and excitement surrounding the holidays and the winter season. With its addictive and iconic song featured throughout, it's easy to love Frosty's whacky adventures.
Sailor Moon S: The Movie (1994)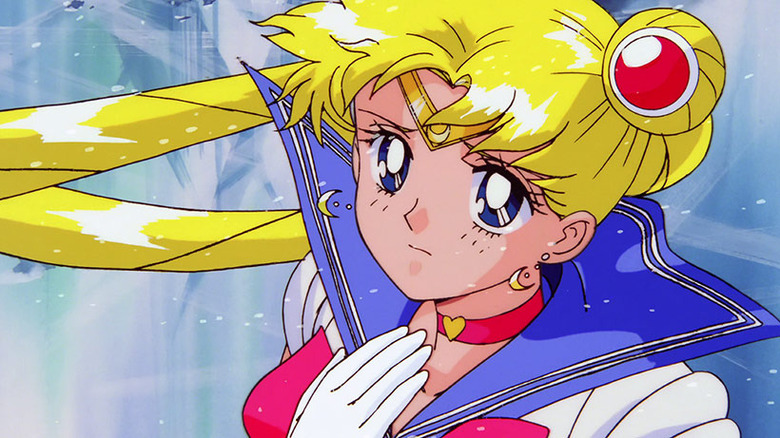 Toei Animation/Viz Media
Alright, I know what you're thinking: Why would a "Sailor Moon" movie make it onto a Christmas movie list? Well, for those who know "Sailor Moon S: The Movie" intimately, this shouldn't be that surprising. The movie begins when the antagonist, Princess Snow Kaguya (Eiko Masuyama), returns to Earth, hoping to finish her task of freezing it. But when a young scientist gets mixed up in the snowy villain's plans, it's up to Sailor Moon (Kotono Mitsuishi) and the other Guardians to protect the people of Earth from becoming part of a new ice age.
Featuring a snowy setting, a winter shopping-focused sequence, and, of course, a Tuxedo Mask (Tōru Furuya) dressed as Santa Claus, there are several yuletide delights in "Sailor Moon S: The Movie." But this magical girl flick appears on this list because of how those elements mix with the film's themes of selfless acts. When you push the presents and tinsel to the side, Christmas is a time to do some good for others. There's no better character to learn to be more thoughtful than the Guardian of Love and Justice herself.
Scrooge: A Christmas Carol (2022)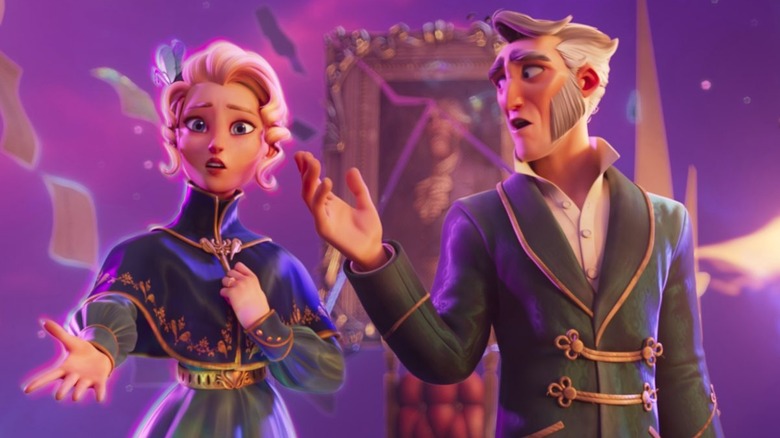 Netflix
Like many of you, I have probably seen enough adaptations of "A Christmas Carol" to fill Santa's sleigh. But even with the endless plethora of takes on Charles Dickens' classic, it's always nice when a new version of the tale feels more refreshing than redundant. Stephen Donnelly's "Scrooge: A Christmas Carol" is an animated musical (which borrows a few songs from the 1970 Albert Finney version) that conveys the story on a big scale — almost anime-like. 
From the grand nature of Scrooge's (Luke Evans) various encounters with the Ghosts of Christmas (Olivia Colman) to the hyper-inventive reimagining of characters, the magic within this version is how it pushes the emotional and visual conventions of other "Christmas Carol" retellings in exciting ways. One great example of this is the "Later Never Comes" sequence, which showcases the regretful feelings Scrooge has towards his faded romance in a lavish Disney-meets-classic Don Bluth style. Along with many of the film's other jaw-dropping pop song-driven sequences, this animated adventure proves that even a story as formulaic as "A Christmas Carol" doesn't have to rely on the same old bag of tricks.
The Nightmare Before Christmas (1993)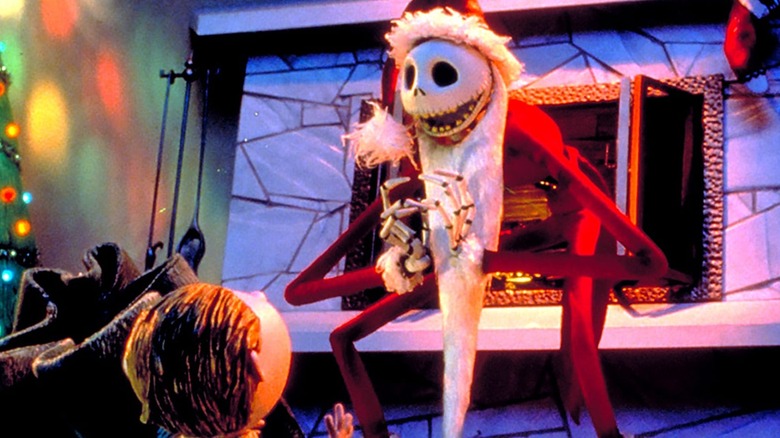 Disney
In the tradition of movies like "It's a Wonderful Life," the protagonist at the center of "The Nightmare Before Christmas" (aka Jack Skellington, voiced by Chris Sarandon and Danny Elfman) is in search of purpose amid his routine Halloween life. But once he accidentally discovers Christmas, Jack becomes obsessed with replicating the holiday's vibes, resulting in a chaotic series of events that changes not only the citizens of Halloweentown but the rest of the world.
Whether you think it's a Halloween tale or a Christmas adventure, this Tim Burton-produced and Henry Selick-directed masterpiece deserves a spot on this list. Why? For starters, it features everything from marshmallowy sequences of yuletide magic to beautiful gothic displays of merriment. But most importantly, it's a movie that captures the enchantment of the holiday while providing a treasured lesson at its center: You can't manufacture the magic of Christmas. You find it when you're your most authentic self. That's a message worth celebrating year-round.
Santa Claus is Comin' to Town (1970)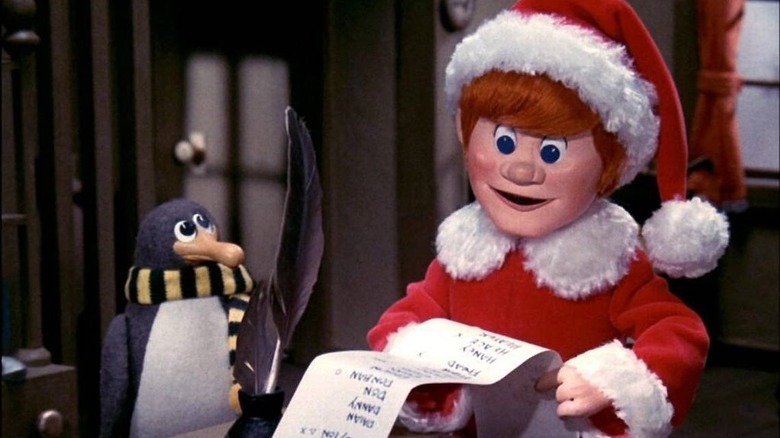 Rankin/Bass Productions
There's always debate about which of the classic Rankin/Bass creations is the best. One contender in many households (including yours truly) is 1970's "Santa Claus is Comin' to Town" — a special that mixes the silliness of J. Fred Coots and Haven Gillespie's song with the genuine heartfelt mush of the season. Beginning with Fred Astaire's smooth narration, the film focuses on the inception of Kris Kringle (Mickey Rooney) by showcasing both the highs and the lows of his journey to becoming the red-and-white decorated hero we know and love.
Despite it being another Santa origin tale, what makes this stop-motion fest so delightful is its wacky details. For starters, how many movies feature the iconic Paul Frees talking about drummer toys going "rat-a-tat-tat" or bugler dolls going "root-a-toot-toot"? Or how often do you see a psychedelic shoujo-anime-inspired musical number in traditional holiday specials? Never! Ultimately, the genius of "Santa Claus is Comin' to Town" can be found when you're willing to give its odd yet loving nature a chance.
Klaus (2019)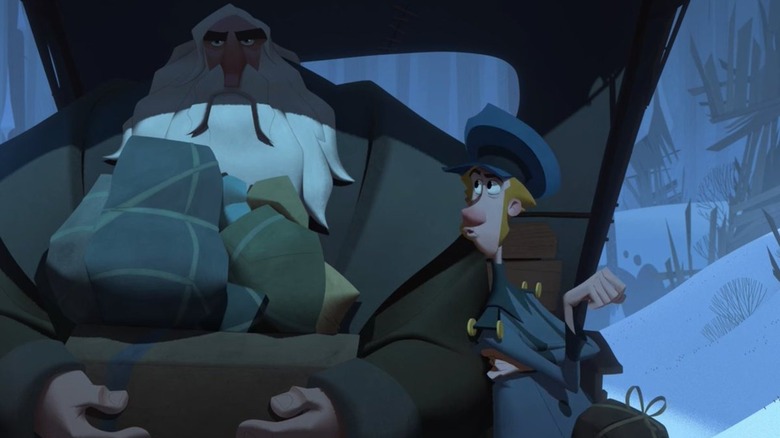 Netflix
Featuring beautiful animation, director Sergio Pablos' "Klaus" retools the traditional Santa origin story into a delightful new interpretation. The film centers around a selfish postman-in-training named Jesper Johansen (Jason Schwartzman). After being sent to a small Norwegian town, Jesper crosses paths with an introverted woodsman named Klaus (J.K.Simmons). As they bond, Jesper learns Klaus is a talented toymaker and devises a way to give Klaus' creations to the children of their community. But as the townspeople get word of the unlikely pair's new idea, it's up to Jesper and Klaus to overcome the hurdles that stand in their way.
With the talents of Pablos and his creative team, it's evident that "Klaus" was a labor of love made by people who adore hand-drawn animation just as much as Christmas. Though, what makes this animated gem so magical are the vocal performances of its two leads. Schwartzman gives Jesper a brilliant mix of boyish ignorance and childlike wonder, wonderfully juxtaposing Simmons' calculated-yet-warm approach to his toymaking character. "Klaus" works because everyone involved seems to admire the story they're telling, which isn't the same for all animated projects.
The Life and Adventures of Santa Claus (2000)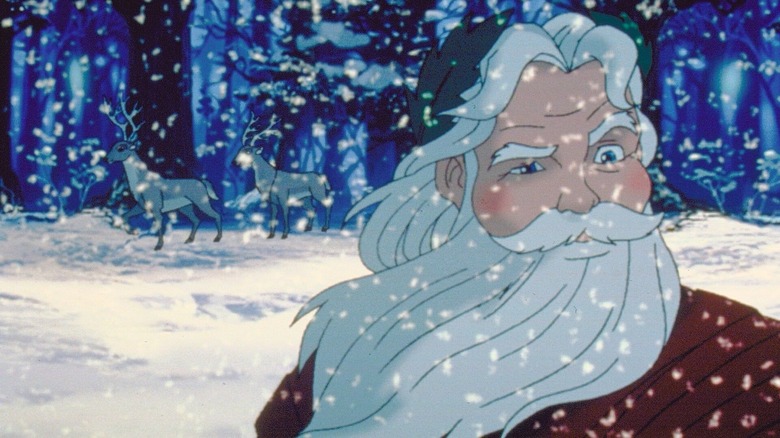 Universal Studios Home Entertainment
When it comes to Santa Claus origin stories, L. Frank Baum's "The Life and Adventures of Santa Claus" is one of the coolest — involving fairies, lions, gods, and epic imagery that's hard to forget. While there have been a handful of adaptations of the material, the merriest version is the hand-drawn one from the early 2000s. Directed by Glen Hill, the story showcases all the trials Nicholas (Robby Benson) faces to fulfill his destiny. From discovering his love of creating toys to facing the Awgwas, this Santa tale is certainly anything but boring.
But why is this take on L. Frank Baum's story on the list over the Rankin/Bass version? Well, even with its deliciously campy elements (especially the designs of the immortals), there's something to admire about the slightly more grounded nature of the 2000 adaptation. Of course, the film has some childish humor and silly songs. But those moments never diminish the mature handling of this underappreciated tale. Plus, when you have a voice cast that includes the likes of Benson and Jim Cummings portraying Santa, you know you're in for a holly jolly time.
The Small One (1978)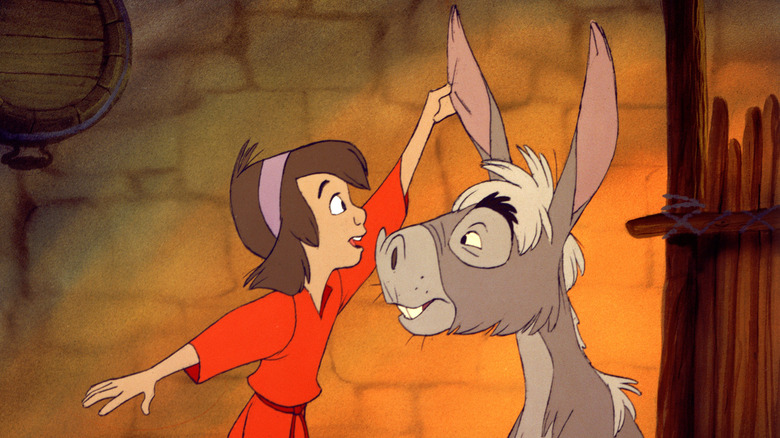 Disney
While most of the content on this list has a more joyous vibe, the Disney short film "The Small One" focuses on the spiritual aspects of the holiday. Directed by Don Bluth, the film centers on a young boy forced to sell his beloved companion after his father deems the donkey too old to work. As the pair travel to the local market, it becomes evident that finding a suitable owner for Small One isn't easy. As luck would have it, the two are led down a rewarding path — one that allows the boy and Small One to fulfill their task in the most significant of Christmas ways. 
At first glance, "The Small One" might not appear to be the right choice for merry content. But once it reaches its tender and emotional conclusion, it's easy to see why this short film deserves a spot on this list. "The Small One" is also quite the Christmas present for animation fans, as it features work by the iconic Bluth, Henry Selick, and Richard Rich. Regardless, if you're a fan of animation or just looking for a heartwarming tale, "The Small One" checks all those boxes and much more!
The Little Drummer Boy (1968)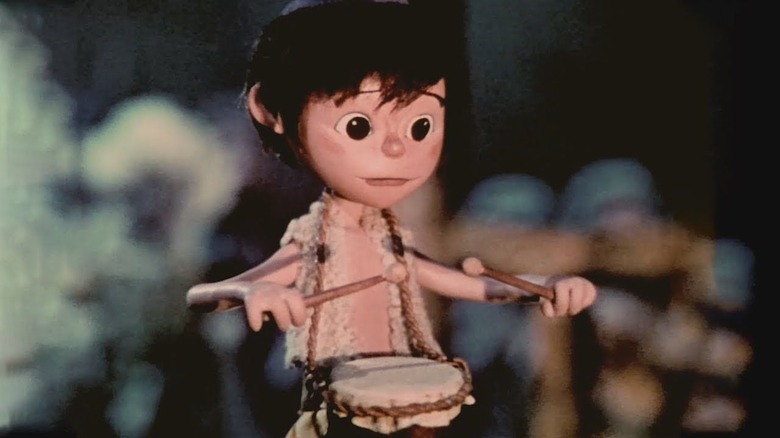 Rankin/Bass Productions
Some Christmas content has stuck with me because of its bubbly approach, while others leave their mark because of its haunting quality. Jules Bass and Arthur Rankin Jr.'s "The Little Drummer Boy" falls into the latter group. The TV special has mature themes that viewers appreciate more when they're adults. Inspired by Katherine Kennicott Davis' classic song, the film focuses on a young protagonist who loses faith in humanity after a tragic event. But like any special, the boy receives something even more significant than his beloved drum — a sense of hope for the future.
Sure, a chunk of you wouldn't want to include "Drummer Boy" in your Christmas marathon. Still, it's hard not to admire this special's risky nature and how well it rewards its viewers (and its protagonist) with a satisfying conclusion. Plus, with the voice talents of acting icon Greer Garson as the film's narrator, there's a comforting quality to this otherwise intense story of heartbreak, grief, and the rediscovery of optimism.
Santa's Apprentice (2010)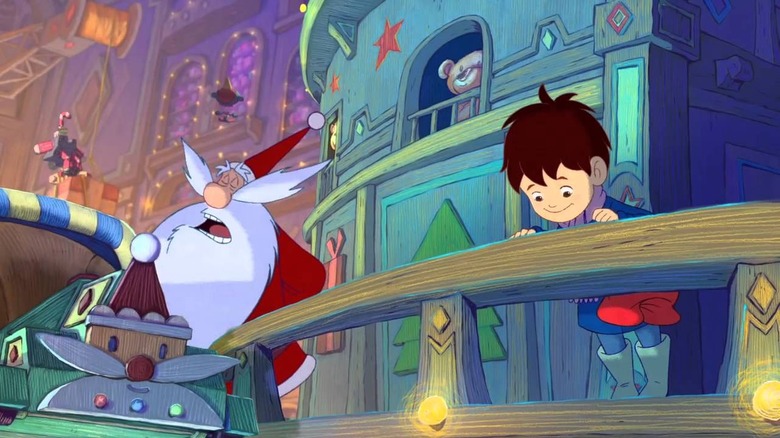 Gaumont
Filled with just the right amount of genuine sweetness and holiday cheer, Luc Vinciguerra's film "Santa's Apprentice" is, in many ways, an underrated gem. Based on the TV series "SantApprentice," the film revolves around the lore that every Santa (Shane Jacobson) must eventually pick a successor that fits the specific qualifications of the job. To find this significant individual, Santa travels to Australia, where he discovers an orphan named Nicholas (Jack Versace) to take on the task. The film proceeds to follow the pair as Santa trains Nicholas in the ways of his yuletide traditions before Christmas time starts up again.
With an aesthetic that mixes elements of Studio Ghibli with those of Cartoon Network's '90s vibes, "Santa's Apprentice" is a Christmas movie with its heart in the right place. Sure, the elf designs are a tad odd. Yes, the lore behind Santa might come across as vague in some of its larger implications. But the relationship between Nicholas and Santa makes this story absolutely charming. Together, the two collaborate in a way that proves the magic of teamwork and how powerful a found family bond can be.
A Year Without a Santa Claus (1974)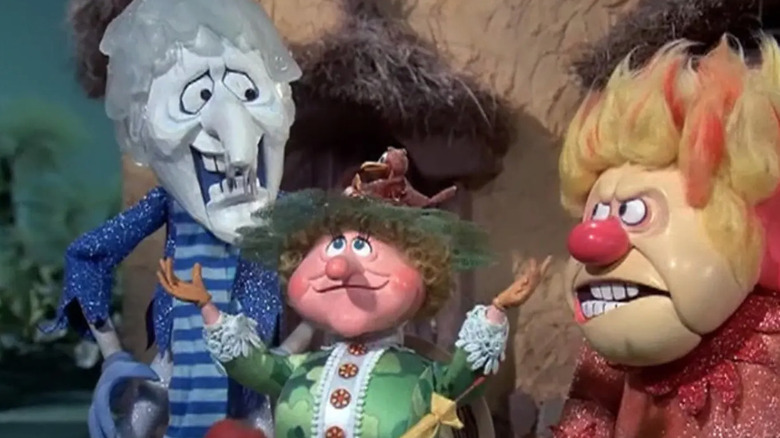 Rankin/Bass Productions
Many holiday movies have proved that being Santa Claus is a challenging job. One piece of media that explains that better than most is the beloved Rankin/Bass creation, 1974's "A Year Without a Santa Claus." The animated film follows a sad and sniffly Santa (Mickey Rooney) who decides to give up his role, leading the film's world into chaos. But what makes this special something to behold isn't the act of getting Santa back to business, but how all of the recognizable elements of other Rankin/Bass productions come together flawlessly in this piece.
From the iconic characters like the Misers to the equally unique collection of songs and wacky animation (that often feels drug-induced), everything Bass and Rankin, Jr. achieved with their previous work reaches its peak in "A Year Without a Santa Claus." Since its release, there's been a plethora of parodies referencing this special (I'm looking at you, "Batman and Robin").
Mickey's Christmas Carol (1983)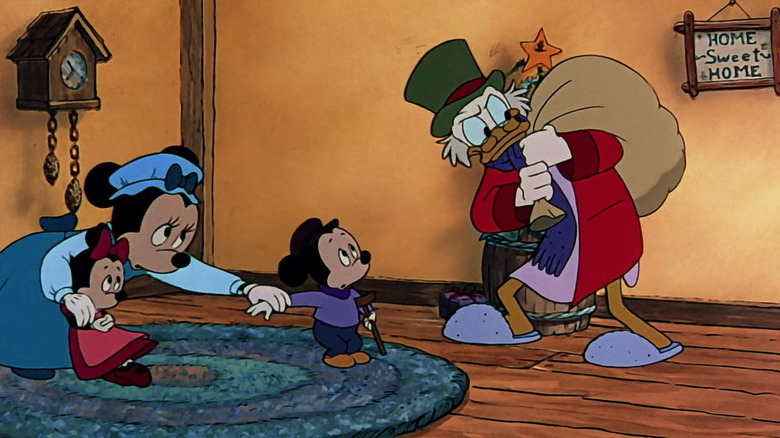 Disney
One of the more recent holiday filmmaking traditions is retelling "A Christmas Carol" with popular characters. From the Muppet's interpretation of Charles Dicken's story to Mr. Magoo's, every adaptation has something interesting to say. Take, for example, Disney's "Mickey's Christmas Carol" — a version that features Scrooge McDuck (Alan Young), as you guessed it, the iconic miser, along with the rest of the Disney animal gang, as the other vital roles in the story. But what makes this version special, other than its cast, is how it compellingly conveys this well-known story.
From the final moments between Scrooge and Pete (Will Ryan) as demonic Ghost of Christmas Future to the cozy warmth of the moments inside Mickey/Bob Cratchit's home, there's no denying that this version of "A Christmas Carol" goes above and beyond what other similar animated retellings accomplish. It also features fantastic work by future animation rockstars, including Glen Keane and Mark Henn (to name a few), proving that a lot of love went into every frame of this 26-minute special.
Olive, The Other Reindeer (1999)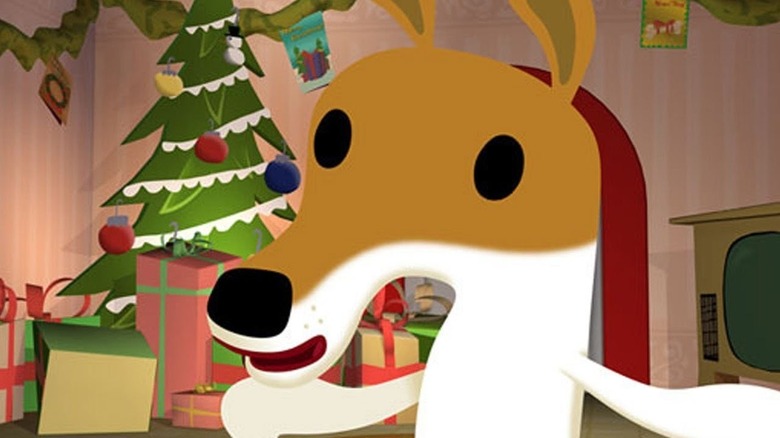 20th Century Fox
Some Christmas content sticks with you because it's aesthetically beautiful. In my case, "Olive, The Other Reindeer" became part of the line-up simply because dogs make movies better. Oliver's (Drew Barrymore) charm is impossible to resist. Based on the children's book by Vivian Walsh and J. Otto Seibold, the story follows an adorable dog who mishears a radio announcement. She thinks she's needed to pull Santa's sleigh. What follows is a crazy adventure featuring everything from evil post-office workers to a bar full of eye-patch-wearing Christmas rebels.
With whimsical animation inspired by the original book's illustrations and a collection of silly songs, "Olive, The Other Reindeer" is a movie that ages well over time. Sure, there are lots of mesmerizing aspects for kids to enjoy. But with the film's mature humor and carefully chosen adult-orientated references, it becomes even funnier (and relatable) when you're an adult. Also, R.E.M.'s Michael Stipe makes a voice acting appearance as a reindeer, which gives this holiday special a unique coolness factor.
Beauty and the Beast: The Enchanted Christmas (1997)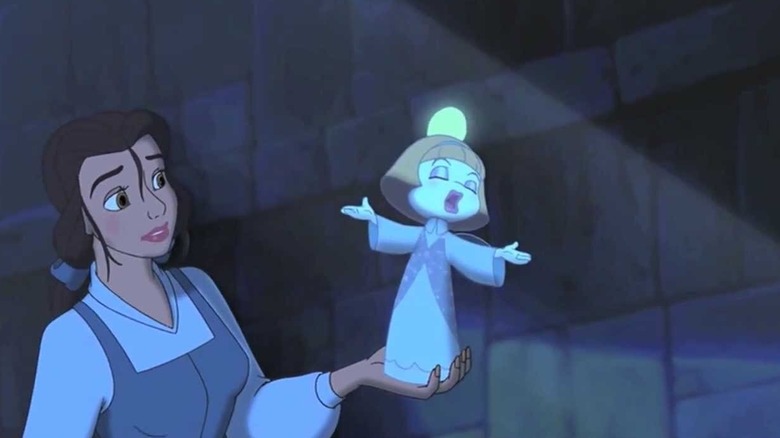 Disney
Once upon a time, Disney (or, ex-CEO Michael Eisner) was obsessed with releasing sequels to hit Disney animated movies. One was "Beauty and the Beast: The Enchanted Christmas," a tale within a tale that took the winter vibes of the original and mixed it with holiday cheer. The story focuses on Belle (Paige O'Hara) wanting to celebrate Christmas in the castle at some point in the past. But since the Beast (Robby Benson) has terrible memories related to the holiday, it takes a lot of effort on Belle's part to get him in the holiday spirit.
As far as Disney in-between-sequels go, "The Enchanted Christmas" is far from the worst of the bunch. Sure, the animation is a bit of a downgrade, and the story doesn't make a ton of sense within the original classic canon. However, there are some entertaining qualities here. For starters, how can you not have fun watching Tim Curry voice an evil pipe organ? Or witnessing Broadway icon Bernadette Peters singing her heart out as a tree topper? These aspects and the movie's delightful yuletide aesthetics make it a campy, offbeat treat — despite its flaws.
Prep & Landing (2009)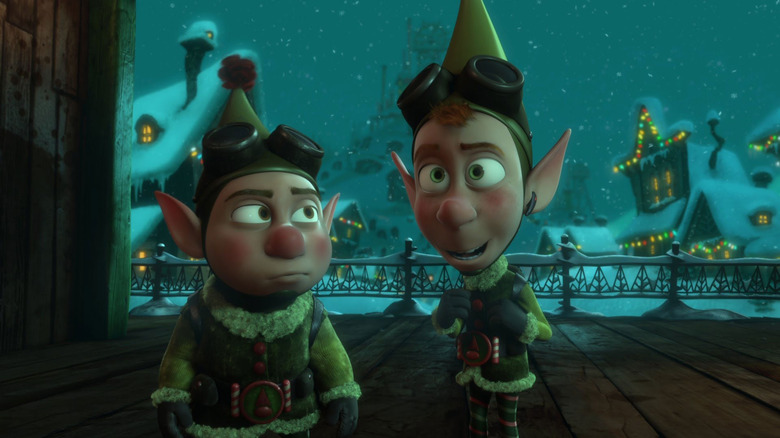 Disney
As Christmas myths change over time, so do the tales of elves' roles in Santa's life. One piece of media that showcases this shift in the holiday lore is Disney's "Prep & Landing," an animated TV special about two elves, Wayne (Dave Foley) and Lanny (Derek Richardson), who assist in setting up houses before the big guy arrives down the chimney. As the story progresses, audiences see Wayne lose his spark for the job, making it Lanny's mission to get Wayne back in the Christmas spirit.
While not the most complex of specials, "Prep & Landing" (along with its two sequels) works because of the relatability of its characters. From Wayne desperately wanting respect from his colleagues to Lanny's excitement about his new position, it can be easy to see yourself in these otherwise silly characters. Sure, the animation might not be groundbreaking by any means. But with a story full of good old-fashioned holiday cheer, "Prep & Landing" makes for a great addition to any Christmas line-up.
'Twas The Night Before Christmas (1974)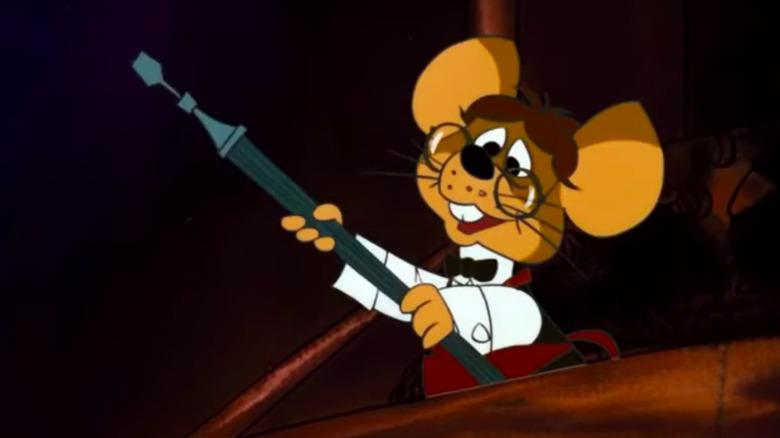 Rankin/Bass
In the world of Rankin/Bass specials, not believing in Santa Claus is the worst sin of all. If you need proof, look no further than "'Twas The Night Before Christmas," a special that's often overlooked amongst the pantheon of Christmas movies. The story begins when a batch of letters for Santa gets sent back to the town's citizens. But why? Santa (Allen Swift) read an article from a group of children saying he doesn't exist. As the events unfold, it becomes up to the townspeople to devise a solution to their Santa problems before time runs out on Christmas Eve.
Filled with the same beloved yet silly animation as "Frosty," the charm of "Twas The Night Before Christmas" comes from its stellar voice cast. From Joel Grey's portrayal of a human clockmaker to George Gobel as a fatherly mouse who tries to get his son to believe in Santa, everyone in the ensemble does their best to evoke the whimsy associated with Rankin/Bass productions. Plus, how can you resist a movie that contains a family of adorable nerdy mice at the center of the story? You can't!
Jingle All The Way (2011)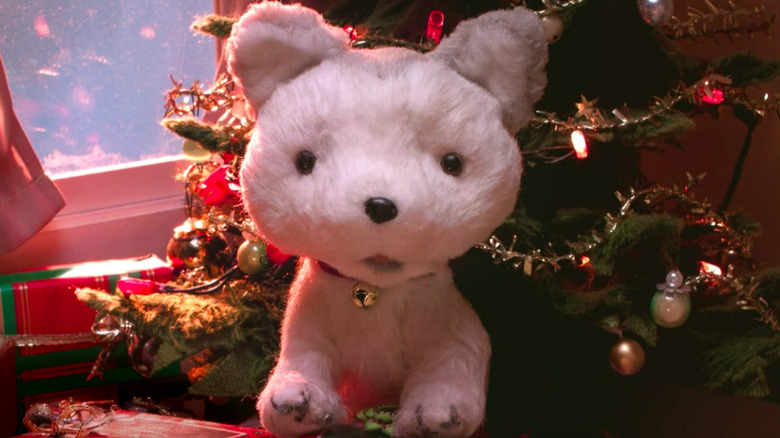 Hallmark
Not to be confused with the Arnold Schwarzenegger movie of the same name, Hallmark's animated special "Jingle All The Way" might be one of the cutest stop-motion tales. The film follows a young boy named Andrew (Ryan Bley) befriending a huskie puppy named Jingle (Thomas Stroppel) at a tree farm. After Andrew leaves, Jingle sets on a daring journey, hoping he may become part of Andrew's family for Christmastime. The special follows the pup as he faces various hardships, eventually crossing paths with a magical individual that helps Jingle find Andrew.
Although this film has one of the more basic narratives on this list, what makes "Jingle All The Way" land here is its cozy factor. Not only is the animation so adorable you want to reach out and hug it, but much like "The Snowman," it tells a tale without overcomplicating details. It also evokes the same charms found in most Hallmark content — minus the terrible music or formulaic love story plots. Overall, if you need something sweet and simple this season, "Jingle All The Way" will work wonders.
The Wish That Changed Christmas (1991)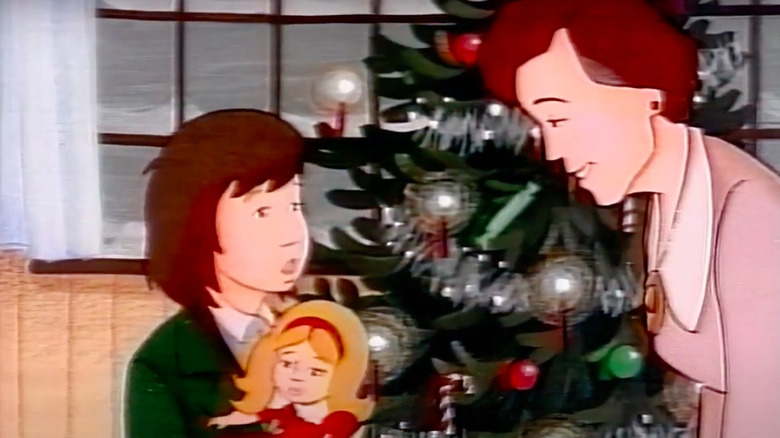 Colossal Pictures/CBS
Presented as a McDonald's sponsored special, "The Wish That Changed Christmas" (based on the story by Rumer Godden) is a tale about a little orphan named Ivy (Brittany Thornton) who dreams of finding a grandma. Yet when she sees a sign outside that says her name, the young girl finds herself on a grand quest — involving everything from balloon ladies, to toy store drama, and meeting a variety of quirky individuals. But what exactly makes this sweet little slice of Christmas storytelling worthy of being on this list? Simply put, it's unhinged.
Despite its watercolor, children's illustration aesthetic, "The Wish That Changed Christmas" goes in a few fascinatingly dark directions that leave quite the impression. From the unnerving owl, Abracadabra (Jonathan Winters), who speaks of the creepy aspects of inventory, to a David Lynch-like dream sequence, this Catherine Margerine-directed project takes some strange twists. But all of these moments make the film's adorable conclusion more satisfying. (Plus, the McDonald's advertisements bookending the special on its VHS release define childhood nostalgia.)
Robin Robin (2021)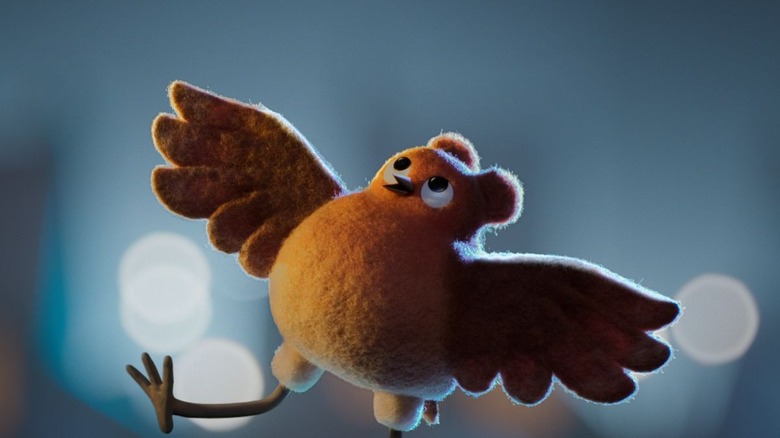 Netflix
Featuring all of the beautiful artistry Aardman Animation is known for, "Robin Robin" tells a quirky holiday tale decorated with heartwarming splendor. The story revolves around a lil' bird named Robin (Bronte Carmicheal), who, after a string of bad "sneaking" expeditions, goes on a quest to get food for her mice family. But when she crosses paths with Magpie (Richard E. Grant), he tells her of a magical "woo-man" wishing star. Robin makes it her goal to make her family's food-related dreams come true.
Like the great, comforting Christmas stories before it, "Robin Robin" works because of its relaxing tone and universal message: We all have something unique to bring to the world in one way or another. Of course, many other holiday tales have similar core themes. But thanks to Aardman's unique brand of storytelling, this movie's message feels fresh rather than tired. Combined with the film's cast of incredible actors (including Gillian Anderson as a terrifying cat), it's easy to see why "Robin Robin" has the potential to become a Christmas classic for years to come.