'The Nightmare Before Christmas' At 25: Tim Burton's Hybrid-Holiday Musical Still Holds Charm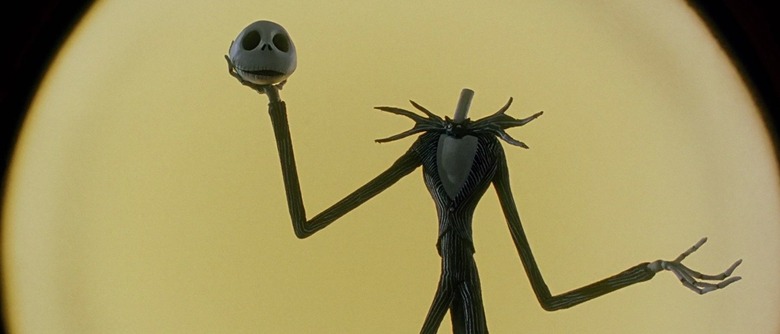 Tim Burton's best movie might actually be one he didn't direct. As a filmmaker, Burton's strength has always been in his visual storytelling, the eccentric look and phantasmagorical feel of his characters and story settings. Since 1990, a parade of peculiar, pale protagonists, led by the grand marshal of Edward Scissorhands, has formed up in his long string of collaborations with Johnny Depp. His early collaborations with Michael Keaton also gave us the iconic Beetlejuice and two rich, operatic, "dark deco" Batman movies that are a triumph of music, makeup, and costume design.
Before he became a big-time Hollywood director, however, Burton worked as a concept artist, storyboard artist, and animator. His sketches (some of them on bar napkins) have even toured the globe in the "World of Tim Burton" exhibition. Walking through that exhibition is a bit like stepping into Halloween Town in The Nightmare Before Christmas. The film is celebrating its 25th anniversary today; it originally hit theaters on October 29, 1993.
Directed by stop-motion whiz Henry Selick, The Nightmare Before Christmas is a movie that gives three-dimensional life to Burton's sketches, distilling his unique visual sensibilities down into a 76-minute burst of animated joy. Freed from the restraints of live-action, the film goes all-in on the gothic fantasy, foregoing the sight of Burton's usual stable of human actors and plunging us into a deeply imaginative world full of skeletal pumpkin kings and living burlap sacks. The creepy-crawlies in this movie aren't just limited to what you see on screen. They also include Danny Elfman's musical earworms, which have helped this movie stand the test of time as the Burton brand's greatest feat of originality.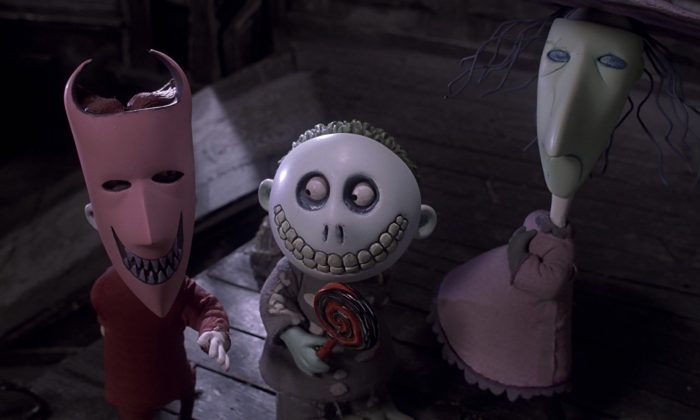 After a brief intro from the Narrator (originally Patrick Stewart, though he was cut from the film), The Nightmare Before Christmas draws us in with a bravura musical sequence showcasing the ghoulish residents of Halloween Town. Dead leaves blow past a pumpkin-headed scarecrow and vampires with angelic singing voices rise from their coffins to chime along with "This Is Halloween." Later we see that the sun in Halloween Town is a glowing jack-o-lantern.
While the film's plot is something akin to a grunge version of The Grinch Who Stole Christmas, its title is a clever riff on a line from an old poem. Though commonly remembered as " 'Twas The Night Before Christmas" because of its memorable first phrase, the name of that poem is actually "A Visit from St. Nicholas."
The movie switches out Saint Nick for a fellow by the name of Jack Skellington. After two and a half decades, it's still a pleasure to receive the old holiday visit from Jack. Songs from the movie have entered the regular rotation of holiday music and The Nightmare Before Christmas has also become an annual tradition for a whole legion of Disney parkgoers.
All throughout the Halloween and Christmas season, the Haunted Mansion at Disneyland and Tokyo Disneyland is given a special holiday overlay, re-theming the ride to The Nightmare Before Christmas. The film is enough of a classic in its own right that it can reasonably justify taking over a classic theme park attraction like that.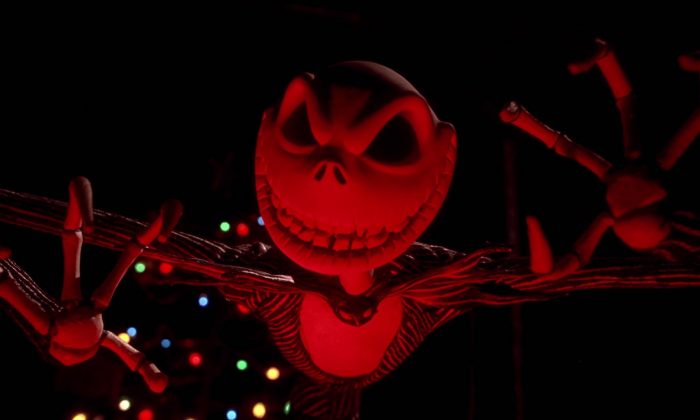 Voiced by Chris Sarandon — with Elfman himself providing the singing voice — Jack is probably the best skeleton character ever created. What other skeleton could ham it up as gloriously as he does? On a spiral hill in front of the moon, he removes his own head and holds it out in front of him like Hamlet, singing about how he can do so whilst reciting Shakespearean quotations. At the very least, he's dressed a sight better than Skeletor (with his gaudy blue-and-purple fashion sense) or the legendary Ray Harryhausen's fighting skeletons (who wielded swords and shields but did not wield much in the way of clothing).
Not a Halloween goes by without some cosplayer somewhere dressing up like Jack in his black, pin-striped suit, complete with a bat-shaped bowtie. Selick has described Jack as "mercurial," and that's a fitting word not only for his voice but also for his facial appearance. When he's smiling and his eyes are relaxed, Jack's face holds a childlike innocence, but when he arches his eyebrows and his face is lit red, it takes on a much scarier edge.
Jack is in the former state when he has his love-at-first-sight moment with the Christmas tree door to Christmas Town. As he tumbles down through the center of a snowflake whirlwind and the film's dreary color palette suddenly brightens against his face, we share his growing discovery thrill, the unbridled glee of the song "What's This?"
The Christmas Town scene is what gives this movie a beating heart beyond the niche appeal of its macabre imagery. It speaks to buried emotion, something that's become more relatable as the audience that grew up with The Nightmare Before Christmas has aged along with it.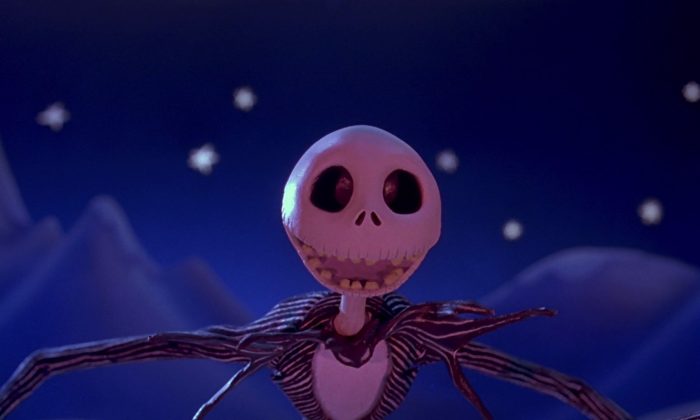 Jack started out the movie as a pumpkin king who had grown weary of Halloween. In the Christmas Town scene, we see him come alive again, regaining his lost sense of wonder until he's overflowing with ebullience. He's so inspired that when he gets back to his own community, he wants to share the Christmas love with everyone.
As corny as it sounds, that's the true spirit of Christmas. It's not so different from the arc Ebenezer Scrooge undergoes in A Christmas Carol.
Of course, Jack is a more fiendish character than Scrooge, one whose natural proclivities are, like Burton's, more in line with the spirit of Halloween. Performing autopsies on teddy bears in his scientific quest to understand and explain Christmas, he eventually hatches a scheme to impersonate Santa Claus. Three young minions in trick-or-treating masks "kidnap the Sandy Claws" for him, and this frees him up to take the reins of his own gift delivery sled.
It's pulled through the sky by a team of skeleton reindeer, which is led by his ghost dog Zero (he of the glowing orange, Rudolph-like nose). There's a twisted humor that plays out as this cackling, maniacal Santa imposter slides down chimneys, leaving kids to unwrap shrunken heads as Christmas presents. Among the citizens of Halloween Town, only Jack's secret admirer, Sally, seems to have any misgivings about the merits of this whole Santa-impersonating escapade.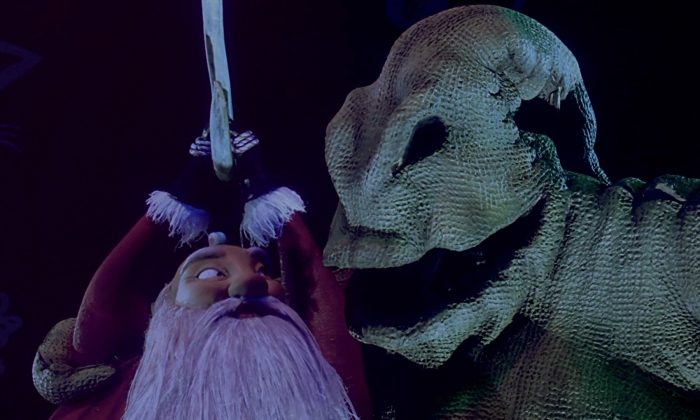 Eventually, the police get wind of Jack's shenanigans and cannons fire on the sled, blowing him out of the sky. Grounded in a graveyard, Jack briefly despairs of his failure, but it's encouraging to hear him realize aloud that he did his best. Ultimately, he was trying to be someone he's not, but the experience served its purpose in that it has reinvigorated him to return to his rightful role as the pumpkin king of Halloween Town.
While Selick was making The Nightmare Before Christmas, Burton was busy with Batman Returns (which is my personal favorite directorial effort of his, and which also notably incorporated Christmas elements). However, Burton's fingerprints are all over The Nightmare Before Christmas in terms of its design. These are images that sprang from his mind and his name was even appended to the movie's title, so that people sometimes forget Tim Burton wasn't the director of Tim Burton's The Nightmare Before Christmas.
At times, Elfman's score also sounds like it could bleed from one movie to the next, as if Halloween Town and Gotham City might be said to inhabit the same dark dream landscape. This is arguably when Burton and Elfman peaked, in the 1992-1993 period, with Batman Returns and The Nightmare Before Christmas. In the presence of the prancing, burlap-skinned Oogie Boogie Man (whose "Oogie Boogie Song" is a real show-stopper), it certainly feels like there's never been a grander, more exuberant expression of their combined creative vision.
There's much more that could be said about The Nightmare Before Christmas, but maybe it's best to honor the film's brevity by not going on overlong here. With this film, Selick and the world-class stop-motion artists under his supervision crafted the perfect holiday movie, one that can come off the shelf in October and stay off the shelf through December (or year-round). At 25, The Nightmare Before Christmas is still the best musical mash-up of Halloween and Christmas there ever was.