'Baby Driver' Star Eiza Gonzalez Heads To 'Fast And Furious' Spin-Off 'Hobbs And Shaw'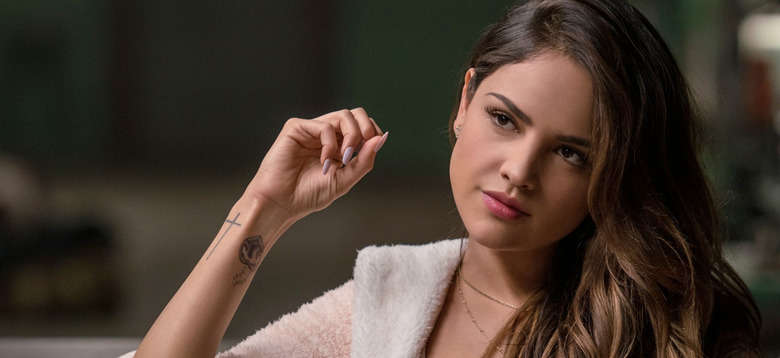 After feeling a little speed as a bank robber in Baby Driver, rising star Eiza Gonzalez has landed a last minute role in the Fast and Furious spin-off Hobbs and Shaw. She's been popping up all over the place lately, and this is a great step for her career.
Variety has the news on Eiza Gonzalez in Hobbs and Shaw, and her addition to the cast was something executives really worked to make happen. Gonzalez had some complicated scheduling that needed to be worked out since she also has a role in Legendary's upcoming monster movie mash-up sequel Godzilla vs. Kong. That movie is about to begin shooting, but it sounds like all of the kinks have been worked out to allow her to join the cast.
Hobbs and Shaw is the first spin-off from the Fast and Furious franchise, and it follows Dwayne Johnson and Jason Statham as their respective characters teaming up for some reason. As of now the plot of the movie remains under wraps, as does the character Eiza Gonzalez is playing, but surely it will involve fast driving, punching, heists and wisecracks. It's also directed by Deadpool 2 and Atomic Blonde helmer David Leitch.
Eiza Gonzalez is quickly making a name for herself after a breakthrough role in Baby Driver. She'll also be seen in the odd upcoming drama Welcome to Marwen starring Steve Carell, as well as the manga adaptation Alita: Battle Angel. Funnily enough, Gonzalez is also supposed to star in Bloodshot, the Valiant Comics adaptation starring Fast and Furious franchise lead Vin Diesel.
However, don't expect Vin Diesel to pop up in Hobbs and Shaw, since it seemed to create some beef between franchise cast members behind the scenes, though it's now seemingly been squashed. The spin-off has also created some drama behind the scenes for franchise producer Neal Moritz, who is suing Universal over it.
As for the rest of the Hobbs and Shaw cast, Idris Elba has a role as the villain Brixton, who makes for quite the rival to the titular duo. Mission: Impossible – Fallout star Vanessa Kirby is also onboard with a role as Hattie Shaw, the sister of Jason Statham's character Deckard Shaw, who also happens to take a liking to Dwayne Johnson as Hobbs. Who can blame her?
Hobbs and Shaw is slated to hit theaters on August 2, 2019, and there are still more Fast and Furious sequels to come.