'Hellboy' Reboot Will Be More Violent And Bloody, New Image Shows Off The Hulking David Harbour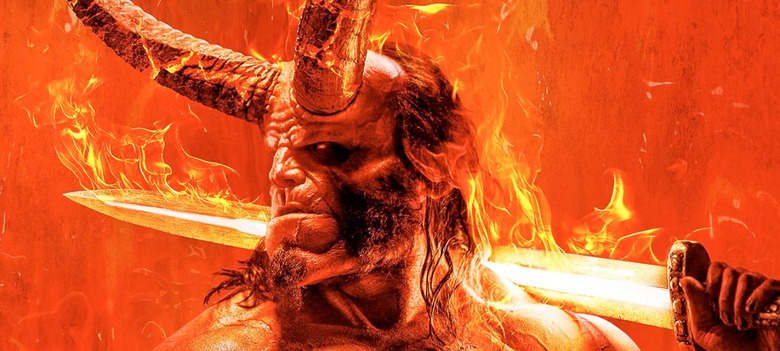 Even though some footage from the upcoming Hellboy reboot played New York Comic-Con not too long ago, we still haven't seen any footage from the Lionsgate comic book adaptation. Instead, our only glimpse at Stranger Things star David Harbour suited up as Big Red have come in the form of posters and images. One more Hellboy photo from the film has arrived to show off the latest incarnation of the unlikely comic book hero. Plus, director Neil Marshall has shared some new details on the project.
New Hellboy Reboot Photo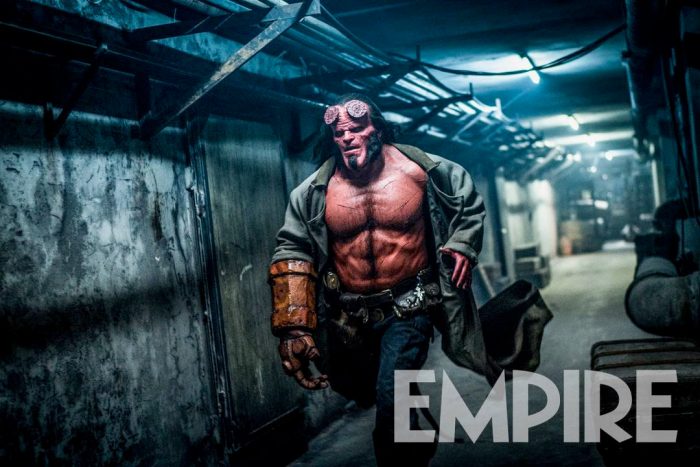 Unlike the previous incarnation of Hellboy from director Guillermo del Toro, it's really hard to see David Harbour under all that make-up. The face is even beefier and a little scarred, and the same can be said about his body. Speaking of which, this version of Hellboy is also much more ripped than before. Some of the /Film crew thinks the muscles look far too fake, but personally, I think they look much more realistic than the prosthetic pieces worn by Ron Perlman. The presence of hair on his body and a little bit of a glisten to the skin also help make it feel less artificial.
The look of Hellboy isn't the only thing that will be different this time around. Taking more of a cue from Mike Mignola's comic book, this movie has much more horror elements than fantasy, and it will be a lot more gruesome and gory, heading towards R-rated territory. As director Neil Marshall told Empire about his approach to revamping Hellboy:
"It was always a case of, 'When in doubt, go back to the source material.' Some of the stuff is pretty sick. More violent and more bloody. We weren't making it with handcuffs on."
Hopefully that's good news for Hellboy fans, even though some were already plenty satisfied with what Guillermo del Toro did with the character. This adaptation should be rather interesting, and a bump in the release date from January 2019 to April 2019 does inspire some confidence on behalf of Lionsgate.
The Hellboy reboot also stars Milla Jovovich as the villainous Blood Queen, Ian McShane as Hellboy's adopted father Professor Bloom, an agent of the Bureau for Paranormal Research and Defense, Daniel Dae Kim as Ben Daimio, a BPRD soldier who is cursed to transform into a monster, and Sasha Lane is Alice Monaghan, who was kidnapped by fairies as a young girl, rescued by Hellboy and now an ally of his.
Here's hoping we get a first look at the Hellboy trailer sooner than later. The movie arrives April 12, 2019.