'Godzilla Vs. Kong' Synopsis Promises A "Spectacular Battle For The Ages"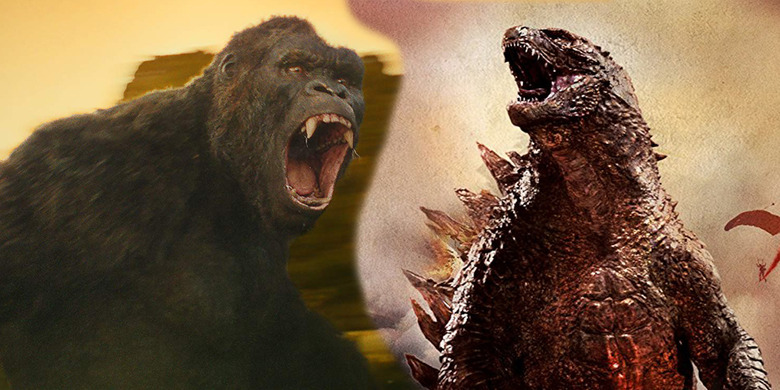 Now that Godzilla vs. Kong has assembled a monster of a cast, the Legendary MonsterVerse film officially heads into production. With the start of production comes the release of the first Godzilla vs Kong synopsis, which gives us a better idea of what to expect in the kaiju clash of the century.
Legendary has released the first synopsis for Godzilla vs. Kong, which pits the two iconic creatures against each other in first phase of Legendary's cinematic MonsterVerse. Adam Wingard directs the film, which is more than just a giant fistfight: the two gargantuan creatures will clash amid a "human conspiracy" to wipe them from the Earth.
Here is the official synopsis for Godzilla vs. Kong:
In a time when monsters walk the Earth, humanity's fight for its future sets Godzilla and Kong on a collision course that will see the two most powerful forces of nature on the planet collide in a spectacular battle for the ages. As Monarch embarks on a perilous mission into uncharted terrain and unearths clues to the Titans' origins, a human conspiracy threatens to wipe the creatures, both good and bad, from the face of the earth forever.
With the synopsis, Legendary announced the official start of production for Godzilla vs. Kong.
Legends will collide. Production has officially begun on Godzilla vs. Kong. In theaters everywhere Summer 2020.#Godzilla pic.twitter.com/IyegYH5Agb

— Legendary (@Legendary) November 12, 2018
The cameras start rolling on the heels of progressively exciting announcements for the film's star-studded cast, which now includes Alexander Skarsgård, Millie Bobby Brown, Rebecca Hall, Brian Tyree Henry, Shun Oguri, Eiza González, Jessica Henwick, Julian Dennison, Kyle Chandler, and Demián Bichir. Many of these actors will be reprising their role from the upcoming Godzilla: King of Monsters, which stars Bobby Brown, Chandler, Zhang Ziyi and Ken Watanabe and hits theaters next year.
It's the perfect way to set the ground for Godzilla vs. Kong, which is set to storm into theaters on May 22, 2020.