A 'Brooklyn Nine-Nine' Season 6 Teaser Is Here To Remind You That There's Some Good In The World (And That The Show Is Now On NBC)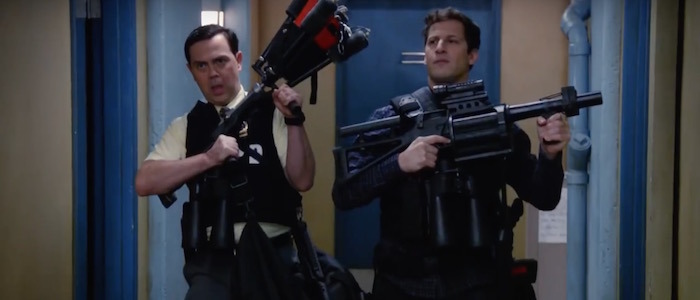 Every day of 2018 brings with it hardship and misery, but 2019 brings with it the promise of more Brooklyn Nine-Nine. So keep your chin up and stay strong – one of the funniest shows on television is going to make us feel at least a little bit better about the impending collapse of civilization.
But seriously, Brooklyn Nine-Nine is pure bottled joy and the first teaser for the show's sixth season is a welcome reminder that the sweetest and silliest comedy on Fox is about to becomes the sweetest and silliest comedy on NBC.
Remember when Fox cancelled Brooklyn Nine-Nine for a hot second? Yeah. Dark days. But then remember when NBC swooped in, saved it, and then granted it a longer season during production? Yeah. Good times. Anyway, this 15-second teaser doesn't provide closure for the cliffhanger from the season 5 finale, but it does offer scenes that take place seemingly moments afterward. In other words, we should know whether or not Raymond Holt will be the new commissioner of police very, very early in this season.
Brooklyn Nine-Nine Season 6 Teaser
We didn't learn too much about Brooklyn Nine-Nine season 6 at Comic-Con this year, but one thing was very clear: the cast was game to continue and thrilled to keep on playing New York City's goofiest cops. Even the great Chelsea Peretti leaving the series at some point this season can't dampen my spirits, mainly because I trust the show and its writers to send her off in style.
And co-creator/showrunner Dan Goor promises the change in network won't result in any substantial changes to the series fans know and love. As he half-joked during the TCAs earlier this year:
"Yes, the mandate from NBC all along is we know this show, we love this show, that's why we picked up this show, please keep making the same show. In a lot of ways, I think it is the same type of show. I don't want to say it's the same show. I think it's going to be even better this year. Definitely put that in. I'm doing The Secret. There are no substantive changes in terms of our approach to the show or anything else."
No premiere date has been set for Brooklyn Nine-Nine season 6 just yet, but it is expected to arrive on NBC in early 2019. In the meantime, the first five seasons are currently streaming on Hulu and you should watch (or re-watch) them.