POTD: All The 'Mrs. Doubtfire' Kids Reunited With Pierce Brosnan 25 Years Later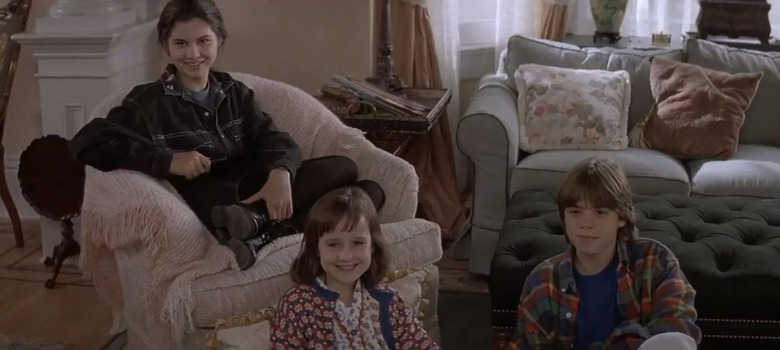 We may receive a commission on purchases made from links.
It's been 25 years since Mrs. Doubtfire hit theaters, introducing us to Robin Williams as a hip old granny who can hip hop, bee bop, dance till you drop, and yo yo make a wicked cup of cocoa. Sadly, Robin Williams is no longer with us to celebrate the milestone anniversary of one of the most beloved comedies of the '90s, but some of the other cast members still took the time to get together.
It appears Mrs. Doubtfire co-star Pierce Brosnan has done a fine job keeping in touch with his step-children from the movie, and a new photo shows him recently reunited with child stars Lisa Jakub, Matthew Lawrence and Mara Wilson, who are now all grown up.
The photo in questions comes from the Instagram account of Lisa Jakub, who played the feisty Lydia Hillard:
Lisa Jakub, Matthew Lawrence and Mara Wilson played the children of Daniel and Miranda Hillard, played by Robin Williams and Sally Field. Meanwhile, Pierce Brosnan played the sexy new client who came into Miranda's life and became her new boyfriend, much to the chagrin of Daniel, who was forced to dress up as an elderly housekeeper in order to see his kids after an unfavorable divorce court ruling.
What are the kids up to these days? Well, Lisa Jakub wrote a memoir about her time spent acting in movies like Mrs. Doubtfire, Independence Day, The Beautician and the Beast and more. Mara Wilson did the same, and her writing can also be found elsewhere online if you toss her name into Google. Meanwhile, Matthew Lawrence was somewhat recently seen reprising his Boy Meets World role on the sequel series Girl Meets World, and apparently he also started a band with his fellow actor brothers Joey Lawrence (from Blossom) and Andy Lawrence (from Hawaii Five-0).
It's cool that Pierce Brosnan has still been part of these kids lives since their Mrs. Doubtfire days. Now if only the kids could have talked him out of singing in Mamma Mia!, they would have the perfect relationship.