Bryce Dallas Howard Directing 'Dads' Documentary About Fatherhood Across The Globe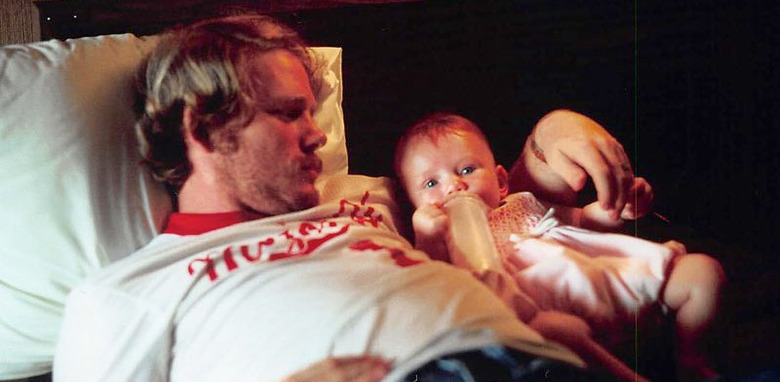 Bryce Dallas Howard grew up in show business. Not only is her father famed director Ron Howard (seen above with Bryce as a baby), but her grandfather was actor Rance Howard. But for an upcoming project, the Jurassic World franchise star will get behind the camera and turn the lens on more typical fathers.
Imagine Documentaries is working on their first feature documentary called Dads, which will be directed by Bryce Dallas Howard. The film is said to take "a humorous look at what it means to be a father in the modern era across the globe." Get more details below.
Deadline has word on the Dads documentary, which will be produced by Imagine Entertainment's chairmen Brian Grazer and Ron Howard, as well as Imagine Documentaries head Justin Wilkes. Solo: A Star Wars Story director Ron Howard offered up this statement on the new documentary project:
"Fatherhood has factored into so many of the stories – both comedies and dramas – I've directed and produced, and of course, my experience as a son and a father of four has defined me on a foundational level. But this project will go deeper and be much more revealing in its excavation of the subject than anything I've ever been involved with before. As a dad, it both thrills and fascinates me to be collaborating with my daughter, Bryce, as she applies her own storytelling instincts to the subject and directs the film. Our creative conversations have already been surprising, hilarious and emotional and we are eager to share what we discover with audiences."
Bryce Dallas Howard has never directed a feature documentary before, but it's one of two big jumps behind the camera she's making this year. The younger Howard will also be directing an episode of the upcoming Star Wars TV series The Mandalorian. That's quite the hefty task for a director just starting out, but she's not entirely inexperienced behind the camera.
Howard directed a short film in 2012 called When You Find Me which was on the shortlist for an Oscar and she directed another 2016 short called Solemates which played at Sundance. Plus, she's also worked on various projects at Moroccan Oil, Vanity Fair, Glamour, MTV, Sony and Lifetime. Here's what she had to say about the new endeavor:
"We're already gaining profound insight into the responsibilities, the absurdities, the triumphs and the losses dad's experience. What we've uncovered so far has been emotional, enlightening, provocative, and insanely funny. My father is my hero and always has been, so it's an honor and a privilege to get to share the stories of these remarkable dads from all walks of life, all heroes in their own right."
Dads doesn't have a release date yet, but we'll keep you posted.