'The Prodigy' Trailer: Georgie From 'IT' Plays Your Typical Creepy Kid Creating Jump Scares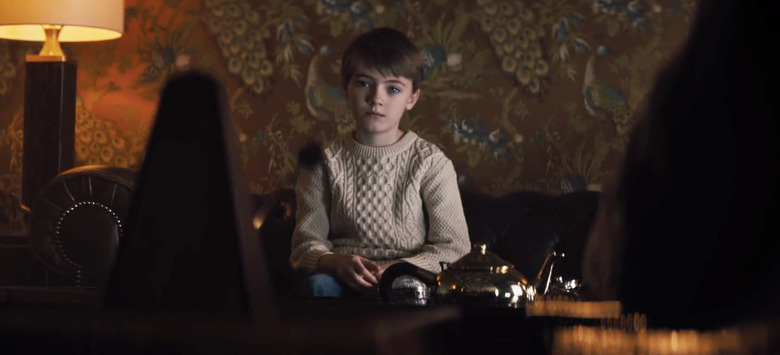 Since Halloween hit theaters this weekend, studios knew they needed to pack the pre-show with a bunch of horror trailers to get those hungry for scares excited about the terrors to come. Unfortunately, since it's October, that means we're talking about horror movies that will get dumped in the early months of 2019, where bad movies go to die.
Judging by the first trailer, The Prodigy just might be one of those movies. The new supernatural horror thriller from director Nicholas McCarthy (The Pact, At the Devil's Door) has a creepy kid (Jackson Robert Scott) seemingly inhabited by another being, and of course he scares the hell out of his mother (Taylor Schilling) with unnerving behavior and a cheap scare.
Watch The Prodigy Trailer
This trailer bored me to death when I saw it before Halloween over the weekend. It's a long lead rife with cliched elements that end in an even more predictable jump scare that steals the shock from the opening sequence of Annabelle. The only truly creepy piece of this trailer comes courtesy of the residual terror leftover from IT, simply because Jackson Robert Scott is quite skilled at making us feel uneasy.
We don't want to write this movie off entirely yet, but since it has a February release date, it's hard to get excited for the time being. Maybe future trailers will change our mind, but so far this feels like quite the lame attempt for Taylor Schilling to make a splash in horror on the big screen after being occupied with her breakthrough role in Orange Is the New Black.
Peter Mooney (Burden of Truth) and Colm Feore (Thor) also star in the film with a script from Jeff Buhler (The Midnight Meat Train, Pet Sematary) produced by Tripp Vinson (The Rite, The Exorcism of Emily Rose).
Here's the official synopsis from Orion Pictures:
Taylor Schilling stars in The Prodigy as Sarah, a mother whose young son Miles' disturbing behavior signals that an evil, possibly supernatural force has overtaken him. Fearing for her family's safety, Sarah must grapple with her maternal instinct to love and protect Miles in favor of investigating what – or who – is causing his dark turn. She is forced to look for answers in the past, taking the audience on a wild ride; one where the line between perception and reality remains blurry.
The Prodigy arrives in theaters on February 8, 2018.