The Morning Watch: 'Avengers: Infinity War' 16-Bit Snappening, Making A 'Halloween' Murderer & More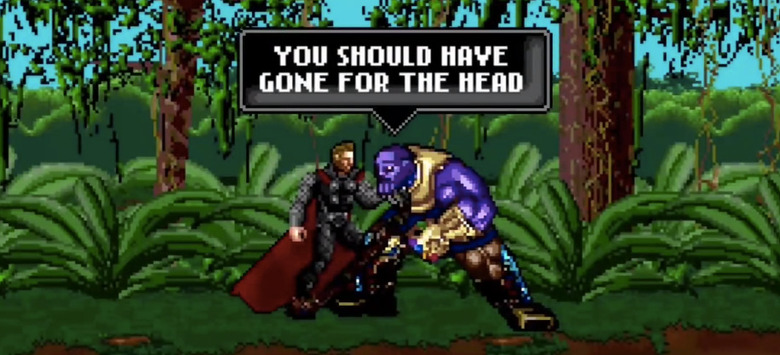 We may receive a commission on purchases made from links.
The Morning Watch is a recurring feature that highlights a handful of noteworthy videos from around the web. They could be video essays, fanmade productions, featurettes, short films, hilarious sketches, or just anything that has to do with our favorite movies and TV shows.
In this edition, watch the shocking ending of Avengers: Infinity War play out with glorious 16-bit visuals. Plus, watch a new edition of Making a Murderer focusing on the infamous killings in Haddonfield, Illinois in 1978, and take a deep look into the new Harry Potter pop-up book of Hogwarts School of Witchcraft and Wizardry.
First up, after the ending of Avengers: Infinity War shocked fans by killing half of all the superheroes in the Marvel Cinematic Universe, see the snap of the mighty Thanos take them out all over again, this time with glorious 16-bit video game visuals from Mr. Sunday Movies. But even in video game form, you can't get Thor to make the right move of going for the head.
Next, Michael Myers has been locked up for 40 years by the time we catch up with him in the new Halloween, but what we don't know is that he's been trying to prove his innocence while behind bars. Find out what Michael Meyers has been doing to prove that he's not a murderer and earn his freedom, even if all the evidence seems to be stacked up against him, in this new edition of Making a Murderer on The Late Late Show with James Corden.
Finally, the new book Harry Potter: A Pop-Up Guide to Hogwarts is hitting shelves this week, but before that, you can find out some of the secrets that lie within thanks to a chat with illustrator Kevin Wilson and engineer Matt Reinhart. Tested caught up with them at New York Comic-Con earlier this month to talk about the  making of this intricate and detailed book.