'Halloween' Could Scare Up $65 Million-Plus At The Box Office This Weekend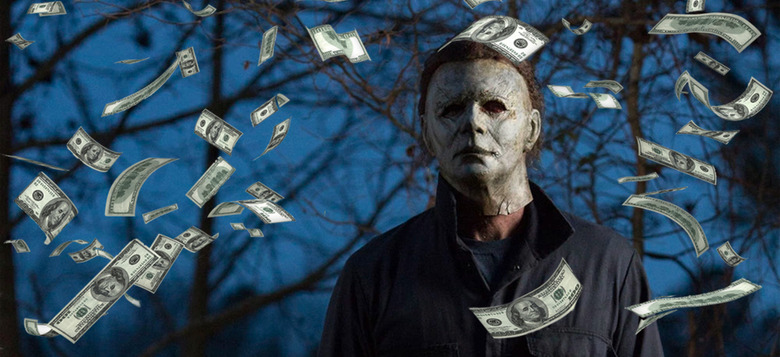 Michael Myers is returning to theaters this weekend, and audiences are ready. Halloween box office tracking indicates the latest entry in the ever-changing horror series is headed to a $65 million-plus opening weekend, making it an all-time-franchise best. Don't be surprised if a sequel is officially announced by Monday.
It's going to be a very happy Halloween indeed. Variety is reporting that David Gordon Green's sequel/reboot of John Carpenter's classic is on its way to a "massive opening in the $57 million to $65 million range. The studio is cautiously anticipating a $50 million bow, though some industry analysts think it could rocket past $70 million when it debuts in 3,928 theaters." Should that happen, this will be the best opening weekend for a Halloween film...ever. The current record holder is  Rob Zombie's 2007 Halloween, which opened with $26,362,367.
This also indicates that Halloween will do what First Man could not: dethrone Venom from the top of the box office. While the Tom Hardy Spider-Man spin-off remained #1 last weekend, it also suffered a 70% drop from its opening. That trend will likely continue, putting Michael Myers at the top of the box office for the first time in years.
When a horror film opens this big, it usually means one thing: sequels. An official follow-up to Green's Halloween has yet to be announced, but co-writer Danny McBride has confirmed they have an idea for a sequel. That said, there are rumors that a sequel is indeed already in the works, and Green and McBride will not be returning. I'm not 100% sure what's going on here, but I am sure an official sequel announcement will come sooner rather than later. I wouldn't be surprised if it comes as soon as next week.
In the new Halloween, Jamie Lee Curtis returns as Laurie Strode, the sole survivor of Michael Myers' original rampage. Laurie has waited for 40 years for Michael to return, alienating her entire family with her survivalist mentality. Sure enough, Michael does head back to Haddonfield, butcher knife at the ready. The masked killer cuts a swath of death across town as he heads towards Laurie. But this time, she's ready for him.
I quite enjoyed Halloween. It's nowhere near as great as Crpenter's original, but it's an exciting, scary and highly entertaining love letter to the series as a whole, and boasts a great performance from Curtis. I'm thrilled at the idea of the new film being back at the top of the box office, making Curtis a box office star yet again.
Halloween opens on October 19, 2018.