Idris Elba Joins 'Cats' Movie Musical, Hopefully To Cancel The Catpocalypse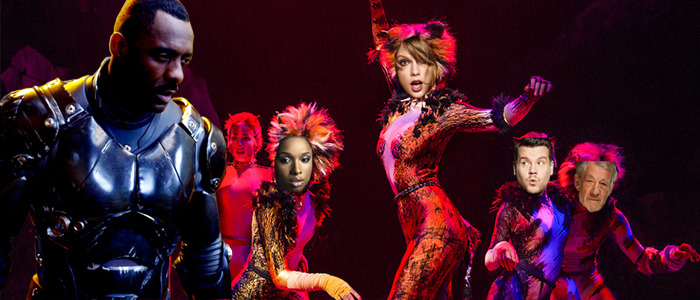 People dressed in cat suits dance across a trash heap, singing about which of them will be chosen by the Jellicle Leader. An armored figure steps from the shadows. It's Idris Elba's Stacker Pentecost from Pacific Rim, and he's here to cancel the catpocalypse. /daydream
Back in reality, Idris Elba is the latest actor to come on board Les Miserables director Tom Hooper's Cats movie musical, joining an eclectic cast of performers who range from Taylor Swift to Sir Ian McKellen. And as interesting as a multi-franchise crossover would be, Elba probably won't be reprising his Pacific Rim role in this movie. (Probably.) Read more about the long-in-the-works Cats film below.
I must admit: "Idris Elba joins Cats movie" was the last thing I thought I'd type today. Elba has spent much of his career playing tough, intelligent characters: Stringer Bell from The Wire, John Luther from Luther, Charlie Jaffey from Molly's Game, Krall from Star Trek Beyond, the villain in the new Fast and Furious spin-off Hobbs and Shaw, and even Shere Khan from The Jungle Book. And yet though he's long had a separate career as a musician, DJ-ing under the name DJ Big Driis, I just didn't anticipate him signing up for a Tom Hooper musical.
But here we are. Variety has the news, though they don't explicitly say which character he'll play – which sounds to me like the Stacker Pentecost option is technically still on the table.
In addition to Elba, Swift, and McKellen, Jennifer Hudson and James Corden are on board in this film adaptation of the wildly popular stage musical. Here's a brief synopsis:
This all-dance show's action is set on a gigantic rubbish dump which, after dark, becomes alive with cats of all types, shapes and sizes. Soon there are cats all over the place, including the auditorium, gathering for the Jellicle Ball during which one cat will be selected by the Jellicle Leader and allotted an extra precious life.
Hooper, who most recently directed 2015's The Danish Girl, has been trying to get this one off the ground for years, and it's finally happening at Universal. Will he utilize his old tactic of having his actors sing live on set during production? Maybe! Hooper hasn't publicly committed to that technique yet, but considering the success of Les Miserables, which earned a Best Picture nomination and went home with three Oscars (including Best Supporting Actress for Anne Hathaway), it seems likely.
Cats arrives in theaters on December 20, 2019.