Cool Stuff: Adidas Celebrating 'The Waterboy' 20th Anniversary With Mud Dogs Football Gear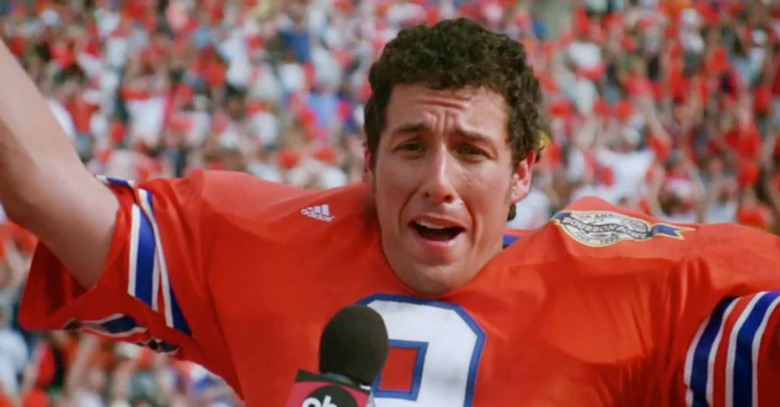 Remember the time Bobby Boucher showed up at halftime and the Mud Dogs won the Bourbon Bowl, do ya?
It's hard to believe, but it's been 20 years since The Waterboy hit theaters. The sports comedy starring Adam Sandler is such a product of the decade in which it came out as it follows a dimwitted Louisiana college football waterboy named Bobby Boucher who becomes a star football player when he inadvertently taps into the rage that comes from a life of being bullied and tackles the hell out of his opponents.
The folks at the sportswear company Adidas think the movie deserves a special celebration by debuting limited edition gear inspired by the South Central Louisiana State University Mud Dogs, the losing team who becomes champions thanks to the fierce tackling of Bobby Boucher. It's the 20th anniversary, so we can't hold anything back now.
Find out about The Waterboy Adidas clothing coming later this week below.
The Waterboy Adidas Clothing
The Waterboy is evidence of a time when Adam Sander was funny through the 1990s until he went off the rails somewhere around the time Little Nicky came out. I'm not entirely sure I'd call it a comedy classic, but it's certainly a favorite of the late '90s. And now you can show your love with this array of memorabilia.
As you can see, The Waterboy Adidas clothing options include an SCLSU jersey for $120 featuring the name of Bobby Boucher on the back and a patch celebrating their participation in the championship Bourbon Bowl game. There's also a varsity jacket inspired by Coach Klein (Henry Winkler) for $100, and an SCLSU hat for $30 and water bottle for $20.
Even cooler is that the University Lab High School (ULAB) football team in Baton Rouge is being given SCLSU jerseys and football helmets to wear when they play their game against Mentorship Academy on October 19.
Speaking of October 19, that's when all The Waterboy Adidas clothing will be available for a limited time on Adidas.com. Or if you happen to be at the Sneaker Politics consortium in Baton Rouge beginning October 18, you might be able to get some of this stuff there.