'Origin' Trailer: YouTube Makes A Big Push Into Sci-Fi With The Producers Of 'Lost'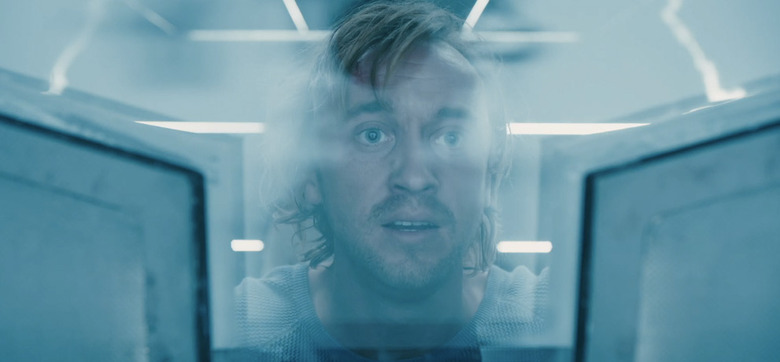 The original programming from YouTube hasn't quite made the kind of breakthrough that feels like it can compete with the likes of Netflix and Hulu. Sure, Cobra Kai was a step in the right direction, and it turned a lot of heads towards the premium streaming service, but it still had a niche audience. But their next original series looks like it could raise the bar for YouTube programming.
Origin is a new series from the producers of The Crown and Lost which finds a group of passengers on a massive spaceship who were supposed to be on a voyage that allowed them to leave their old life behind for something new. But as we see in the first Origin trailer, suddenly they find themselves abandoned, and there's something lurking that you don't want to be trapped on a spaceship with.
Watch the Origin Trailer
Harry Potter franchise cast members Tom Felton and Natalia Tena lead the series along with newcomer Sen Mitsuji, and it has some impressive production value. It also looks surprisingly good for a series where the first two episodes were directed by Resident Evil filmmaker Paul W.S. Anderson. Sure, the series feels like an obvious lift of Lost mixed with Event Horizon and Alien, but that's a basic premise that leaves a lot of room for interesting characters to make the proceedings even more compelling, especially since this is a series we're talking about and not a Netflix original movie you leave in your queue for the rest of your life.
Of course, that doesn't mean there isn't a little but of schlock here and there. For example, some of the visual effects shots don't look their best, and the use of the trademark "Howie scream" sound effect during a moment that's supposed to create tension and terror feels like a total misfire simply because of the exaggerated nature of that sound. But even so, if YouTube is going to start churning out content like this on a regular basis, it might be time to finally pay for YouTube Premium.
For more of an impression on Origin, check out our report from San Diego Comic-Con over the summer.
From the producers of The Crown & producers of Lost comes Origin, a chilling new original series that follows a group of troubled passengers as they wake up on a damaged spaceship abandoned in deep space. Each having left behind a dark past in search of a fresh start on a newly colonized planet, they're determined to survive at all costs. But as their terrifying situation spirals into paranoia, they come to realize that the greatest threat to their dream of starting over – and indeed their lives – is something far darker than the pasts they were so desperate to escape.
Origin arrives on YouTube on November 14, 2018.