'Irresistible' May Let Jon Stewart Direct 'The Daily Show' Alumnus Steve Carell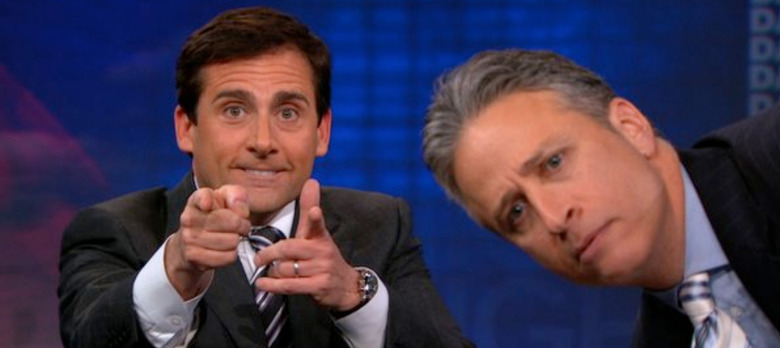 Before Steve Carell went on to become an actor nominated for Oscars, Emmys and Golden Globes, he was a contributor on Comedy Central's news satire program The Daily Show with former host Jon Stewart. Now the two will collaborate again, this time for the big screen.
Jon Stewart will get back in the director's chair for a new film called Irresistible, a political satire based on an original idea from the comedian himself. Steve Carell is in early talks to star in the movie.
Variety has word on the new Jon Stewart movie, which will mark the comedian's second directorial effort following a surprising dramatic turn behind the camera with the drama Rosewater, the true story about journalist Maziar Bahari, who was detained by Iranian forces who brutally interrogated him under suspicion that he was a spy. The comedian will also produce along with Brad Pitt's Plan B Entertainment production banner.
Details are slim on Irresistible, however, knowing Jon Stewart's strengths lie in political satire, we pretty much know everything we need to in order to be interested in this production. The fact that Steve Carell is the top choice to star only sweetens the deal, but apparently the financing and scheduling still needs to be worked out.
Stewart has been all over the place since leaving The Daily Show. At one point he was slated to develop animated series for HBO, but that fell apart. He's been doing some stand-up shows here and there, appearing alongside Stephen Colbert on The Late Show on CBS, not to mention other talk shows, and continues to host the Night of Too Many Stars charity event. But having him get back behind the camera for a project like this is easily the most exciting thing he's done so far.
Irresistible is still in the early stages of finding financiers and a distributor, so it might be awhile before we get an update on the project, including when production starts. But we'll be keeping our fingers crossed that the project actually comes together. In the meantime, here's Stewart and Carell at their old stomping grounds on The Daily Show: