Mondo Unveils New Trilogy Of 'Back To The Future' Prints And Enamel Pins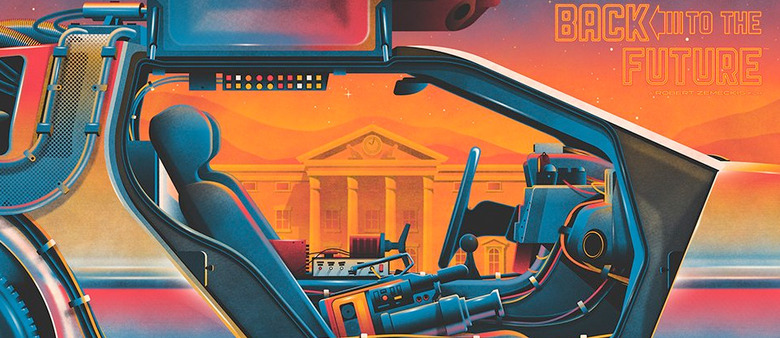 With New York Comic-Con rocking the Big Apple this weekend, there are tons of new art prints going on sale paying tribute to your favorite movies and TV shows. We've already gotten a look at some of the prints coming from Bottleneck Gallery, and now Mondo has unveiled a batch of Back to the Future prints by artists DKNG and George Bletsis going on sale sometime Thursday, October 4.
Check out the new Mondo Back to the Future prints below.
DKNG Back to the Future Prints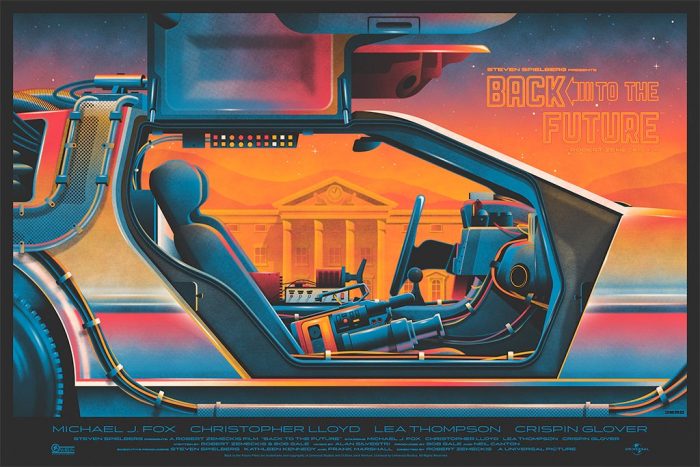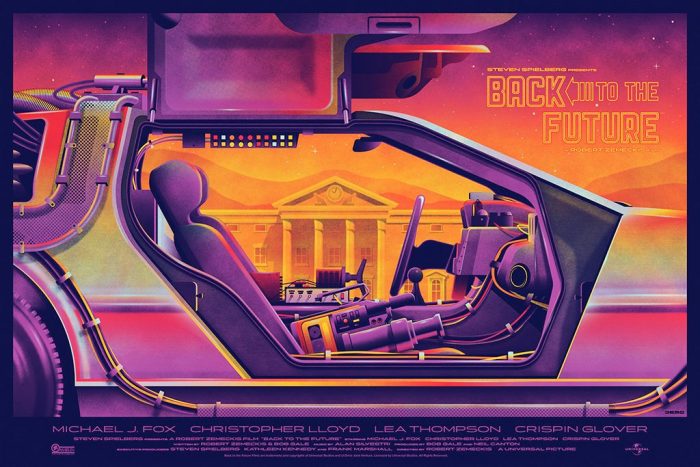 First up, the DKNG Back to the Future prints coming up actually feature artwork that Mondo fans have already seen. This print comes from the artwork DKNG created for the limited edition Back to the Future trilogy soundtrack box set that was released a few years back.
The regular version (top) has an edition of 375 and will cost you $50 while the foil variant version has an edition of 200 and will cost you $70. Each of the prints measures 36x24 inches and will ship sometime in December this year.
DKNG says, "The art itself is inspired in many ways by the depictions of the DeLorean that came before it. We knew that a profile view of the car has been interpreted by countless artists in many beautiful ways, so our goal was to create a new take on this viewpoint by zeroing in on the detail of the time machine. Capturing both exterior and interior through the open gull-wing doors, all while having fun with including a few Easter eggs. Creating the main edition of the poster in a neon '80s color palette was a must, but just in case it wasn't colorful enough we created the variant edition on rainbow foil for an extra shimmery effect."
George Bletsis Back to the Future Part II and Part III Prints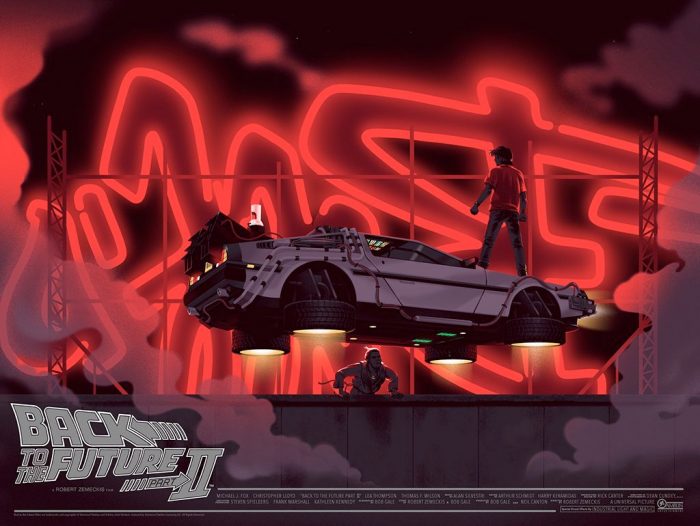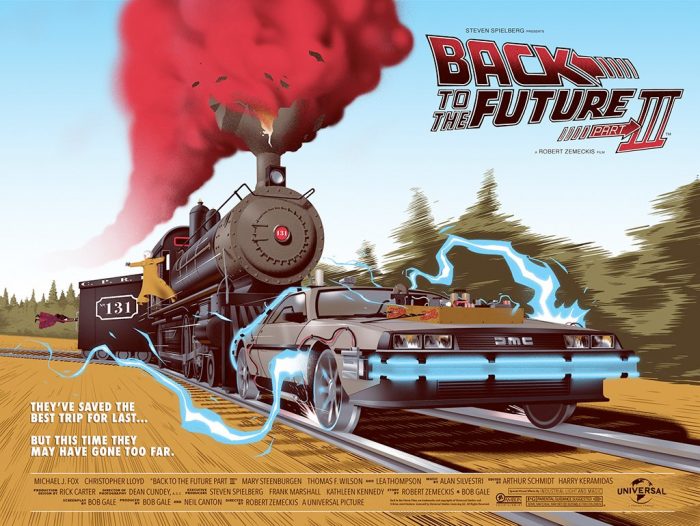 Rounding out the trilogy of print releases from Mondo, artist George Bletsis has created prints for Back to the Future Part II and Back to the Future Part III. Here's what he had to say about creating these pieces:
"I have been watching the Back to the Future movies my entire life. When I was a little kid I would watch these movies over and over, and as I grew older my love for them also grew, and I would frequently revisit them and feel like I was visiting old friends.I watched them so much that these movies became almost like landmarks in the landscape of my mind, and it was this that I wanted to convey in my set of posters. Each one of these posters evokes the scenes that best encapsulate each movie for me, the scenes that stood out most to me as a kid, and that give me goosebumps to this day. I have always dreamed of creating work for these wonderful films and illustrating these posters was both a joy and a real privilege."
Back to the Future Part II has an edition of 250 while Back to the Future Part III has an edition of 175. Each of the prints measures 24x18 inches and cost $45. They'll ship sometime in December of 2018.
Tom Whalen Back to the Future Enamel Pins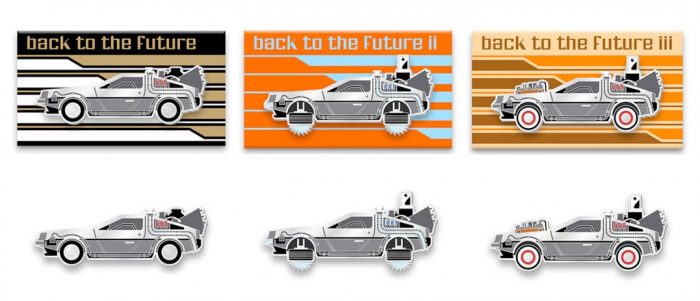 Finally, if Mondo's prints are just too expensive for you, you can pick up a trio of new enamel pins of the DeLorean time machine designed by artist Tom Whalen instead. They cost $10 each and will ship sometime this month.
Everything goes on sale at a random time today. Stay tuned to @MondoNews on Twitter to find out when.