New 'Titans' And 'Runaways' Trailers Give The Young Superheroes The Spotlight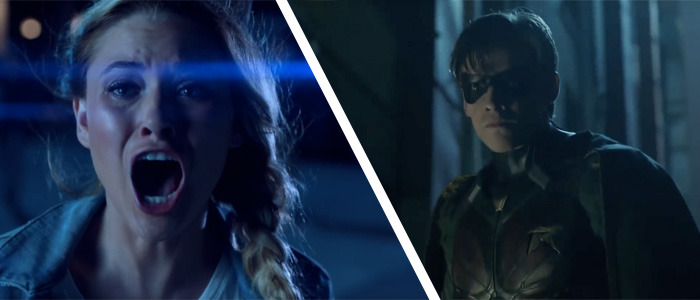 The Marvel Cinematic Universe and the DC Extended Universe are chock-full of mostly adult superheroes, but streaming services are letting the younger roster of super-powered comic book characters take the spotlight.
Marvel's Runaways is returning for a second season on Hulu this winter while Titans is debuting on DC Universe later this month, and two new trailers have arrived to showcase what each of the superhero ensembles have in store for comic book fans.
The New Runaways Season 2 Trailer
Rhenzy Feliz (Alex Wilder), Lyrica Okano (Nico Minoru), Virginia Gardner (Karolina Dean), Ariela Barer (Gert Yorkes), Gregg Sulkin (Chase Stein) and Allegra Acosta (Molly Hernandez) will all be back as the children of a team of super villains. It appears they're still figuring out their own super powers, not to mention stumbling upon their own lair where they can hone their skills in order to stop their parents.
That means we'll likely also be seeing the return of said evil parents, which include Angel Parker and Ryan Sands as Alex's parents Catherine and Geoffrey Wilder, Annie Wersching and Kip Pardue as Karolina's mother Leslie and adopted father Frank Dean, Ever Carradine as Chase's mother Janet Stein, Brigid Brannagh and Kevin Weisman as Gert's parents Stacey and Dale Yorkes, and Brittany Ishibashi and James Yaegashi as Nico's parents Tina and Robert Minoru.
Plus, Julian McMahon is still around as the show's villainous Jonah, leader of Pride and Karolina's biological father, which could create some issues for our young heroes. If you want to know more, here's the official synopsis:
The Runaways have left their homes (and evil parents) behind and now have to learn to live on their own. As they scavenge for food, search for shelter, and take care of one another, our kids begin to realize that, for better or worse, they're stuck with each other. And it's up to them to take down PRIDE once and for all. But someone sent a mysterious message to Jonah... Is there a mole in the Runaways? Meanwhile PRIDE is focused on finding their children, and Jonah has his own dangerous plan in mind.
The second season of Runaways arrives on Hulu on December 21, 2018.
Titans International Trailer and Netflix Pick-Up
Meanwhile, confirmation of Netflix picking up Titans for international markets has arrived, and it comes with a new trailer showing off plenty of new footage from the series that will only be available through the DC Universe subscription service in the United States.
There's no "Fuck Batman" moment in this trailer, but it still has that gritty, dark tone that everyone seems to be loving/hating from the DC Comics adaptations lately. It's dark and dreary, and I'm not sure this is the best way to expand the DC Comics slate. Then again, fans seem to be excited about the prospect of seeing a live-action version of this team come together, so what do I know.
For me, the biggest hurdle is buying into Brenton Thwaites as this experienced detective version of Dick Grayson. Sure, Robin has always been a younger character, but it's a little hard to buy into this fresh-faced guy as a seasoned detective who can take a super-powered youngster under his wing. But again, maybe that's just me.
Titans is slated to debut on DC Universe with one episode each week starting on October 12. However, it's not clear if it will be distributed the same way on Netflix internationally, or if those markets will have to wait until the entire series is over before being able to binge the episodes. We'll find out soon enough.