VOTD: Watch Academy Conversations With 'Blindspotting', 'Eighth Grade', 'Puzzle' Filmmakers & More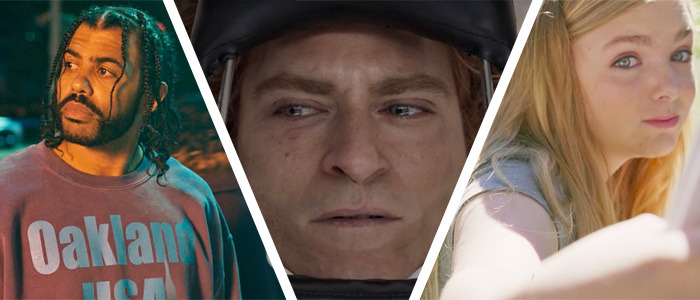 Blockbuster summer is almost over, and while you might have seen a lot of big studio movies in theaters over the past few months, hopefully you also caught some of the indie gems that hit the big screen in between all the explosions, superheroes and general noise of tentpole releases.
For those of you lucky enough to catch lower profile releases like Blindspotting, Eighth Grade, Sorry to Bother You, Puzzle, The Miseducation of Cameron Post and Don't Worry, He Won't Get Far on Foot, now you can watch a batch of Q&A videos from special screenings at the Academy of Motion Picture Arts and Sciences featuring the filmmakers and casts of these acclaimed indie movies.
First up, Sorry to Bother You writer/director Boots Riley participates in a Q&A with actors Lakeith Stanfield, Terry Crews, and Patton Oswalt, as well as producers Nina Yang Bongiovi, Charles D. King and George Rush. Read our review of the movie from Sundance over here and check out the official synopsis below:
Cassius Green (Lakeith Stanfield), a 30-something black telemarketer with self-esteem issues, discovers a magical selling power living inside of him. Suddenly he's rising up the ranks to the elite team of his company, which sells heinous products and services. The upswing in Cassius's career raises serious red flags with his brilliant girlfriend, Detroit (Tessa Thompson), a sign-twirling gallery artist who is secretly a part of a Banksy-style collective called Left Eye. But the unimaginable hits the fan when Cassius meets the company's cocaine-snorting, orgy-hosting, obnoxious, and relentlessly optimistic CEO, Steve Lift (Armie Hammer).
Turning attention to a veteran filmmaker, director Gus Van Sant sits down for a chat to discuss the biographical drama Don't Worry, He Won't Get Far on Foot with some help from composer Danny Elfman. Read our review from Sundance over here and check out the official synopsis below:
The last day Portland slacker John Callahan (Joaquin Phoenix) is able to walk, he wakes up without a hangover — because he's still drunk from the night before. That night at a wild party he meets a wisecracking drinking buddy (Jack Black), who insists they leave for an even better party he knows about. But when his new friend dozes off at the wheel, John wakes up confined to a wheelchair with only partial use of his arms. Though he initially has no intention of getting sober, he reluctantly attends a 12-step meeting run by a charismatic and dedicated sponsor named Donnie (Jonah Hill) and reconnects with Annu (Rooney Mara), a therapist he met at the hospital. With their encouragement, John finds that love is not beyond his reach and discovers a hidden talent for drawing, channeling his playful personality into crude, politically incorrect — and often hilarious — cartoons, which develop a national following.
Puzzle flew much more under the radar than a lot of these other indies, but you should still seek it out if you can. Here director Jon Turteltaub appears with stars Kelly Macdonald and David Denman to discuss the story of self-discovery. Here's the official synopsis:
Agnes (Kelly Macdonald) has been a devoted housewife for decades, living a quietly sheltered life in suburban Connecticut. When she's gifted a thousand-piece puzzle for her birthday, Agnes finally discovers something she's passionate about and unusually skilled at. Her hobby gradually evolves into a quest for self-awareness and leads her to team up with Robert (Irrfan Khan), a fellow maverick who introduces her to an unexpected world of puzzle competitions. Agnes is soon swapping household chores for secretive train rides to New York City, where Robert helps her unlock a desire to finally march to the beat of her own drum for the first time in her life.
Digging into rough teenage territory, here's a conversation with Eighth Grade writer and director Bo Burnham and the film's young, breakout star Elsie Fisher. Check out our review from Sundance right here, and read the official synopsis below:
Eighth-grader Kayla Day (Elsie Fisher) always has her phone in hand, hoping to find connections online that might make up for those she's unable to forge in everyday life. She makes YouTube videos aimed at other adolescents dealing with similar issues—feelings of isolation, anxiety, and invisibility—but after so easily summoning this wisdom and confidence when addressing her (barely existent) audience, Kayla finds it paralyzingly difficult to apply in real situations. In the final week of a thus-far-disastrous school year—and with high school looming on the horizon—Kayla struggles to bridge the gap between how she perceives herself and who she believes she should be.
Blindspotting was released towards the end of July and is still playing in select theaters. Above is a nearly 15 minute discussion with writers/producers/actors Rafael Casal and Daveed Diggs, actor Janina Gavankar, and producers Jess Calder and Keith Calder. Read our review from the Sundance Film Festival right here and check out the official synopsis below:
Collin (Daveed Diggs) must make it through his final three days of probation for a chance at a new beginning. He and his troublemaking childhood best friend, Miles (Rafael Casal), work as movers, and when Collin witnesses a police shooting, the two men's friendship is tested as they grapple with identity and their changed realities in the rapidly-gentrifying neighborhood they grew up in.
Finally, here's a discussion with The Miseducation of Cameron Post writer/director Desiree Akhavan and the film's star Chloë Grace Moretz. Check out our review from Tribeca over here, and read the official synopsis for the movie below:
Based on the celebrated novel by Emily M. Danforth, The Miseducation of Cameron Post follows the titular character (Chloë Grace Moretz) as she is sent to a gay conversion therapy center after getting caught having sex with the prom queen. Run by the strict Dr. Lydia Marsh (Jennifer Ehle) and her brother, Reverend Rick (John Gallagher Jr.) — himself an example of how those in the program can be "cured" — the center is populated by teens "struggling with same-sex attraction." In the face of outlandish discipline, dubious methods, and earnest Christian rock songs, Cameron forms an unlikely gay community, including the amputee stoner Jane (Sasha Lane) and the Lakota Two-Spirit, Adam (Forrest Goodluck). In creating a family on her own terms, she learns what it means to empower herself and have confidence in her identity.