MoviePass Continues To Get Worse, Only Makes Two Movies Available At A Time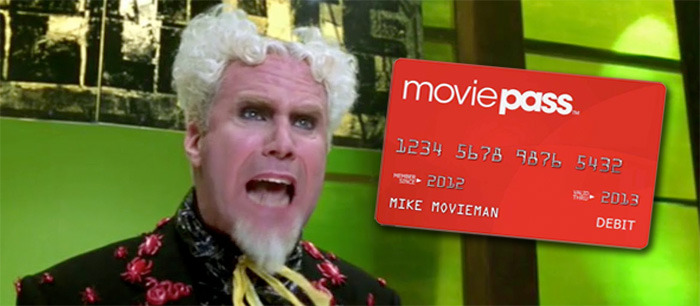 Another weekend has arrived, creating another opportunity for MoviePass to disappoint their customers.
This week already brought news that MoviePass would soon only be offering a new $9.95 subscription plan that gives new and renewing monthly subscribers just three movie tickets a month. That's a far cry from the initial plan that offered one movie ticket a day, but it's the only way the company will be able to stay afloat after hemorrhaging money last month to the point that their service was shut down after they literally couldn't pay their bills. But MoviePass is still getting worse.
Not only did the MoviePass service go down again on Friday evening, but subscribers were only given two movie choices when trying to check in to a movie at theaters that don't offer advance e-ticketing options (where MoviePass has partnerships with theaters). MoviePass admitted that this is a new official practice to help them right the sinking ship.
The New York Post confirmed MoviePass has quietly rolled out a new plan to keep users from spending their money so quickly. Customers trying to check in to movies for theaters that don't offer e-ticketing options found themselves forced to choose between only two movies. In most cases, customers could only check into either the critically panned new horror release Slender Man or the action sequel Mission: Impossible – Fallout, now in its third weekend of release. Others were given The Spy Who Dumped Me alongside Slender Man instead.
MoviePass CEO Mitch Lowe told The New York Post, "Unfortunately, in order to stay financially stable we've had to curtail the service. We had to right the ship as far as the amount of money we were burning. This has been a challenging time for us and our customers. We're just trying to save our service to be able to be available long term." He added that the two movies available could change with each day. So it's a shitty surprise as to whether you'll be able to use your MoviePass when you're ready to head to the movies. But even if you find your movie available, it might not be at a time convenient for you.
This weekend it was also noted that the showtimes available for purcahse through MoviePass, at least at the AMC Empire 25 in Times Square, weren't all that convenient for a night out at the movies. The only two showtimes that could be purchased were 2:30pm and 10:45pm. Again, e-ticketing theaters did not have a limited selection of movies or showtimes, but there are significantly less theaters offering e-ticketing through MoviePass, screwing over many moviegoes this weekend and leaving new releases like The Meg and BlacKkKlansman out in the wind.
Coincidentally enough, Slender Man was promoted by MoviePass in an e-mail sent out to subscribers. Could this be part of a new MoviePass practice where they only make a new release readily available to all subscribers if a studio pays to promote it through their service? At this point, nothing would surprise me.
Right now MoviePass is waiting to see how many of their 3 million-plus subscribers will renew with their new subscription plan only offering three tickets a month. At this rate, I wouldn't expect MoviePass to be able to hold on to many of their monthly subscribers, and I can't imagine their annual subscribers will be eager to sign up again with all these problems that keep popping up every weekend.
Stay tuned to see what new fresh hell MoviePass puts their customers through next time.