'The Predator' TV Spot Introduces Us To The Ultimate Predator, Kicks Off Ticket Sales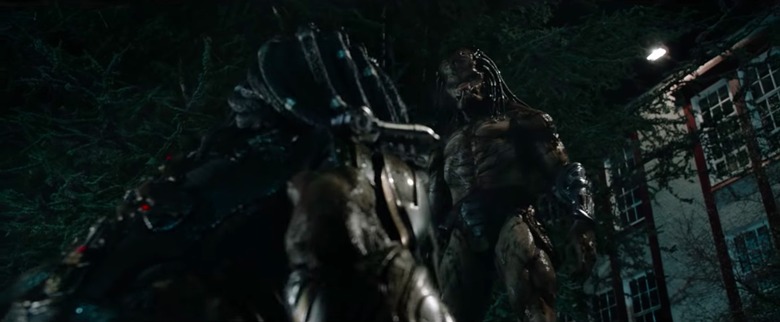 20th Century Fox has dropped a triple whammy of The Predator news alongside its newest TV spot for the sequel directed by Shane Black. The TV spot gives us a glimpse of the much-anticipated, mysterious Ultimate Predator that makes its debut in this fourth installment of the sci-fi action franchise. And the new TV spot also signals the start of advance ticket sales, ahead of the film's worldwide premiere at the Toronto International Film Festival this September.
The Predator TV Spot
How do you one-up the ultimate predator — an alien that is faster, stronger, and more brutal than the human race, which it has terrorized for three films now? By introducing the real Ultimate Predator. We got a peek of this super-Predator in the first trailer, but this newest TV spot gives the spotlight to the monstrous and mysterious creature. And...we still know very little.
But one thing we do know is that advance tickets are available now. A month before the film's release in theaters, audiences can purchase advance tickets for the film at www.ThePredatorTix.com.
And you can anticipate the hype for The Predator to begin soon. The sci-fi horror film will make its worldwide debut at TIFF on September 6, 2018, a week before it is set to hit theaters. The Predator will be part of the film festival's Midnight Madness section, which consist of 10 genre films designed to spook and thrill audiences. The new Halloween sequel is also set to make its premiere at TIFF's Midnight Madness.
The Predator cast includes Boyd Holbrook, Trevante Rhodes, Jacob Tremblay, Keegan-Michael Key, Olivia Munn, Sterling K. Brown, Alfie Allen, Thomas Jane, Augusto Aguilera, Jake Busey, and Yvonne Strahovski.
Here is the official synopsis for The Predator:
From the outer reaches of space to the small-town streets of suburbia, the hunt comes home. The universe's most lethal hunters are stronger, smarter and deadlier than ever before, having genetically upgraded themselves with DNA from other species. When a boy accidentally triggers their return to Earth, only a ragtag crew of ex-soldiers and a disgruntled science teacher can prevent the end of the human race.
The Predator opens in theaters on September 14, 2018.