'The Kindergarten Teacher' Trailer: Maggie Gyllenhaal Gets Too Invested In A Child Prodigy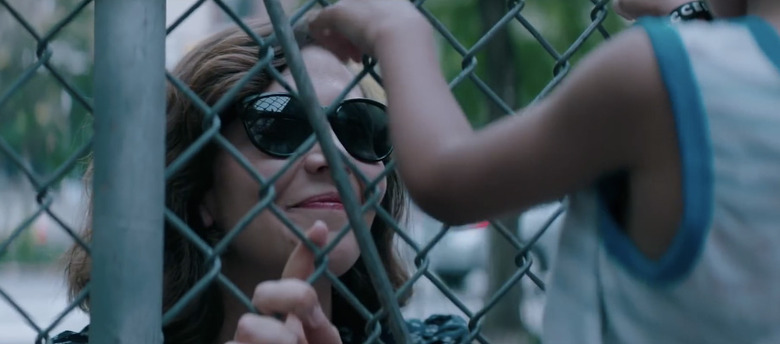 After playing the 2018 Sundance Film Festival, Netflix is bringing unnerving psychological thriller The Kindergarten Teacher to audiences, and the first trailer has just arrived to tease the remake of writer/director Nadav Lapid's acclaimed Israeli film of the same name. Watch it below.
The Kindergarten Teacher Trailer
The Kindergarten Teacher follows Maggie Gyllenhaal as the titular instructor named Lisa Spinelli, a woman desperate for her life to feel significant again as her work in the classroom is anything but inspiring, and her family life leaves something to be desired too. She tries to take solace in a poetry class at night, but she's discouraged by her lack of skill.
However, she finds a light to hold onto when one of her kindergarten students (Parker Sevak) shows a knack for creating beautiful poetry off the top of his head. With the student's parents and caretaker oblivious to his talents, Lisa takes it upon herself to hone his skills. But the lengths to which she's willing to go to spotlight the student's talents takes a questionable turn.
This is one of those thrillers that slowly creeps up on you and makes you feel so uneasy and uncomfortable because it's the kind of story that isn't out of the realm of possibility. Plus, Maggie Gyllenhaal does such an incredible job at playing a woman who is desperate, likeable and misguided all at the same time. It's easily one of her best performances.
Sara Colangelo directs from a script she wrote herself, and the rest of the cast includes Anna Baryshnikov, Rosa Salazar, Michael Chernus and Gael Garcia Bernal. If you'd like to know more, check out our review from the Sundance Film Festival.
Lisa Spinelli (Maggie Gyllenhaal) is a kindergarten teacher in Staten Island who yearns to live a life of art and intellectualism. She takes an evening poetry class but, despite her best efforts, her work is mediocre. When she overhears Jimmy (Parker Sevak), one of her five-year-old students, reciting an original poem in her classroom, she is floored. Convinced he is the equivalent of a young Mozart, she becomes obsessed with the child and embarks on a dangerous journey to nurture his talent. As Lisa continues down this increasingly desperate path, she seems ready to throw away everything to chase an impossible dream.
The Kindergarten Teacher hits Netflix on October 12, 2018, but it will also have a limited theatrical release.