'Bloodshot' Movie Replaces Michael Sheen With Guy Pearce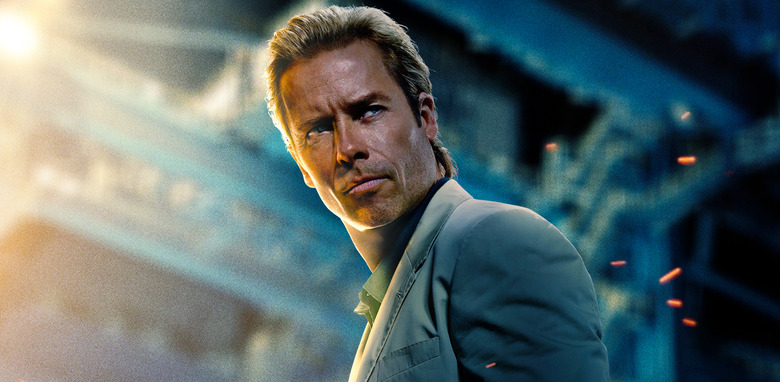 Guy Pearce is no stranger to playing shady scientists conducting mysterious experiments on soldiers in comic book movies. After all, he played that part to sleazy perfection in Iron Man 3. So it's no wonder that he's been cast in a similar role in Sony's upcoming comic book adaptation Bloodshot, replacing original actor Michael Sheen.
Production began on Bloodshot yesterday, but new names are joining the cast. Variety reports that Michael Sheen has departed the superhero movie due to scheduling conflicts, but Pearce was able to slide into the role immediately. It's easy to see why Pearce and Sheen could play the same role – both are handsome and charming actors with the capacity to play threatening, menacing, and grotesque if necessary.
In addition to Iron Man 3, film fans will undoubtedly know Pearce from his work in Memento, L.A. Confidential, and The Proposition. In recent years, he's seemingly abandoned most leading man parts and has become a reliable character actor, morphing into a number of strange and varied roles. His presence can only improve Bloodshot.
Bloodshot is based on the Valiant comic book character of the same name. Vin Diesel stars as the title character, a mortally wounded soldier who is revived using experimental technology that transforms him into a pale-skinned, seemingly indestructible weapon. He's tasked with rounding up super-powered individuals known as "harbingers," but wouldn't you know it? He quickly learns that there's more going on than meets the eye.
Pearce will play Dr. Emil Harting, the scientist responsible for creating the technology that makes Bloodshot into a killing machine. In other words...we can probably assume that he's playing the bad guy.
Bloodshot is being positioned as a possible franchise for Sony and the start of a brand new cinematic universe. If all goes according to plan, Bloodshot will be followed by a Harbinger movie, culminating in a Harbinger Wars crossover. Films based on mismatched duo Archer & Armstrong and plus-size superhero Faith are in the works, as is a TV series based on Quantum and Woody.
It remains to be seen how Bloodshot shapes up, but I'm keeping my fingers crossed. The modern Valiant comics have been consistently excellent, reinventing these characters and their world in thrilling, strange, and exciting ways. Characters like X-O Manowar and Ninjak (Ninjak!) often surpass what Marvel and DC are doing in their more famous universes. Valiant and Sony have something a little harder-edged and a lot more fresh to play with here.
Bloodshot will be directed by Dave Wilson, from a script by Arrival screenwriter Eric Heisserer. It is set to hit theaters on February 21, 2020.