'American Gladiators' Reboot On The Way, Executive Produced By Seth Rogen & Evan Goldberg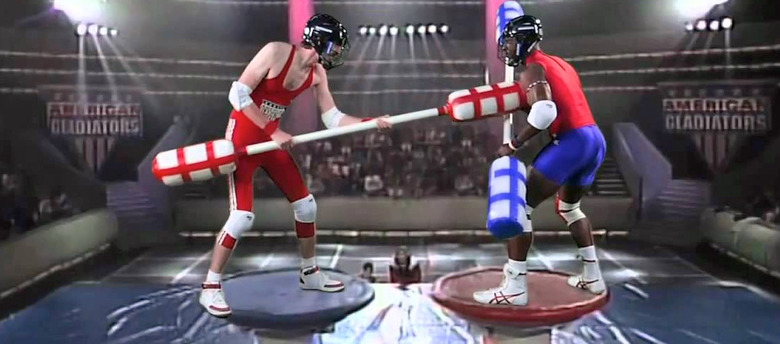 Longtime collaborators Seth Rogen & Evan Goldberg have worn a lot of hats over the years. They've worked together as co-writers and co-produers on projects like Superbad, Pineapple Express, and Sausage Party, and they both wrote, produced and directed the stellar apocalyptic comedy This Is The End. Lately, the two have been dabbling on television with adaptations of Preacher and The Boys, but now they're doing something much different on the small screen.
MGM is shopping around a reboot of the physical competition series American Gladiators, and Seth Rogen and Evan Goldberg are said to be on board as executive producers.
The original run of American Gladiators ran from 1989 to 1996, staying popular in syndication with retro episodes airing on Spike TV in the early 2000s. The series followed athletic individuals forced to square off with even more muscular and intimidating men and women in a series of physical competitions and obstacle courses. Here's a taste of one of the matches from the show:
The show was popular enough to get its own video game on several game systems.
NBC previously brought back American Gladiators in 2008 with a new line-up of competitions and gladiators, including Hulk Hogan and Laila Ali as the show's hosts. In case you didn't watch the reboot, you might have missed Haywire star Gina Carano as the gladiator known as Crush:
Now Deadline has word on the American Gladiators reboot, and one can assume it will offer a new spin on the familiar formula of the original show. But with Rogen and Goldberg involved, maybe there will be a different kind of twist on the series to add some laughs to the proceedings besides the gladiators being a group of cheesy muscleheads. It would be interesting if they try to style the series like the original version, with vintage games and wardrobe.
The question is whether there's an audience interested in a show like American Gladiators. In recent years, shows like American Ninja Warrior have gained popularity, so it would stand to reason that there's no better time for a series like American Gladiators, but the market might not have room for another athletic competition show like that.
Then again, maybe audiences can't get enough of toned up ladies and gentlemen showing off how much more in shape they are than we are. After all, Kevin Hart is hosting a new physical challenge game show on CBS called Total Knock Out, so maybe there's a market for comedians to host reality competition shows like this now.