'The Predator' TV Spot: Can An Ex-Sniper With PTSD And An Unstable Team Save Us?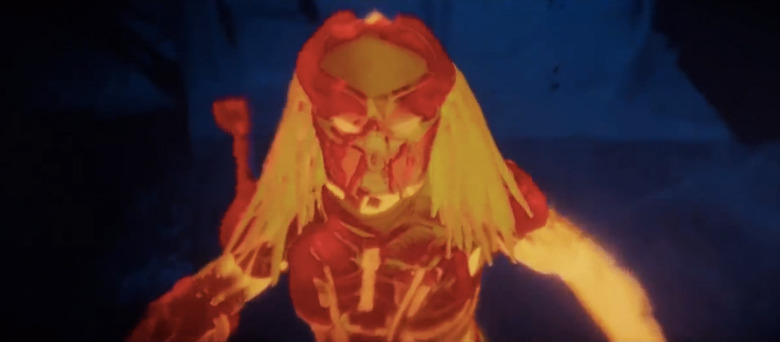 A new TV spot for The Predator has surfaced, and the marketing campaign is starting to show off the comedy that will be showcased alongside the bloody sci-fi action, courtesy of director Shane Black. Check it out below.
Watch The Predator TV Spot
While most of this The Predator TV spot is full of quick cuts to action and characters, it also gives us a better vibe of how the movie will blend some laughs with gory action. For example, Olivia Munn calls out Boyd Holbrook as an ex-sniper with PTSD, and she calls out the rest of the soldiers in the movie (played by Trevante Rhodes, Keegan-Michael Key, Sterling K. Brown, Alfie Allen, Thomas Jane, and Augusto Aguilera) as a team that has a few screws loose, to put it mildly.
But the real gag is that the entire TV spot itself touts these guys as the only thing standing between us and the Predators who have come to our planet. That shot of all the aforementioned soldiers in a hotel room is straight from one of the sequence shown to us at San Diego Comic-Con last month, and that's the scene that was chock full of both a surprising amount of witty banter and exposition. It's a bonafide Shane Black scene through and through.
Even though the TV spot touts a war between "us" and "them," as we saw in the footage at Comic-Con, one of these Predators won't be a threat for long. There's a shot in this trailer featuring the signature heat vision perspective of the Predator, but that point-of-view shot just so happens to be looking at another masked Predator. That's because it's the Mega Predator looking at a smaller, weaker Predator who is about to get his ass kicked. You can read more about that in our coverage from Comic-Con.
For more from The Predator, check out this interview from 20th Century Fox straight from Comic-Con:
Here's the official synopsis for the movie:
From the outer reaches of space to the small-town streets of suburbia, the hunt comes home. The universe's most lethal hunters are stronger, smarter and deadlier than ever before, having genetically upgraded themselves with DNA from other species. When a boy accidentally triggers their return to Earth, only a ragtag crew of ex-soldiers and a disgruntled science teacher can prevent the end of the human race.
The Predator opens on September 14, 2018.