FOX Rebooting '24' Again, This Time With An Unnecessary Jack Bauer Origin Story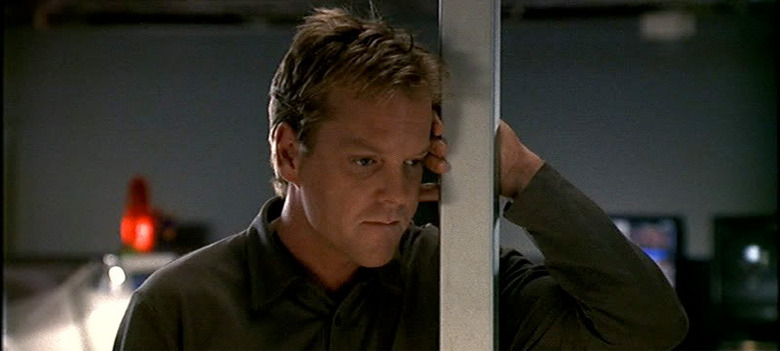 FOX must be really desperate to bring 24 back from the dead. After all, they've already tried with the limited series 24: Live Another Day in 2014 and the series reboot 24: Legacy in 2017. Back in May, FOX's upfronts presentation included discussion about the return of 24 in a couple of different ways. One was a legal thriller about a female lawyer racing against the clock to unravel a conspiracy, and the other was under wraps. Now, it sounds like we know what that other idea for rebooting 24 is going to be.
Instead of trying to expand the universe of 24 or create a spin-off with a different premise based around the real-time construct of the show, FOX hopes to resurrect the action thriller series with an origin story about famed Counter Terrorist Unit agent Jack Bauer (originally played by Kiefer Sutherland).
That's right, this is going to be a 24 prequel series, and that sounds like a bad idea.
Deadline has word that the 24 prequel series is in active development at 20th Century Fox Television and Imagine Television with showrunner Howard Gordon writing along with Joel Surnow and Bob Cochran. The prequel series is meant to be in the same vein of the original, but will tell us how Jack Bauer came to be in the position he was at CTU.
While it's nice that the original series writers and producers are being brought back for this 24 prequel series, giving Jack Bauer more of an origin story feels redundant and unnecessary. The first season of the show is his origin story, because that started him down the path that turned him into the Jack Bauer that viewers loved watching in the seasons that followed. The continued stress of the job and escalating terrorist attacks kept changing him and turning him into a more unhinged version of himself.
What this sounds like is Jack Ryan: Shadow Recruit for Jack Bauer. And while the first season provides some backstory details about Bauer being part of a classified team involved in an operation in Kosovo a couple years before the events of the show's beginning, that doesn't sound like enough to create a compelling origin story. That's like giving John McClane an origin story, even though it was Die Hard that turned him into the character fans came to love (and that's a bad idea that's been floated around Hollywood too).
Of course, every movie and TV show is all about name brand recognition, and 24 comes with a built-in fanbase. But is that fanbase interested in a 24 series about Jack Bauer that doesn't include Kiefer Sutherland? I suppose we'll find out soon.