John Krasinski Is Down For 'The Office' Reunion, Needs To Know What Jim Halpert Is Doing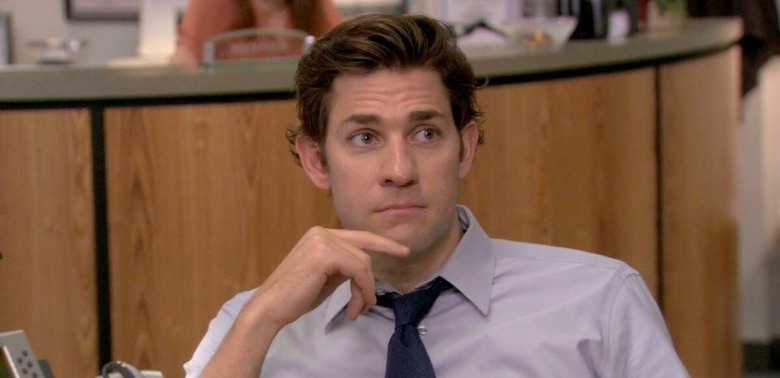 It's been five years since NBC's hit comedy The Office came to an end, turning the mockumentary cameras away from the employees of Dunder-Mifflin. However, fans are wondering exactly what the people person's paper people are up to now, and so is series star John Krasinski.
In a recent interview, Krasinski was asked about the prospect of appearing in a The Office reunion, should one ever come together, and the actor is 100% down to be part of something like that. In fact, he's just as curious as fans of the show are when it comes to finding out what happened to Jim Halpert.
Variety spoke with John Krasinski recently as he makes the press rounds for his upcoming Amazon series adaptation of Tom Clancy's recurring CIA operative character Jack Ryan, and the actor was very enthusiastic about the possibility of The Office reunion.
"Where is Jim? What is he doing?," the actor wondered. "I actually don't know, and I'm really looking forward to it. People have asked if I would do sort of a reunion-type thing, and yes, for exactly that reason. I need the incredible writers of our show to tell me what he's doing because I'm kinda worried about him."
When we last saw Jim Halpert, his wife Pam Beesley (Jenna Fischer) surprised him by selling their house and telling him that she wanted to move to Austin so he could be part of Athleap, the athlete management company formerly known as Athlead that he helped found in Philadelphia. However, Krasinski isn't necessarily interested in his professional life in Texas. The actor says:
"[Jim] had a lot of hopes and dreams and all these different things. He had a lot of zany ideas. And then he went to Austin to live his life. I feel like the dreams are still in his head, so let's see what he's doing."
Considering Jim didn't follow his athlete management company when they embarked on a nationwide tour to expand their brand, and he was more than happy to stay dedicated to his wife Pam and their children, I'm not sure what dreams Krasinski is talking about. It always seemed like Jim really wanted to see what else he could do with Athleap, but the actor makes it sounds like there's something more rattling around in Jim's mind.
The idea of The Office reunion was floated nearly a year ago, and there was some indication that it was picking up steam late last year, but we haven't heard anything as far as solid plans are concerned. Perhaps with the Television Critics Association panels happening over the next couple weeks that might change, so stay tuned. At the very least, we can look forward to John Krasinski's work on the developing sequel to A Quiet Place.