'Jurassic World: Fallen Kingdom' Comes To Digital, Blu-Ray & DVD In September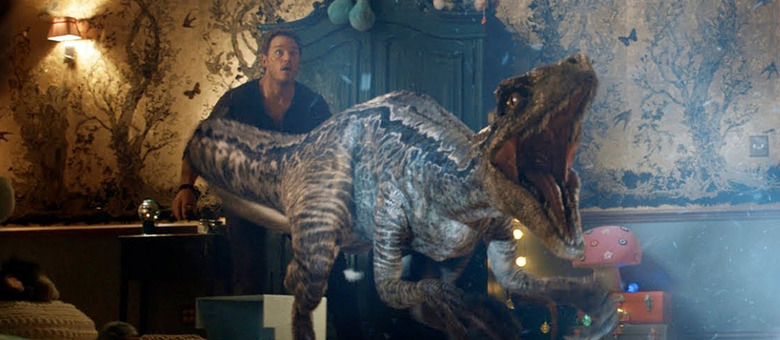 Jurassic World: Fallen Kingdom is currently the fourth highest grossing film of the year at the domestic box office, with $384 million raked in this summer. Overseas, it also pulled in nearly $814 million, giving it a total that is just shy of $1.2 billion globally. That's an impressive haul, even if it's not quite as successful as its franchise-reviving predecessor. And now the movie is poised to make even more money when it comes home this fall.
In September, Universal Pictures will bring Jurassic World: Fallen Kingdom home to digital, Blu-ray and DVD with an assembly of special features from behind the scenes of production. Find out everything that will be on the Jurassic World Fallen Kingdom Blu-ray below.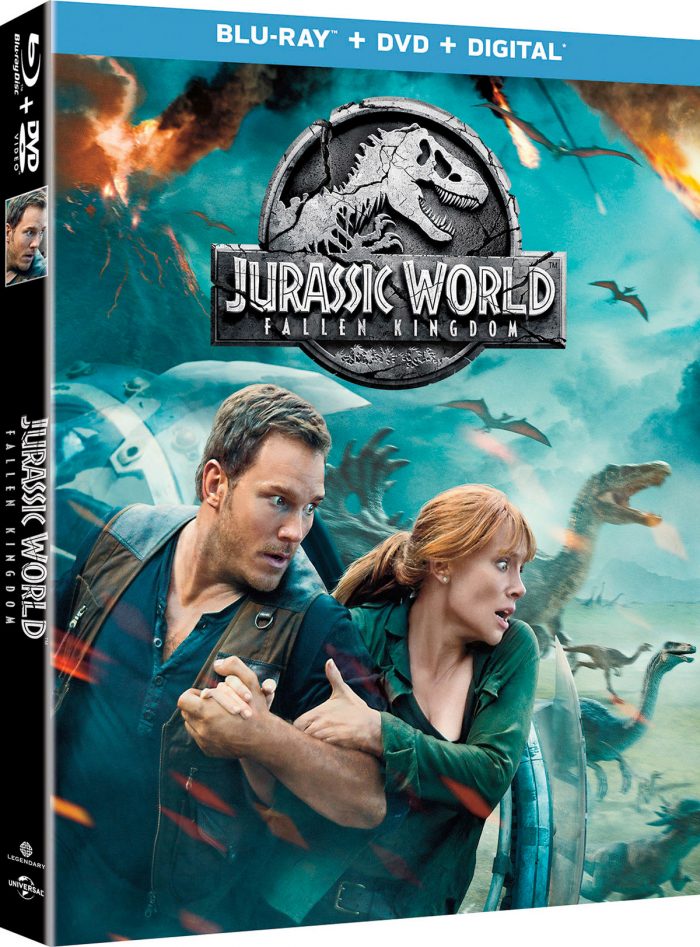 First of all, if you're picking up Jurassic World: Fallen Kingdom on 4K Ultra HD, Blu-ray or Digital, you'll get to check out these special features exclusive to those formats of the movie on home video (which means they won't be on the standard definition DVD release of the movie):
The KINGDOM Evolves – Filmmakers discuss how the second chapter in the Jurassic World trilogy pushes the franchise in a new direction.
Return to Hawaii – Cast and crew discuss shooting the film in Hawaii.
Island Action – A behind-the-scenes look at the bunker scene and runaway gyrosphere sequence.
Aboard the Arcadia – Cast and crew discuss working with the animatronic dinosaurs.
Start the Bidding! – A behind-the-scenes look at the auction scene.
Meanwhile, all formats of Jurassic World: Fallen Kingdom will have these special features included:
On Set with Chris & Bryce – Go behind the scenes with Chris Pratt and Bryce Dallas Howard.
Birth of the Indoraptor – An inside look at the genetically designed monstrosity known as the Indoraptor.
Death by Dino – Go behind the scenes as the Indoraptor faces off with a key character.
Monster in a Mansion – Director J.A. Bayona discusses how Jurassic Park and Dracula (1979) influenced his approach to directing the monster in a mansion scene.
Rooftop Showdown – A look at the terrifying showdown on the rooftop of the Lockwood Mansion.
Malcolm's Return – Behind the scenes with the one & only Jeff Goldblum.
VFX Evolved – The team at ILM discuss their cutting-edge approach to creating dinosaurs.
FALLEN KINGDOM: The Conversation – Filmmakers and cast sit down for a candid and casual conversation about Jurassic World: Fallen Kingdom.
A Song for the KINGDOM – Justice Smith sings for the cast and crew of Jurassic World: Fallen Kingdom.
JURASSIC Then and Now – Presented by Barbasol – Key moments from the Jurassic saga that tie into Jurassic World: Fallen Kingdom.
Chris Pratt's Jurassic Journals
Vivian Baker, Makeup Artist
Mary Mastro, Hair Stylist
Chris Murphy, 1st Assistant Sound
Dean Bailey, Stunt Edge Car Driver
Peter Harcourt, Diver
Daniella Pineda and Justice Smith, Actors
Jody Wiltshire, Set PA
Kelly Krieg, Assistant Script Supervisor
J.A. Bayona, Director
James Cox, Stunt Performer
Rachelle Beinart, Stunt Double
Bryce Dallas Howard interviews Chris Pratt, Actor
That might seem like a lot of special features, but the press release says they only add up to more than an hour of behind the scenes footage. That's disappointing from a franchise that has so many fascinating components to its production. Even more disappointing is that there's no director's commentary from director J.A. Bayona, who could undoubtedly provide some insight into the making of the movie.
Anyway, Jurassic World: Fallen Kingdom comes home with all these special features on Digital and via the digital movie app Movies Anywhere on September 4, 2018, and then it hits 4K Ultra HD, 3D Blu-ray, Blu-ray, DVD and On Demand on September 18, 2018.
Owen (Chris Pratt) and Claire (Bryce Dallas Howard) return to Isla Nublar three years after the destruction of the Jurassic World theme park to rescue any remaining dinosaurs on the island from a catastrophic volcano that threatens to leave dinosaurs extinct once again. Owen is driven to save his lead raptor, Blue, while Claire makes it her mission to preserve the creatures that she has grown to deeply respect. When the lava begins to rain down, they soon discover terrifying new breeds of ferocious dinosaurs along with a conspiracy that could threaten the entire world.
Joined by co-stars James Cromwell (Babe, The Green Mile) as wealthy entrepreneur Benjamin Lockwood, Dr. John Hammond's partner in creating Jurassic Park, as well as Justice Smith (The Get Down) and Daniella Pineda (The Detour) as Franklin Webb and Zia Rodriguez, members of Claire's Dinosaur Protection Group; this brilliant cast brings an extraordinary story to life as chaos erupts when Owen, Claire, and their team discover a most deadly endgame that could bring the planet back to prehistoric times.