Watch: 'Arrow', 'The Flash,' 'Supergirl,' 'DC's Legends Of Tomorrow' & 'Black Lightning' Comic-Con Trailers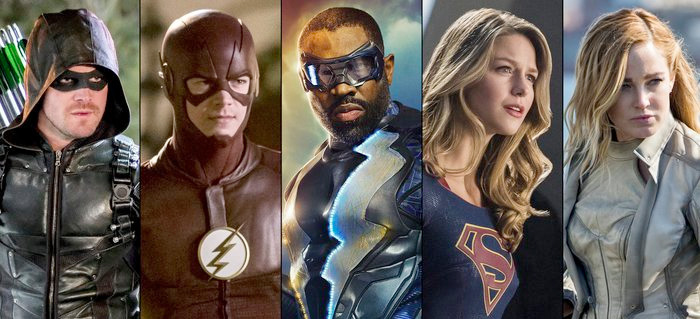 San Diego Comic-Con is over, and with it came a sneak peek at what fans can expect from the new seasons of The CW's DC Comics television universe. The Flash, Supergirl, Arrow, DC's Legends of Tomorrow, and Black Lightning were all on hand to give a look at what's in store for all these superheroes, and you can watch the trailers for each of the shows below, as well as get some new information about what's coming up for them in their new seasons.
The Flash Season 5 Trailer
First up, here's the trailer for the fifth season of The Flash. The fourth season ended with Barry Allen celebrating the birth of Joe (Jesse L. Martin) and Cecile's (Danielle Nicolet) newborn daughter, Jenna. However, the celebration was interrupted by the arrival of Nora Allen (Jessica Parker Kennedy), Barry and Iris West's (Candice Patton) daughter from the future, and she needs her parents' help.
The new trailer has teases of Barry getting his famous Flash ring, and it also teases the arrival of the show's new big bad villain, Cicada, who will be played by American Pie and Election star Chris Klein. The Comic-Con panel also teased a possible team-up between Gorilla Grodd and King Shark, so there's plenty for fans to get excited about for the Scarlet Speedster's next season.
Matching wits with The Thinker, who by season's end had harnessed the powers of all twelve bus metas he created, stretched Team Flash to their limits, but with the help of some new allies, Barry Allen (aka The Flash) and company were able to put a stop to the Enlightenment and save Central City once again. However, with the arrival of Barry and Iris' speedster daughter, Nora, who arrived from the future admitting to having made a "big mistake," things are anything but status quo. Will parenthood be the challenge that finally slows The Flash down?
The Flash returns on Tuesday, October 9 at 8/7c on The CW.
Supergirl Season 4 Trailer
Although most of this trailer is comprised of footage from the show's third season, we still get a glimpse at what the show's fourth season will bring to the table. We already knew that the next season will introduce us to television's first transgender superhero, played by Nicole Maines, but the trailer also gives us a look at some other details.
First up, there's a shot of Sam Witwer as Agent Liberty, the ruthless and terrifying leader of the Children of Liberty, a human-first hate group. Plus, there's a new suit for our titular Kryptonian superhero as well, and while there aren't any hints of it in the trailer, the famous Red Son storyline featuring Superman is supposed to be adapted for Supergirl somehow as well.
Season three saw Supergirl stop Reign and the other Worldkillers' threat to humanity and our planet, and in the process, Kara was shocked to find her mother Alura alive and living in a salvaged Argo City that survived the destruction of Krypton. Reconnecting with her past caused Kara to realize that her true home is now here on Earth, where big changes are taking place for her and all of her friends in National City – and also, it appears, for a doppelganger in Russia! Season four promises to be full of surprises, action, adventure and lots of big revelations for Supergirl, Alex, James, J'onn, Lena and Brainy.
Supergirl returns on Sunday, October 14, at 8/7c on The CW.
Arrow Season 7 Trailer
The longest running DC Comics show on The CW is back for a seventh season, and as was teased as the end of the previous season, the Longbow Hunter team is coming to the Arrowverse. Fans all know Ricardo Diaz (Kirk Acevedo) has shown up to give Star City some trouble, and next season he'll be joined by Red Dart (Holly Elissa), Kodiak (Michael Jonsson), and The Silencer (Miranda Edwards).
The trailer also teases the appearance of the classic Green Arrow goatee, but this season is a big deal because the writing team apparently won't be pulling any punches. This season is being written as if it will be the last, though that doesn't necessarily mean this is absolutely the end of Arrow. They just want the stakes to be high, and Oliver Queen to face some of his biggest hurdles yet, especially now that his secret identity has been revealed.
There has been no shortage of close calls for Oliver Queen when it comes to protecting his Super Hero identity, but in the season six finale, he was finally backed into a corner and forced to reveal himself to the world as the Green Arrow. Now, Oliver will come face-to-face with many of the criminals he placed behind bars, as he makes a new home for himself at Slabside Maximum Security Prison. Oliver will find himself vulnerable in a way unlike ever before when a mysterious new enemy begins to unravel his work as Green Arrow, challenging him to redeem his name or risk losing everything.
Arrow returns on Monday, October 15, at 8/7c on The CW.
DC's Legends of Tomorrow Season 4 Trailer
The last season of DC's Legends of Tomorrow saw the neutralizing of one threat only lead to the spawning of another. A new series of magical threats have surfaced, and John Constantine needs the help of DC's Legends to keep them in check. This time, the team will be tracking down magical creatures from myths, legends, and fairytales known as Fugitives. But their big bad this season will be Mallus.
As for what else fans can expect from this new season of DC's Legends of Tomorrow, there will be a time travel veteran joining the cast with Tom Wilson (Back to the Future) signing up to play Nate's (Nick Zano) father, Hank Heywood, who has a lifetime of work put into the military and Department of Defense, and he has no idea that Nate is one of the Legends. Meanwhile, Beebo will return at some point, but don't expect Booster Gold to be shoehorned into this season at all.
After defeating the demon Mallus by cuddling him to death with a giant stuffed animal named Beebo, the Legends are ready to ease off the gas. Sara (Caity Lotz) and her team join Ava Sharpe (Jes Macallan) and the Time Bureau to help clean up the last few remaining anachronisms. The job seems straightforward enough until Constantine (Matt Ryan) arrives to inform them that, in solving one major problem, they have created another, much larger one. When the Legends let time crumble in order to release and defeat Mallus, the barrier between worlds softened. History is now infected with "Fugitives" – magical creatures from myths, fairytales, and legends. Having been expelled throughout time by people like Constantine, these Fugitives are now returning to our world in droves and making a real mess of things. As the Time Bureau is distrustful of and ill-equipped to deal with magic, the Legends must team up with everyone's favorite demonologist to set history back on track. Sara and Constantine are joined by compassionate inventor Ray Palmer (Brandon Routh), hotheaded ex-con Mick Rory (Dominic Purcell), rebellious totem-bearer Zari (Tala Ashe), and heartbroken historian-turned-superhero Nate (Nick Zano) as they set out to save the world – and their legacy.
DC's Legends of Tomorrow returns on Monday, October 22, at 9/8c on The CW.
Black Lightning Season 2 Trailer
The end of the first season of Black Lightning didn't bring the superhero into the Arrowverse, so Jefferson Pierce is still flying solo. Well, not exactly. He and his family Anissa/Thunder (Nafessa Williams) and Jennifer/Lightning (China Anne McClain), wife Lynn (Christine Adams) and family friend Peter Gambi (James Remar) took down Martin Proctor, leader of the shady government agency the A.S.A. which had been experimenting on kids in Freeland. But now a new threat is on the horizon in the form of Tobias Whale (Marvin "Krondon" Jones III), a dangerous gang leader who has always been a problem.
Jefferson is not the only one with powers and multiple faces. His oldest daughter, Anissa Pierce (Nafessa Williams) is a medical student, part-time teacher and dedicated social activist. She is also the super hero known as Thunder who possesses the ability to drastically increase her density, giving her invulnerability and super strength for as long as she can hold her breath. Finally, Jefferson's youngest daughter, Jennifer Pierce (China Anne McClain), is a fiery teen who inherited her father's athletic gifts but not his desire to be an athlete. Jennifer also inherited super powers. Her body generates pure electrical energy and she possesses the potential to be more powerful than Anissa or Jefferson. Lynn Stewart (Christine Adams) is Jefferson's ex-wife but they are still very much in love in addition to sharing the load as co-parents. She's also an accomplished medical researcher who is fast becoming an expert in metahuman medicine. Together, the Pierce family faces the challenges of the declined urban community that is the fictional city of Freeland, including corrupt officials and a menacing gang that calls itself The 100. Worse, Tobias Whale (Marvin Jones III), an infamous gangster, plagues this city and increasingly, metahumans with superpowers will prey upon the city, too. Fortunately, the family has allies in their fight, Jefferson's surrogate father and a former covert superspy, Peter Gambi (James Remar), as well as Jefferson's friend and neighbor, the committed and scrupulously honest Deputy Police Chief Henderson (Damon Gupton).
Black Lightning returns on Tuesday, October 9 at 9/8c on The CW.