VOTD: Watch A Very Special 'Deadpool 2' Super Duper Cut Concert [Comic-Con 2018]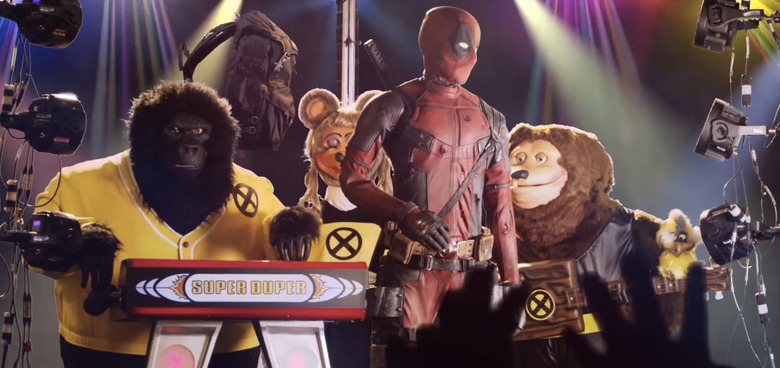 Deadpool 2 already arrived in theaters back in May, but there's a renewed interest in the foul-mouthed superhero sequel because a new cut of the movie is on the way to home video. The Deadpool 2 Super Duper $@%!#& Cut is coming home in August, and to help promote the arrival of this new cut of the film with tons of alternate jokes and deleted scenes, the Merc with a Mouth himself put on a special concert at San Diego Comic-Con, and you will undoubtedly recognize the band that he hired to play with him.
Here's the Deadpool 2 Comic-Con concert that played over and over again on the show floor:
Did you catch the special #Deadpool2 concert on the #SDCC show floor featuring the Showbiz Pizza band? pic.twitter.com/0TCLl3zFzO

— Ethan Anderton (@Ethan_Anderton) July 23, 2018
Yes, those are the animals from the Showbiz Pizza band. They are actual, vintage animatronics from the staple entertainment restaurant that were repurposed specifically for this promotion, and that's a real Deadpool suit situated on top of an animatronic body as well. The whole set-up took two months to prepare for Comic-Con, and the man behind the creation was rather secretive about how he made it all come together.
In addition to singing the Dolly Parton tune "9 to 5" from the movie of the same name (and of course Deadpool 2), the band also performed the Deadpool rap from the first movie and another song off the film's soundtrack. And it looks like the Deadpool 2 Super Duper Band is going on tour too:
If only this were a real concert that fans could see in-person. After all, we know Ryan Reynolds isn't beyond performing karaoke in front of a big crowd while wearing a goofy costume. Anyway, if you haven't heard, here's everything you need to know about what's included on the Deadpool 2 Super Duper $@%!#& Cut that will be available on digital on August 7 and Blu-ray/DVD on August 21 (each featuring both the theatrical and extended cuts of the movie):
4K Bonus Features
Audio Commentary by Ryan Reynolds, David Leitch, Rhett Reese and Paul Wernick (Theatrical Version Only)
Blu-rayTM Bonus Features
Until Your Face Hurts: Alt Takes
Deadpool

's Lips are Sealed: Secrets and Easter Eggs
The Most Important X-Force Member
Deadpool

Family Values: Cast of Characters
David Leitch Not Lynch: Directing DP2
Roll with the Punches: Action and Stunts
The

Deadpool

Prison Experiment
Audio Commentary by Ryan Reynolds, David Leitch, Rhett Reese and Paul Wernick (Theatrical Version Only)