If The 'Magicians' Comic-Con Panel Is Any Indication, Season 4 Is Going To Be Crazy And Lots Of Fun [Comic-Con 2018]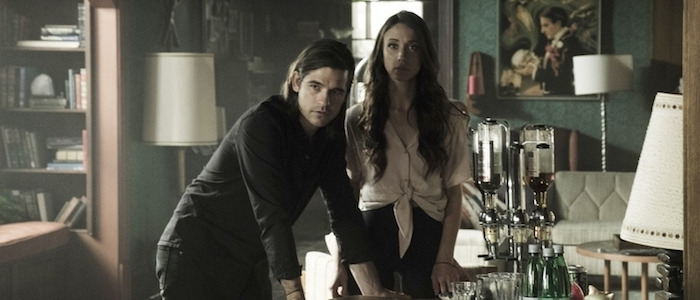 "Can you tell we were drinking tequila in the green room?" showrunner Sera Gamble asked at one point during The Magicians panel at San Diego Comic-Con.
The answer to Gamble's question was yes, but it was a wonderful thing to see Gamble, her fellow executive producer John McNamara and cast members Jason Ralph, Stella Maeve, Olivia Taylor Dudley, Hale Appleman and Summer Bishil enjoying each other's company and having a rowdy time on stage. Tequila or no tequila, it was clear that they all genuinely liked each other, and the panel was full of jokes and laughter as they took audience questions and tried to avoid spoiling anything from Season 4.
Felicia Day joined in the fun as the panel's moderator, and kicked off the show by introducing a clip that recapped what happened in Season 3. I won't go into the specifics of the last season here, except to say that it ended on a cliffhanger, with most of the cast's minds being wiped and given alternative lives and personas. "We have an unspoken rule that at the end of a season of a TV show – just for good luck and hoping you'll get another season – to just fuck everybody as hard as you possibly can," Gamble said when asked about the end of Season 3.
Gamble and McNamara certainly effed things up for the main characters at the end of last season, and also admitted that they initially weren't sure where the story would go in the fourth or even if they had a fourth season at all. "That was one of my favorite conversations with the network," McNamara jokingly explained. When the network asked McNamara what would happen if the show continued, his answer was: "I don't know. Why don't you pick the show up?"
On a slightly more serious note, Gamble expanded a bit on the writing philosophy of The Magicians: "We live and die as writers on the idea that it's good to be stuck, that it's good to run out of story. It's really good when we don't know what happens next, because that means hopefully you guys don't know what's going to happen next either."
Luckily for Magicians fans, SyFy did pick up the show for another season. Gamble, McNamara and the rest of the writing team have also figured out at least the beginning of Season 4, as the cast just finished shooting the fourth episode.
But even though the writers and actors know how next season will start, the panel was very careful to stay away from spoilers, even in the hilarious teaser video that was screened for the audience. While light in details, the teaser did give an overview of the new personas Dean Fogg magically imprinted on everyone: Quentin now smiles a lot and is a professor called Brian (or "Bri-Guy" as Ralph calls him); Julia is now an architect named Kim; Margo is now called Janet and is involved in high fashion; Kady becomes Sam, who is a gun-wielding badass; Josh is Isaac the Uber driver; Penny is the wonderfully named DJ Hansel, and Eliot is...well, no one really knows what Eliot is now, beyond that he's possessed by a big bad monster that, according to Appleman, was initially based on imagining a nine-year-old without any empathy or impulse control.
And while nothing concrete was mentioned, there were some hints of what may come. Bishil's character Margo (AKA Janet) apparently has a few scenes with Josh (AKA Isaac), and Gamble coyly suggested that Olivia Taylor Dudley, who plays Alice on the show and sang during the third season's musical episode, may sing again in the future.
But whatever is in store for The Magicians' beloved characters, fans can be sure that both the writers and the actors are giving their all to the show. "Everybody brings their A-Game," McNamara explained. "And some of us have really weird A-Games."  We'll just have to wait and see how weird their A-Games can get next year.
The fourth season of The Magicians will air on SyFy in 2019.