New Line Brings 'It: Chapter 2,' 'The Nun', And 'The Curse Of La Llorona' Footage To ScareDiego [Comic-Con 2018]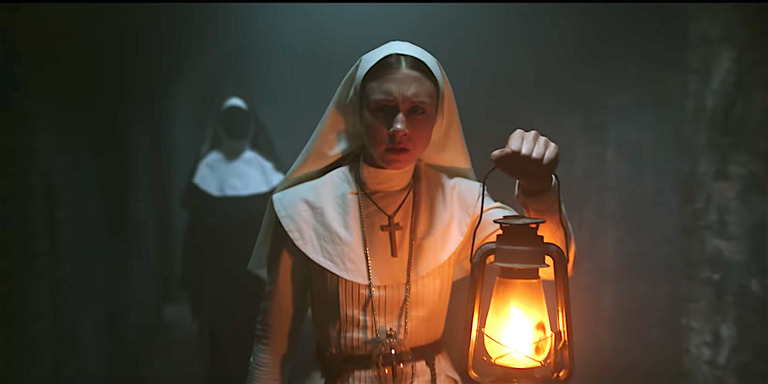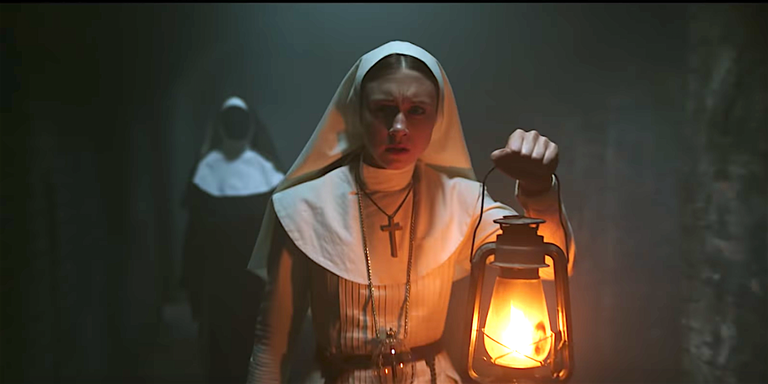 San Diego Comic-Con International 2018 hadn't even officially begun when Warner Bros. and New Line kicked off the festivities with their "ScareDiego" showcase. A sequel to last year's event, which debuted footage from It and Annabelle Creation, ScareDiego exists to tease upcoming horror films being released under the New Line banner. This year's edition saw a few heavy-hitters reveal footage: It Chapter 2 and the Conjuring spin-off The Nun. It also debuted the first footage from The Curse of La Llorona, a new horror film hitting theaters next year.
Here's everything you need to know about the footage we saw.
It Chapter 2 Footage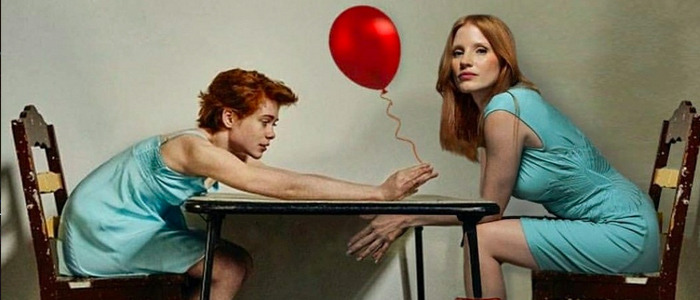 While It Chapter 2 was undoubtedly the film the ScareDiego crowd was most excited to see, we were offered but a tiny taste of what to expect. But really, that's to be expected – director Andy Muschietti couldn't even be present because principal photography began only a few weeks ago. The fact that they had anything to show at all is impressive.
And what they had to show was a behind-the-scenes presentation glued together with memorable clips from the first film and talking head interviews with Muschietti, where he apologized for not being present. The bulk of the presentation played like a barebones teaser feature, the kind of thing you'd expect to see on a Blu-ray re-release of the first film (B-roll of crew members at work, big promises, etc). However, there were a few morsels that made it all worthwhile.
First, there were a few new shots of Bill Skarsgaard as Pennywise the Clown and yes, he still looks creepy. If anything, his cracked face paint looks even more unsetting and his eyes even more malevolent. We also saw brief flashes of concept art showcasing what looked like new forms for Derry's evil creature – a withered old man and a giant blob and flesh with a face.
We also saw a few tiny pieces of footage. There was one shot of James McAvoy as the fully grown Bill Denbrough, standing in a parking lot and looking terrified, tears streaming down his face. There was another shot of Jessica Chastain as the fully grown Bev Marsh, looking...well, like Jessica Chastain. There was also a shot of Bill Hader as the fully grown Richie Tozier, looking terrified out of his mind. In these tiny glimpses, it was made very clear that It: Chapter 2 won't shy away from presenting its adult characters as quivering wrecks.
The only complete footage we saw amounted to a handful of seconds. As fans of Stephen King's original novel and viewers of the 1990 miniseries may remember, the Losers' Club reunite after 27 years and bond over dinner in a Chinese restaurant. We didn't see the part where this dinner goes wrong, but we did see these old friends laying eyes on each other for the first time, with Hader's Richie breaking the ice.
It: Chapter 2 opens on September 6, 2019.
The Curse of La Llorona Footage
Wedged between the two heavy-hitters, The Curse of La Llorona was given the hardest sell of the night. But can you blame New Line? Hook 'em with It: Chapter 2 and The Nun and then get 'em pumped for a smaller film from an untested director arriving early next year.
Directed by newcomer Michael Chaves, The Curse of La Llorona is based on Latin American folklore that drew appreciative gasps and nods or recognition from Hispanic members of the crowd and confused silence from the white folks (including yours truly). Here's the brief version: this centuries-old ghost story tells of a woman who drowns her children and commits suicide after learning that her husband has been unfaithful. Now, her maniacal spirit roams the world, hunting down and murdering children. As her name translated to "the weeping woman," her presence is often announced by her sobs.
In the film, Linda Cardellini plays a social worker whose children are targeted after two young boys are murdered on her watch. Breaking Bad and Better Call Saul actor Raymond Cruz and Arrested Development's Patricia Velasquez also star.
While the footage on display wasn't as slick as The Conjuring movies, it was certainly scary and exciting enough. We watched three clips and each of them showcased what this brand of New Line horror movie does well: loud jump scares, impressive suspense gags, and some creepy monster design. The latter definitely stood out – La Llorona herself is a ghostly figure clad in white, her pale face illuminated by black tears. When she suddenly lurches into frame (which she did quite often in the footage we saw), her physical appearance definitely contributes to the jolt.
While The Curse of La Llorona isn't part of the Conjuring universe, that franchise's influence and fingerprints were all over this footage. The scare construction is similar, but so is the aesthetic. The film is set in the '70s, long before helpful technology can assist our haunted heroes, and the film revels in the aesthetics. In the best part of the footage, two children seek refuge from La Llorona in their mother's car, with the older brother desperate fighting against ghostly forces rolling the window down via the manual knob. Like with the Conjuring movies, Chaves seems to realize the real fun is not in the final jump scare, but the journey to that final jump scare.
The Curse of La Llorona opens on April 19, 2019.
The Nun Footage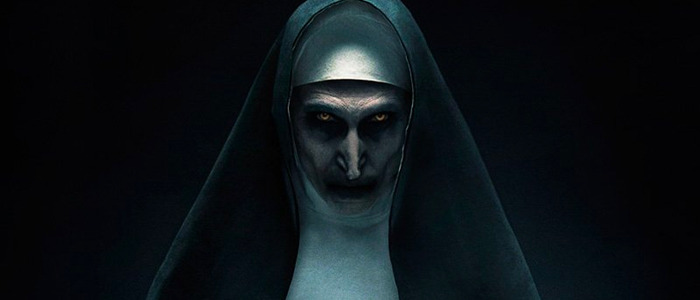 With the film opening in theaters in six weeks, The Nun had the most polished and complete presentation at ScareDiego. About 10 minutes of footage was shown, introducing the cast of characters, setting the stage, and reminding us that the title creature is nothing short of terrifying.
The Nun itself was the main villain in The Conjuring 2 and this film is a prequel, set decades earlier. But while we met this demon as it was frightening a family in London, this new film takes us across the European continent to Romania, where the nuns living in an old, creepy castle find themselves besieged by...something. Something evil.
It begins with the suicide of a young nun, driven to hang herself from a high window after a horrible figure (spoiler alert: it's The Nun) corners her in a dark corridor. While this scene has the required jump scare, it sets a tone that the rest of the trailer fulfills – there's a unnerving moodiness to what we saw from The Nun, a suggestion that the jump scares are there because they have to be and director Corin Hardy is a bit more interested in dread and atmosphere.
From there, the footage introduced Father Burke (Demián Bichir) and Sister Irene (Taissa Farmiga), who are sent to the castle by the Vatican to figure out what the hell is going on. And hell is what is going on – the dead nun's blood remains wet and fresh on the spot where she died days (weeks?) later, the head of the convent doesn't take to kindly to these visitors, crucifixes start turning upside down and bursting into flames, and there's a ghostly kid who vomits snakes. And that's before a character is buried alive in a fresh grave. And before the Nun itself makes its presence known. And before a horrifying final sequence where a character's clothing is torn apart by an invisible force and a Satanic image is carved into her back.
No more beating around the bush: The Nun looks terrific. While it look similar enough to the previous Conjuring films and their spin-offs to be at one with the universe, Hardy seems to have made it his own. The foggy graveyards and dusty castle corridors recall old school Hammer horror films and the atmosphere is choking with head-spinning blasphemy and religious terror. And perhaps most enticingly, the "priest and nun on a mission" set-up and the far-away locales (filmed in real Romanian castles and man-oh-man, does it show) lend the whole thing an adventurous edge not seen in other Conjuring movies.
The Nun opens on September 7, 2018.