'Shazam' First Look: Zachary Levi Drinks A Cola With His Best Friend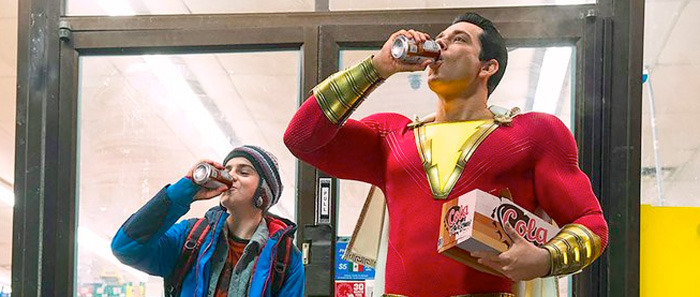 Fans have been waiting for a first official look at Zachary Levi as the DC Comics superhero known as Shazam for a long time now. We know there's a much better sneak peek coming to San Diego Comic-Con later this month, but now we have the first Shazam photo featuring the Chuck star in costume while drinking some tasty cola. Check it out in full below.
First Shazam Photo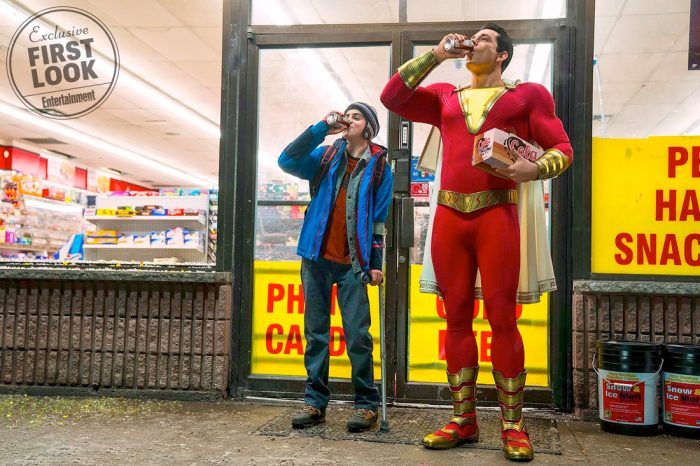 So why is Shazam hanging out with an adolescent and drinking soda in front of a gas station? Well, Shazam is actually a 14-year old boy named Billy Batson (Asher Angel) who can transform into the super-powered character when he utters the titular magic word. The kid next to him is Jack Dylan Grazer (from the new adaptation of IT), playing Freddy Feeman, a fellow orphan who is Billy Batson's best friend.
This is much better than the leaked photos that surfaced while the film was still shooting in Toronto. And it shows us the kind of bright, lighthearted tone the movie is going for. In fact, the vibe of the entire movie is something akin to the more classic superhero style of the Golden Age of comics. Director David F. Sandberg told Entertainment Weekly:
"I wanted to keep the shorter cape as a throwback to the original because that's something that sets him apart from Superman or Batman. It makes him feel a bit more Golden Age superhero, which is the vibe I'm going for."
Just yesterday, we learned that Djimon Hounsou had quietly filmed a role as the 3,000-year old wizard who bestows superpowers upon the young Billy Baston. Besides that, Shazam also stars Mark Strong as the villain Dr. Thaddeus Sivana. Hopefully we'll get a glimpse of him in the near future as well.
We'll definitely have more from Shazam next week since Warner Bros. Pictures will be bringing the movie to Comic-Con. So stay tuned to see what else we see from the upcoming DC Comics title, and be sure to come back for whatever updates we get on the upcoming Aquaman movie coming to theaters this fall and the production of Wonder Woman 1984, shooting around Washington DC right now. Will there be even more DC Comics titles to get excited about? We'll find out next week.
Shazam hits theaters on April 5, 2019.