'The Equalizer 2' Clips: Denzel Washington Isn't Messing Around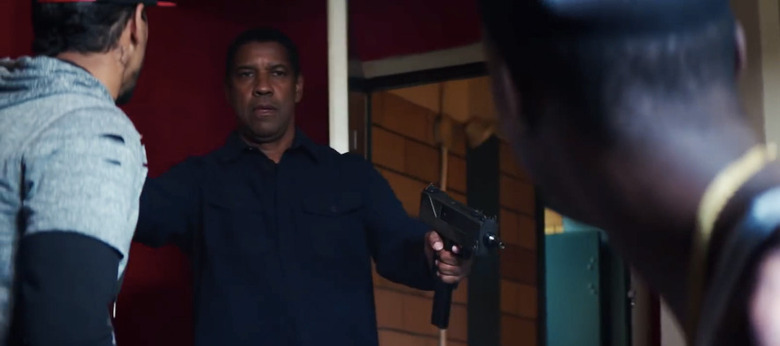 Next week brings Denzel Washington back to the big screen in badass mode for The Equalizer 2. The sequel finds the Oscar-winning actor returning as Robert McCall, a former black ops commando who has faked his death to live a quiet life in Boston. However, the wrong people still cross his path, and he ends up delivering some good old fashioned street justice to those who can't help but wrong others. Two new Equalizer 2 clips have just surfaced showing us what the titular vigilante is dealing with this time.
Watch The Equalizer 2 Clips
This clip serves to set up a new character for franchise. Pedro Pascal is caught off guard when Robert McCall (Washington) finds him taking a jog in the park. Pascal plays a former associate of McCall's named Dave, and he's more than shocked to see his old friend alive. This is a man who went to McCall's funeral and took his death pretty hard.
I wouldn't be surprised if this was set up for some kind of reveal that Dave is behind the kidnapping and killing of McCall's friend played by Melissa Leo. She was one of the few who knew what McCall really did in his spare time, and there's a good chance that someone like Dave, who used to work with McCall during his black ops days, had some kind of an axe to grind.
In this other clip, we get to see Robert McCall helping a young man who's getting caught up in the wrong crowd. This is the same man we've seen in the trailers creating drawings of McCall like he's some kind of graphic novel character. Denzel Washington does what he does best by effortlessly dispatching with thugs and not making things any more bloody than they need to be. Of course, he's not going to be able to keep things so clean for the rest of the movie, I think.
The Equalizer 2 has director Antoine Fuqua back behind the camera, working from a script by Richard Wenk, who wrote the first film.
Denzel Washington returns to one of his signature roles in the first sequel of his career. Robert McCall serves an unflinching justice for the exploited and oppressed – but how far will he go when that is someone he loves?
The Equalizer 2 hits theaters on July 20, 2018.