'Wonder Park' Trailer: An Animated Amalgamation Of Magic, Animals, Theme Parks & Imagination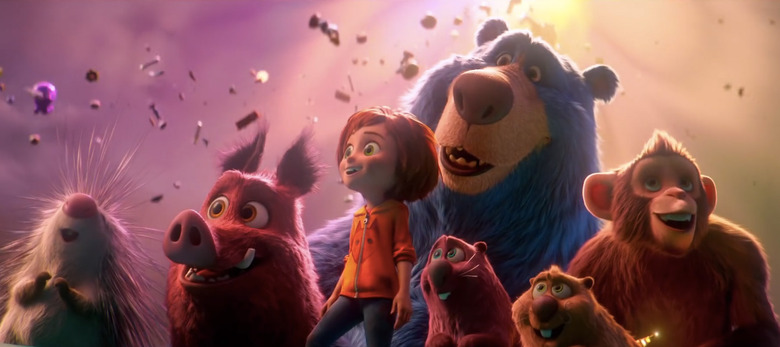 Do you like animation? How about theme parks? Maybe magic? Oh, and talking animals? Well, Paramount Pictures has a hodgepodge of a family friendly adventure for you.
Wonder Park is a new animated adventure following a young girl named June who stumbles upon the magical, hidden theme park of Wonderland. It's a place where kids come to enjoy all the thrills of an incredible theme park in the middle of a secluded forest rife with talking animals and magic. Watch the Wonder Park trailer below to see what we're talking about.
Watch the Wonder Park Trailer
It might seem a little odd that the movie is called Wonder Park when the theme park at the center of the movie is called Wonderland. But I'm betting that any movie with that title would immediately conjure up ties to Alice in Wonderland, and that's the kind of confusion Paramount Pictures likely wants to avoid. The project was formerly titled Amusement Park, but obviously that's gone out the window too.
The visuals for Wonder Park are certainly out of this world. There are tons of vibrant colors and unbelievable rides and sights. But this teaser trailer doesn't really give us much of an idea of the story. We see there's a young girl named June (voiced by Brianna Denski) and she ends up in this magical place. But does this place need to be saved? Does it need more kids to come back to life? What's the deal here?
What we do know is that the film also features the voices of Jennifer Garner (13 Going on 30), Matthew Broderick (The Lion King), John Oliver (Last Week Tonight), Mila Kunis (Forgetting Sarah Marshall), Kenan Thompson (Saturday Night Live), Ken Jeong (The Hangover), Norbert Leo Butz (Dan in Real Life), and Ken Hudson Campbell as a narcoleptic bear named Boomer.
You might remember hearing about this project back when director Dylan Brown was removed from the production following allegations of "inappropriate and unwanted conduct." At the time, it was reported that "Brown was accused by multiple women on the production staff of inappropriate comments that were sexual in nature, as well as some physical interactions." A replacement director has yet to be named, but clearly the production is still on track to meet the March 15, 2019 release date.
As for the script, that comes from Mission: Impossible – Ghost Protocol and Teenage Mutant Ninja Turtles franchise reboot writers Josh Appelbaum and Andre Nemec. Hopefully, they've got a story that will capture the imaginations of kids and adults alike, but we'll have to wait for another trailer before we find out what that is.