'Mission: Impossible - Fallout' Featurette Focus On Ethan Hunt's Team And The Deadly Henry Cavill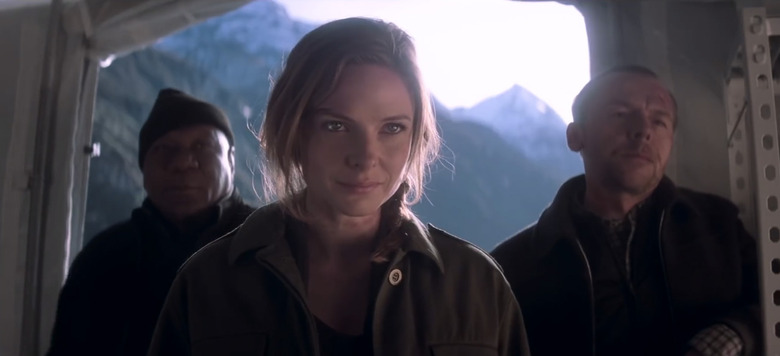 In just two weeks, the blockbuster summer will begin wrapping up with the eagerly anticipated action sequel Mission: Impossible – Fallout. And a new sneak peek at the movie shows us that we're going to end the season with a bang.
A new Mission: Impossible – Fallout featurette focuses on Ethan Hunt's reliable team, who face a formidable new threat. Franchise star Tom Cruise notes that the core team consists of Simon Pegg and Ving Rhames, but Rebecca Ferguson is back this time too. And they'll need all the help they can get since Henry Cavill looks like quite the force to be reckoned with, especially with that deadly mustache.
Watch the New Mission: Impossible - Fallout Featurette
The trailers have made it look like Rogue Nation scene stealer Rebecca Ferguson can't stay aligned with the Impossible Mission Force the entire time, so it'll be interesting to see how that plays out in the movie. Honestly, I wouldn't be surprised if Henry Cavill ends up coming around to working alongside the IMF when all is said and done. Perhaps he'll become a new honorary member of the team.
Meanwhile, Sean Harris is also returning, becoming the only villain to be featured in more than a single Mission: Impossible movie. Alec Baldwin is also back as the new IMF supervisor, and he's given some grief this time thanks to interference by Angela Bassett as one of the chief agents from the CIA.
Mission: Impossible – Rogue Nation filmmaker Christopher McQuarrie directs the new sequel, marking the first time a director has returned for a second film in the franchise. Will we see him get back behind the camera for another installment in the franchise? It might hinge on how Fallout performs at the box office when it opens in a couple weeks.Mission: Impossible – Fallout opens on July 27, 2018.
The best intentions often come back to haunt you.  MISSION: IMPOSSIBLE – FALLOUT finds Ethan Hunt (Tom Cruise) and his IMF team (Alec Baldwin, Simon Pegg, Ving Rhames) along with some familiar allies (Rebecca Ferguson, Michelle Monaghan) in a race against time after a mission gone wrong. Henry Cavill, Angela Bassett, and Vanessa Kirby also join the dynamic cast with filmmaker Christopher McQuarrie returning to the helm.