'Jurassic World: Fallen Kingdom' Has A Handful Of E.T. Easter Eggs You May Have Missed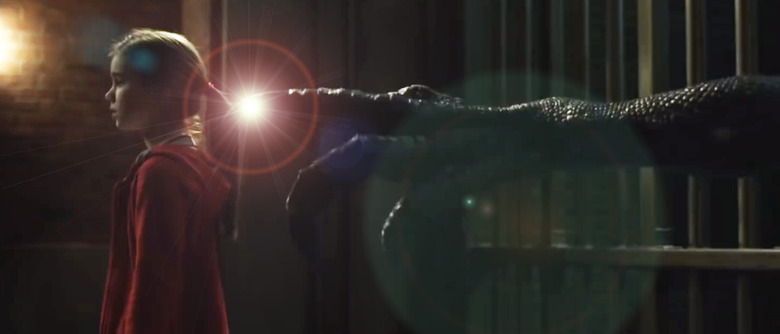 Jurassic World: Fallen Kingdom is still dominating the box office charts, pulling in $60 million last weekend, bringing the global total to over $934 million. That means plenty of dinosaur fans are turning out in droves for the sequel, which features plenty of callbacks to the other movies in the Jurassic Park franchise. But there are a few other references to one of Steven Spielberg's other films you might not have noticed.
Director J.A. Bayona has still been making the press rounds for Jurassic World: Fallen Kingdom, and in a recent interview he revealed there are a few Easter eggs referencing E.T. The Extra Terrestrial, though a couple of them may not be so quickly recognized or noticed. Find out what the Jurassic World Fallen Kingdom E.T. Easter eggs are below, but beware of spoilers for the end of the movie.
Yahoo sat down with J.A. Bayona to discuss some of the more spoilery details about Fallen Kingdom, and during that discussion he revealed some of the E.T. The Extra Terrestrial Easter eggs that make an appearance, including one big one in the film's final moments.
First up, the little girl Maisie Lockwood (Isabella Sermon) is wearing a red hoodie throughout most of her time in Jurassic World: Fallen Kingdom. The wardrobe choice was not by accident as it was meant to reference the red hoodie worn by Elliot in E.T. Bayona said, "That's very Amblin, very Spielbergian."
Something that's a little less Spielbergian but still tied to E.T. just the same is a certain toy that you can spot in Maisie's room when the genetically engineered Indoraptor makes is way into her room. When the Indoraptor ends up getting in a scuffle with the velociraptor Blue, Bayona says you can spot another E.T. Easter egg:
"In the dinosaur fight in Maisie's room, there's a lot of toys. And if you take a look at the toys, you will see there's an E.T. character there. You try to have fun, but at the same time you try to integrate that nostalgia into the story you're telling."
Finally, the one Easter egg that has potentially horrifying ramifications involves the final shot of the film. At the very end of the film, the dinosaurs that were removed from Isla Nublar during the volcanic eruption have all been let out into the wild. One of the dinosaurs we see out in the real world is Blue, scurrying across a rocky desert environment before stopping on a cliff overlooking a neighborhood. For those who have seen E.T. dozens of times, this neighborhood may be familiar. Bayona explains:
"You see Blue, and Blue is on top of this hill. And what you see is the same neighborhood where they shot E.T. I think it's great when you can make a connection with the other films because we have very emotional relations with these movies. We saw them when we were very young or when we were kids."
This makes us wonder if Jurassic World: Fallen Kingdom could possibly take place in the same universe as E.T. The Extra Terrestrial. Maybe there's an adult Elliot down there, still living in his mother's house, waiting for his alien buddy to come back. Maybe E.T. and his fellow aliens will be the ones who come in to save the world from being overtaken by dinosaurs in Jurassic World 3, which promises to be Rise of the Planet of the Apes with dinosaurs.