'A Quiet Place' Sequel Won't Be Rushed, John Krasinski Definitely Involved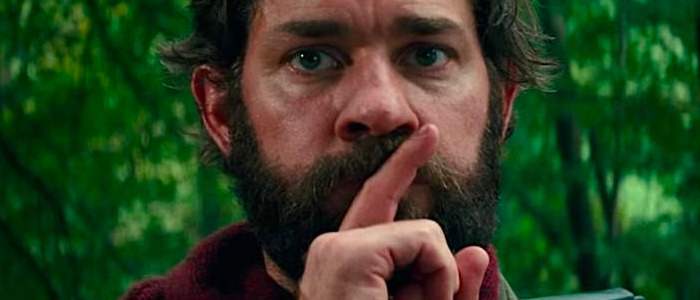 We may receive a commission on purchases made from links.
Earlier this year, the sci-fi horror thriller A Quiet Place took the box office by storm, pulling in nearly $330 million worldwide and garnering praise from critics and audiences alike. The suspenseful film left things a little open-ended for the possibility of a sequel, and not long after the film hit theaters, Paramount Pictures ordered a sequel. The good news is that they're not rushing the sequel into production.
A Quiet Place producer Andrew Form has been making the press rounds since the movie hits Blu-ray and DVD on July 10 (it's already available on digital download), and he discussed how the A Quiet Place sequel is coming together so far. Thankfully, the original film's director and star, John Krasinski, is still involved.Spoilers for the first film lie ahead. Collider spoke with Andrew Form leading up to next week's home video release of A Quiet Place, and he made sure to confirm John Krasinski is still involved in the sequel, even though his character didn't survive the movie. Form said:
"Oh [Krasinski is] definitely involved. We're lucky on this one. I've had movies where the studio says to you, 'Here's your date. Let's go!' and on this one we're not rushing anything, which is amazing. So we're gonna take our time, we're gonna figure out where to go, but there is no rush on it and we're just starting to talk about it. We're figuring out what everyone's involvement's gonna be and what the actual next movie's gonna be. The first one is so special to us that we really want to take our time with this and not rush anything."
As for what role Krasinski will have this time, Form wouldn't say. Krasinski directed, produced, and co-wrote the script with Bryan Woods & Scott Beck. It would stand to reason that he could have the same involvement in the sequel, but that remains to be seen.
It's good that Paramount Pictures isn't pushing the team behind A Quiet Place to fast track a sequel and get it out as soon as possible. That's the best way to ruin a good thing. The best move is letting the movie come together as naturally as possible. Form knows that they have something special with A Quiet Place, and they don't want to ruin it:
"It's such a special movie to us, the experience and everything. It's easy to rush these and we've made movies in the past where we've rushed them through and we've felt it, and we just don't wanna do it on this one. We really don't. We really just wanna take our time and as long as it takes, it takes. It has to be the right story, just like the first one. It just has to be."
The ending of the first movie was perfect. It was open ended enough to be cool, but still had resolution for the family at the center of the story. What will a sequel do with the story? It might be interesting if the creatures in the story had a hierarchy where those encountered by John Krasinski, Emily Blunt and their kids were only the lower level soldiers and scouts. Maybe there are superior creatures who aren't so easily thwarted by high-pitched frequencies. That's just one possibility though. We'll have to be patient to see how the sequel pans out.