'Ant-Man And The Wasp' Early Buzz: Another Fun, Hilarious And Self-Contained Adventure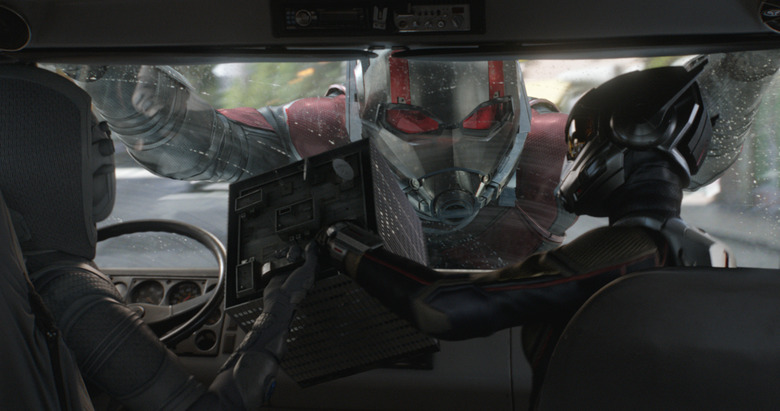 Late Friday night, the first reactions to Marvel's latest superhero sequel hit the web.
Ant-Man and the Wasp has been screened for critics, and the first reactions from social media have started to surface. So far, the buzz is pretty damn high with many calling it fun and hilarious, praising the creative use of size (both big and small), and one reaction even thinks it's Marvel's best sequel since Captain America: The Winter Soldier. That sounds like high praise, so without further adieu, we'll let the reactions speak for themselves.
First up, here's our own Peter Sciretta with his reaction to the sequel, which is a little more subdued than the rest:
Ant-Man and The Wasp is a lot of fun. At its best when it's almost an over the top silly comedy, less so when it's about the comic booky villain driven moments. Some fantastic miniature/maxature action sequences. @realmichaelpena steals the show again.

— /Film (@slashfilm) June 23, 2018
The movie has some surprising heart, great action, lots of laughs. If you liked the first film, you will be pleasantly surprised with this sequel.

— /Film (@slashfilm) June 23, 2018
Meanwhile, the rest of those lucky enough to catch the first advanced screening are a little more thrilled:
#AntManAndTheWasp is a freaking blast! Absolutely hysterical and the effects a incredible!!! Definitely see it in 3D! Also, my fav Stan Lee cameo ever! pic.twitter.com/C0oadNWz6M

— Jenna Busch-Henderson (@JennaBusch) June 23, 2018
Ant-Man and The Wasp is Marvel's best sequel since The Winter Solider. @EvangelineLilly is one of my new favorite super heroes. @MrPeytonReed knocked it out of the park!! Tremendous movie!

— BD (@BrandonDavisBD) June 23, 2018
Ant-Man and The Wasp is strong on the humor, amazing on the visual effects, creative in size manipulation, and clever in its "villains." Great movie.

— BD (@BrandonDavisBD) June 23, 2018
Ant-Man & The Wasp is crazy fun. Very self-contained, but brimming with energy, and full of cool and creative surprises. Super funny, and the entire cast is wonderful. I had a blast! pic.twitter.com/2lCeUGvzHW

— Eric Eisenberg (@eeisenberg) June 23, 2018
Ant-Man is my favorite Marvel movie. This is the sequel I'd been hoping for. I was grinning from ear to ear from start to finish. Irresistibly good fun. As exciting as it is funny, it locks along nicely and it's visually stunning! #antmanandthewasp pic.twitter.com/7tLSv84ujb

— Simon Thompson (@ShowbizSimon) June 23, 2018
What a year for Marvel! Absolutely loved #AntManAndTheWasp. Stellar ensemble and the humor is spot on. (Laughed myself to tears during one sequence!) The tech is used to great effect yet again. Unique, highly entertaining ride I can't wait to go on again.

— Perri Nemiroff (@PNemiroff) June 23, 2018
#AntManAndTheWasp is cool and all, but the end credit scene is the best part of the whole film and the only thing I can think about right now.

— Kylie Erica Mar (@KylieEricaMar) June 23, 2018
A tiny take: #AntManAndTheWasp was a total blast. Romantic, energetic and a lot of fun. @MrPeytonReed left unchained and left to his own devices is glorious and totally bonkers and brilliant. pic.twitter.com/QZ8okR76eG

— Drew Taylor (@DrewTailored) June 23, 2018
Just had the pleasure of seeing @AntMan #AntManAndTheWasp! It's so much fun and I can't wait to see it again. Loved seeing The Wasp @EvangelineLilly in action. pic.twitter.com/bsgtMWOcqf

— Wendy Lee Szany (@WendyLeeSzany) June 23, 2018
Ten minutes into #AntManAndTheWasp Paul Rudd sings karaoke so yeah you better believe it's my favorite movie of the year

— Rachel Paige (@rachmeetsworld) June 23, 2018
Ant-Man and the Wasp is superfun AND has the most Morrissey content of any superhero movie. recommended for both reasons

— Albert Ching (@albertxii) June 23, 2018
In a surprise to no one @MrPeytonReed's #AntManAndTheWasp is a ton of fun and had the crowd laughing beginning to end. @MarvelStudios has yet another winner. @Kevfeige makes it look so easy when we all know what he's done is next to impossible. pic.twitter.com/coixY7LG40

— Steven Weintraub (@colliderfrosty) June 23, 2018
I loved #AntManAndTheWasp. I don't think I've ever laughed so much in a Marvel movie, though Ragnarok is up there. Nice change of pace from Infinity War. The emsemble is perfect!

— Joseph Deckelmeier (@joedeckelmeier) June 23, 2018
Dug the heck out of #AntManAndTheWasp. Clever and charming with lots of heart. It's a bit exposition heavy, but otherwise a damn delight. One gag had me laughing so hard I was in tears and the post-credits scene is easily one of Marvel's best.

— Haleigh Foutch (@HaleighFoutch) June 23, 2018
***
So there you have it. Those are all the reactions that came out immediately when the social media embargo lifted. There might be more reactions on the way, so stay tuned for any additional takes on the film. As of now, this is good news for the Marvel Studios sequel. It sounds like they may have let director Peyton Reed get a little more oddball than he was allowed with the first outing for Ant-Man, and there's a chance it might rival the comedy of Thor: Ragnarok, which would be an impressive feat.
Of course, what everyone is going to be most curious about are the two post-credits scenes that Ant-Man and the Wasp has. Some of the reactions above allude to what is revealed in those credits scenes, and it certainly has my interest piqued. However, it sounds like the movie as a whole may not deal much with any connective tissue for Avengers: Infinity War. So maybe it's the post-credits scenes that create the direct connection to Avengers 4 that Kevin Feige was recently talking about in an Ant-Man and the Wasp featurette.
The full review embargo for Ant-Man and the Wasp will be up at 12pm ET/9am PT on June 27, so come back for a more extensive reaction to the sequel at that time. Otherwise, you'll just have to be patient and wait for the sequel to hit theaters on July 6, 2018.