Why The Hell Is There A New Kevin Spacey Movie Coming Out This Summer?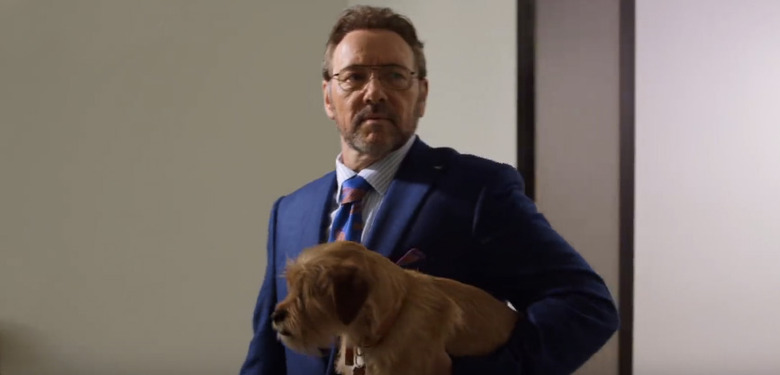 Last fall, Kevin Spacey became one of many powerful men in Hollywood to be shunned from the industry due to sexual misconduct. Not only was he suspended from House of Cards, but he was written entirely out of the final season of the show, and several other projects set up at Netflix involving the actor and producer were scrapped entirely. On top of that, he was replaced by Christopher Plummer in the kidnapping thriller All the Money in the World. But it looks like one movie couldn't ditch Kevin Spacey so easily.
Billionaire Boys Club follows the story of a group of Los Angeles private school boys, including Ansel Elgort and Taron Egerton, who set up a Ponzi scheme (or pyramid scheme) in the 1980s and somehow end up involved with a murder. Kevin Spacey stars as the man who bankrolls the scheme and ends up swindling them, and despite his presence in the movie, the film is still being released this summer.
Billionaire Boys Club Trailer
The above trailer hit the web last week from the film's international distributor, and it left many wondering it would get a release in the United States since Kevin Spacey has been exiled from Hollywood. The film was shot before Spacey's scandal made headlines, and since it's an independent production, it doesn't exactly have the money to reshoot scenes at this point, especially because it seems Spacey's role is much bigger than his part in All the Money in the World.
Here's what North American distributor Vertical Entertainment had to say to The Wrap about the matter:
"We hope these distressing allegations pertaining to one person's behavior — that were not publicly known when the film was made almost 2.5 years ago — do not tarnish the release.
We don't condone sexual harassment on any level and we fully support victims of it. At the same time, this is neither an easy nor insensitive decision to release this film in theaters, but we believe in giving the cast, as well as hundreds of crew members who worked hard on the film, the chance to see their final product reach audiences.
In the end, we hope audiences make up their own minds as to the reprehensible allegations of one person's past, but not at the expense of the entire cast and crew present on this film."
That's a good point. The movie was made by hundreds of other people who just wanted to tell a story. And thanks to the despicable actions of one person, it would be a shame for that movie to go by the wayside, especially with the likes of Ansel Elgort, Taron Egerton, Emma Roberts, and Billie Lourd involved. But surely audiences might find it rather difficult to even look at Spacey after learning what he did in his past.
Vertical Entertainment is likely just trying to lose as little money as possible by releasing the movie on VOD on July 17 along with giving it a limited theatrical release on August 16, 2018. So this shouldn't be viewed as a comeback by Kevin Spacey by any means, especially since the movie looks like Diet Wolf of Wall Street anyway. Plus, it's actually a remake of a 1987 TV movies starring Judd Nelson and Ron Silver, so maybe you should just seek that out instead.