Cool Stuff: 'The Real Ghostbusters' Are Getting A New Line Of Detailed Action Figures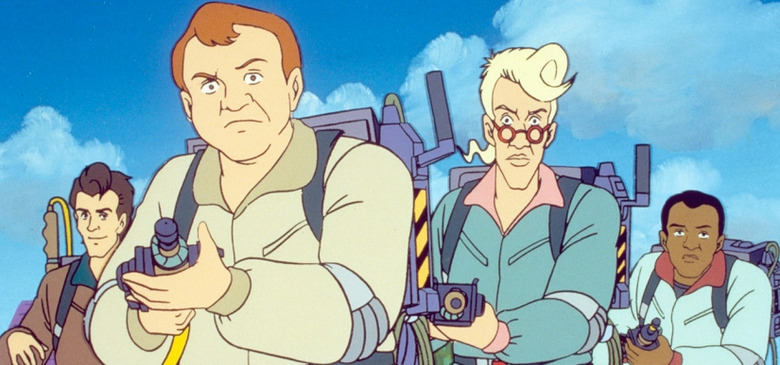 The Real Ghostbusters is one of the best animated TV series adaptations of a motion picture. After airing for five seasons from 1986 to 1991, it's still one of the most revered and beloved Saturday morning cartoons. And now the animated versions of everyone's favorite paranormal exterminators are finally getting a new line of action figures.
Diamond Select Toys has been releasing a spectacular line of Ghostbusters figures over the past couple years. But they've all been tied to both of the Ghostbusters movies. But now they're giving The Real Ghostbusters their own detailed action figures later this year. Check out a preview of them below.
On Ghostbusters Day last week, Diamond Select Toys announced the arrival of the figures: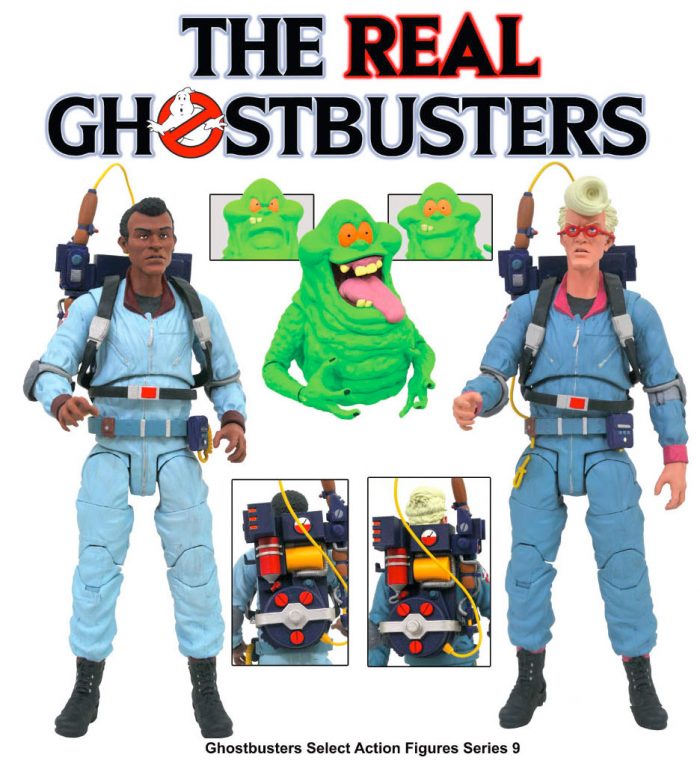 So far the new line of Ghostbusters figures have been focusing on Ghostbusters II, but when Series 9 and Series 10 arrives, it will include the animated versions of Peter Venkman, Ray Stantz, Egon Spengler, Winston Zeddemore and Slimer. As you can see above, Series 9 will bring Winston, Egon and Slimer first.
However, collectors beware, because if you purchase all of The Real Ghostbusters figures, you might be inclined to buy the rest of the Ghostbusters II figures assortments. Each of the figures is coming with a diorama piece that allows fans to build the front of the Ghostbusters firehouse, just as the first assortment of Ghostbusters figures allowed fans to build the rooftop scene from the end of the first movie. Here's a preview of them all that we saw from Toy Fair 2018 earlier this year: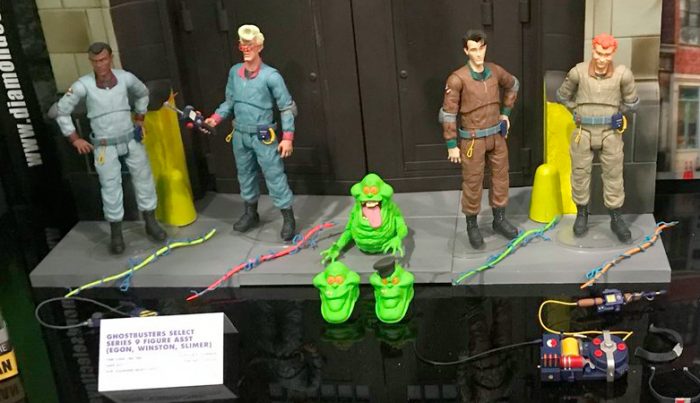 The Real Ghostbusters figures were designed by Yuri Tming and sculpted by Gentle Giant Studios. All of these figures are some of the best figures you can get without spending an arm and a leg on each of them. Pre-orders for the figures start this month for retailers, but they won't be on shelves until sometime later this year.
Here's the official press release for the new figures:
Fans have delighted to Diamond Select Toys' Select action figures based on the first and second Ghostbusters movies, with buildable dioramas of the Spook Central rooftop and the Firehouse façade. Now, it's time to get real! The highly anticipated Real Ghostbusters action figures go up for pre-order on June 20th, and we've got the first official pics of the figures based on the hit 1980s cartoon series!
Egon, Winston and Slimer make up the Series 9 assortment, with the two 'Busters wearing their color-coded jumpsuits and packing all-new, cartoon-accurate gear, and Slimer coming with a support stand and three interchangeable faces! Designed by Yuri Tming, and sculpted by Gentle Giant Studios, each figure packs approximately 16 points of articulation, and Slimer features all-new arm sculpts to better match his animated look.
Plus, each figure includes pieces to build the firehouse diorama – collect all 15 figures in Series 6 through 10 to construct the sign and front doors of the Ghostbusters headquarters! The firehouse features interchangeable parts, including teh sign and the "Hook & Ladder" lettering, so it can be converted from Ghostbusters to Ghostbusters 2 configuration.
Series 10 will feature Peter, Ray, and DST's first ever fully articulated Mr. Stay-Puft! That series will complete the firehouse, so be sure to pick up the Ghostbusters 2-based Series 6 and 7 now, as well as the imminently shipping Series 8.