'Mission: Impossible - Fallout' Featurette: Tom Cruise Throws Himself Out Of A Plane At 25,000 Feet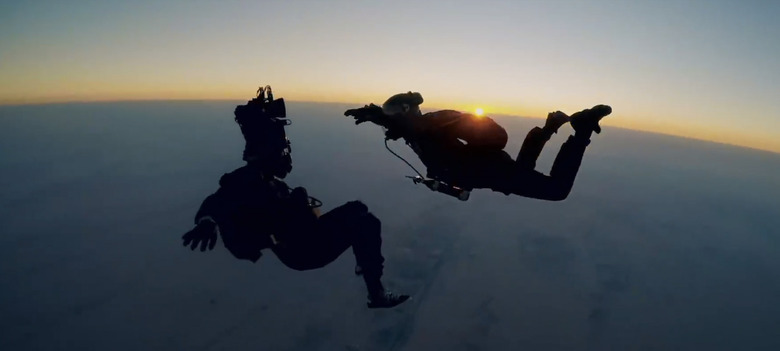 With every new glimpse we get at Mission: Impossible – Fallout, it looks like Tom Cruise is doing more stunts than he's ever done in a single adventure as agent Ethan Hunt. Our latest looks at the action sequel comes in the form of a featurette showing us how ole Tommy Cruise threw himself out a plane at 25,000 feet, performing what is called a high altitude, low open skydive.
Watch the Tom Cruise Mission Impossible Skydive Stunt Featurette
Tom Cruise is the first actor to perform a halo jump on camera, and when you see all the elements required to pull this stunt off, you'll understand why no other actor has done this. We previously heard Cruise jumped out of a plane 106 times for this stunt, but not all of them were a halo jump. Instead, there were multiple jumps out of other planes in order to rehearse how the halo jump would proceed.
While Cruise deserves plenty of praise for doing this kind of stunt, one that has plenty of things that can go wrong, let's also give it up for that camera man who has to jump out of the plane with him and keep the camera focused on him as they fall through the air. This was a jump that had to be performed three times too, since they can only shoot roughly three minutes of footage for each jump.
The older Cruise gets, the more bold he gets when it comes to pulling off stunts like this. I will rue the day when Tom Cruise is too old to pull stunts off like this. He's one of the few action stars left pulling off insane stunts like this, and everything we've seen from Mission: Impossible – Fallout makes us believe that all this effort will be worth a hell of a movie to close out summer blockbuster season.
Henry Cavill, Simon Pegg, Rebecca Ferguson, Ving Rhames, Sean Harris, Angela Bassett, Vanessa Kirby, Michelle Monaghan, Alec Baldwin, Wes Bentley and Frederick Schmidt also star in Mission: Impossible – Fallout, directed by Rogue Nation and Edge of Tomorrow helmer Christopher McQuarrie.
The best intentions often come back to haunt you. Mission: Impossible – Fallout finds Ethan Hunt (Tom Cruise) and his IMF team (Alec Baldwin, Simon Pegg, Ving Rhames) along with some familiar allies (Rebecca Ferguson, Michelle Monaghan) in a race against time after a mission gone wrong.
Mission: Impossible – Fallout hits theaters on July 27, 2018.