'Rick And Morty' Season 4 Delay Explained By Dan Harmon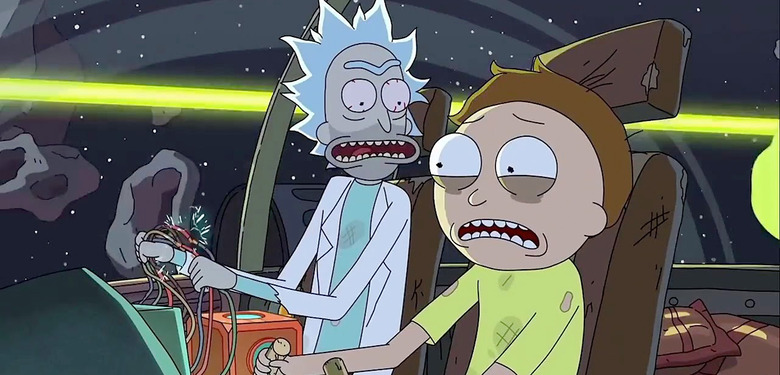 Adult Swim took a surprisingly long time to renew their massively successful animated series Rick and Morty. Back in March, we learned that complicated contract negotiations were holding up the renewal. Thankfully, those extended discussions led to the show landing an unprecedented renewal for 70 episodes. So why were these discussions so complicated? Series co-creator and executive producer Dan Harmon has finally explained it all.
GQ has an extensive and fascinating profile of Dan Harmon that is worth reading in full (not to mention a video of him breaking down some of the show's finer moments). At the time of the interview, the show hadn't yet officially been renewed and negotiations were still ongoing. As is usually the case with most contract negotiations, the core issue was money, but not because Dan Harmon and Justin Roiland were being greedy. The article explains:
"'It has [been renewed], but we're still in negotiations.' Harmon and Roiland say they're holding out for a contract that grants them immortality. Or, if immortality is unavailable, at least 'many, many, many more seasons,' and enough money so that, as Roiland says, Harmon 'doesn't have to take 12 other jobs while we're working on season four.' That way, Harmon can give Rick and Morty the full attention it deserves. To be able to follow his bliss, without taking on a dozen other tortures-for-hire."
Fans have known that the process to finish a season of Rick and Morty has always been a long one. Much of the difficulty to complete new seasons has been attributed to the unorthodox working style of Harmon and Roiland, both troubled geniuses who have publicly discussed their struggle with alcoholism as well as perfection. But this would seem to indicate that their paycheck for a season of Rick and Morty didn't keep them covered long enough for the kind of commitment it requires. Both Harmon and Roiland apparently had to take other jobs while working on the show in order to stay afloat financially.
Harmon previously hinted at this challenge when he posted a sarcastic response to an indignant fan on Twitter, "On one hand, it can be challenging, especially with crippling lazy alcoholism, to write a show that hasn't been ordered by a network." Thankfully, this new renewal for Rick and Morty allows Harmon and Roiland a bit of breathing room. Harmon says:
"I can finally actually breathe and be as excited as I've wanted to be... From now on, the reason I'm not writing the show will be because I'm done writing it for the day, and I'm having fun. That'll be nice."
Hopefully now some of the more belligerent side of the periodically problematic Rick and Morty fanbase can stop pestering Dan Harmon and Justin Roiland to get cracking on the new season of the show. They're writing now, and they'll be writing new episodes for the foreseeable future. Just sit back, be patient, and let them work at their own pace.