Watch Michelle Wolf Star In 'Strong Female Lead: The Movie,' Courtesy Of Her New Netflix Show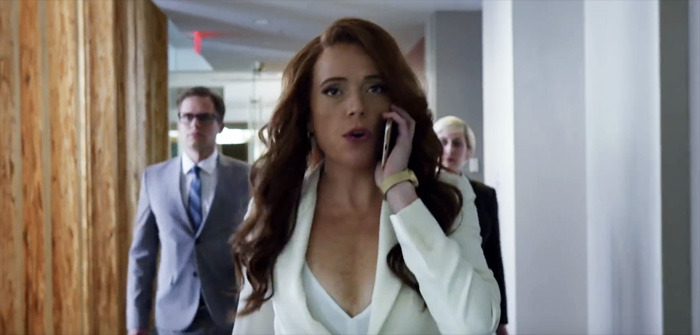 Comedian Michelle Wolf made waves and headlines after her bits from the White House Correspondents' Association dinner rubbed some of the thin-skinned politicians in attendance the wrong way. But before all that went down, she was already getting her own Netflix show, and a new sneak peek has just debuted online.
The Break with Michelle Wolf is a new comedy series that will blend stand-up and sketch comedy that "will take a break from the seriousness of today's late night comedy." This new extended look at the series comes in the form of a parody trailer for Strong Female Lead: The Movie, which feels like it's taking aim at Molly's Game and some other movies with built around the cliche of the no-nonsense, tough-talking women.
The Break with Michelle Wolf Trailer
Michelle Wolf was already becoming quite prominent before the White House Correspondents' Association dinner fiascio due to her stint as a correspondent on The Daily Show, not to mention touring with some big name comedians, getting her own HBO special, and appearing on plenty of late night talk shows. She's not just one of the best female comedians working today, but one of the best comedians in general.
It's a real shame that Michelle Wolf drummed up controversy for doing the exact job she was hired to do while certain people in the government and media just had no sense of humor about it. That's what makes them such easy targets. Plus, we learned that it's perfeclty fine when our so-called president insults women, the disabled and people of other races, but when a comedian makes some jokes about the people who lie to our faces everyday and are running this country into the ground, that's worth serious assessment and uproar.
Personally, I can't wait to see what else Michelle Wolf and her staff of writers behind this show have to offer. Though Netflix might catch some flack for giving anybody and everybody their own Netflix special, not every comedian gets an opportunity for their own series like this. But even if this series isn't a home run at least half of it will be solid. After all, we know that Wolf is still killer on the stand-up stage. Since there will be plenty of stand-up interludes on this series as well, not unlike Chappelle's Show, Key & Peele and Inside Amy Schumer before it, at least half of the show will bring the laughs. Here's a prime example:
The Break with Michelle Wolf will have new episodes every Sunday starting on May 27, 2018.