Kevin Hart Will Lead 'Uptown Saturday Night' Remake Without Will Smith Or Denzel Washington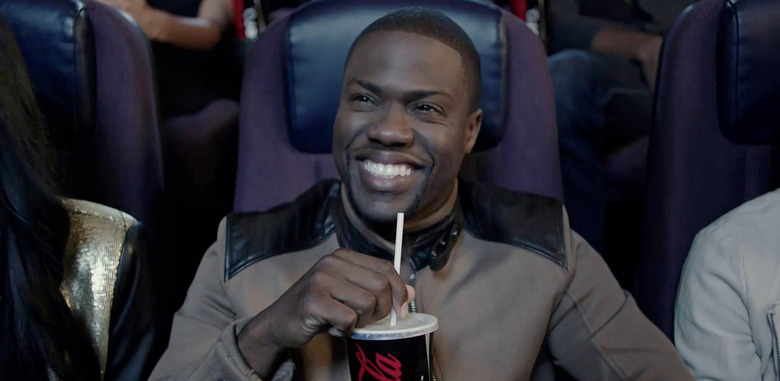 It's been years since we heard about the gestating remake of Uptown Saturday Night. But the project appears to be back on track, albeit with some changes behind the scenes and in front of the camera.
The original 1974 comedy Uptown Saturday Night starred screen legend Sidney Poitier and sexual assaulter Bill Cosby as two friends who sneak out to visit a high-class but illegal club, and it ends up bringing them more trouble than fun. A remake was once in the works a few years ago that would have had Anchorman helmer Adam McKay directing Will Smith and Denzel Washington in the lead roles from a script by Forgetting Sarah Marshall scribe Nicholas Stoller. But that's all in the past.
Now Kevin Hart is slated to start in the Uptown Saturday Night remake, and Will Smith will only be producing by way of his Overbrook Entertainment production banner alongside his partner James Lassiter. But that's not the only change behind the scenes.
If you haven't seen the original Uptown Saturday Night, here's the trailer:
Variety reports the Uptown Saturday Night remake is on the search for a new director to take over the project, which now has a new draft written by Black-ish creator Kenya Barris. Warner Bros. and Overlook want to have a new director locked down before they find a co-star to share the screen with Kevin Hart.
Back in 1974, Sidney Poitier at the height of his fame and Bill Cosby at a time when he was still a respected comedian was an interesting pairing. Teaming up Denzel Washington and Will Smith sounded like it could have been quite the prospect, especially in a comedy. But with Kevin Hart in the lead, who should star alongside him?
Lately Kevin Hart has found great success with comedies that perfectly match him with a worthy co-star. Dwayne Johnson helped Hart make Central Intelligence a success (as well as beefing up the ensemble of Jumanji: Welcome to the Jungle), and later this year Tiffany Haddish will try the same with the comedy Night School. But it seems like maybe Hart needs to be paired with an actor more known for his dramatic chops to make this really interesting.
Perhaps Chadwick Boseman would make a good counterpart? Or maybe O'Shea Jackson Jr. deserves a shot? Anthony Mackie does a nice job of dancing the line between comedy and drama, so that could be a fun team up. Maybe Hart should get matched up with somebody a little bit older like Idris Elba. There are a lot of possibilities, and hopefully this iteration of the project finally gets off the ground with a promising duo.