Rick Moranis Is Officially Part Of Netflix's 'SCTV' Reunion Directed By Martin Scorsese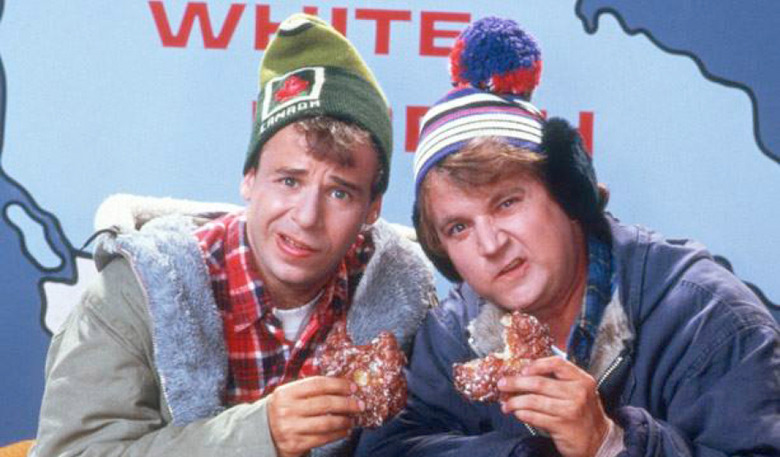 Last month, we got the shocking but incredible news that not only did the cast of the Canadian sketch comedy series SCTV have a reunion special coming to Netflix, but none other than Martin Scorsese would be directing it. Now we have even better news about the SCTV reunion special.
Rick Moranis has been confirmed to join previously announced cast members Joe Flaherty, Eugene Levy, Andrea Martin, Catherine O'Hara, Martin Short and Dave Thomas for the SCTV reunion special that will hit Netflix sometime in 2019.
Netflix announced the addition of Rick Moranis to the SCTV reunion special in a press release today. It marks another surprising return for Moranis, who has been pseudo-retired from acting for over a decade. But Moranis made headlines earlier this week with a reprisal of his role as Spaceballs villain Dark Helmet in an episode of the ABC sitcom The Goldbergs. Now it seems like this could just be the beginning of a Moranisance.
The last live-action role Rick Moranis took was in the straight-to-video sequel Honey, We Shrunk Ourselves in 1997. But Moranis did voicework for Disney in the Brother Bear franchise in the 2000s. In addition, Moranis also lent his voice to a couple animated projects where he played his famous SCTV character Bob McKenzie alongside fellow comedian Dave Thomas as Doug McKenzie. The duo previously got their own big screen adventure in a movie called Strange Brew, but perhaps you know them best from the their recurring comedic edition of the "12 Days of Christmas" that always hits the radio every holiday season:
Hopefully Rick Moranis and Dave Thomas will be back as Bob & Doug McKenzie for the SCTV special, which will explore the legacy of the sketch comedy show that inspired generations of comedians along with the likes of Saturday Night Live. We've yet to hear if the special will be along the lines of the SNL 40th anniversary special that had new sketches alongside nostalgic clips, but that's what we're hoping for. It's just a shame Harold Ramis and John Candy aren't here to partake as well.
Otherwise, we know the SCTV reunion special will partially feature footage from an interview panel called An Afternoon with SCTV that will be moderated by Jimmy Kimmel and held this Sunday at the Elgin Theatre in Toronto, Canada. Limited tickets are still available if you want to check it out.