'Deadpool 2' Featurette Goes Behind The Scenes Of Celine Dion's Amazing Music Video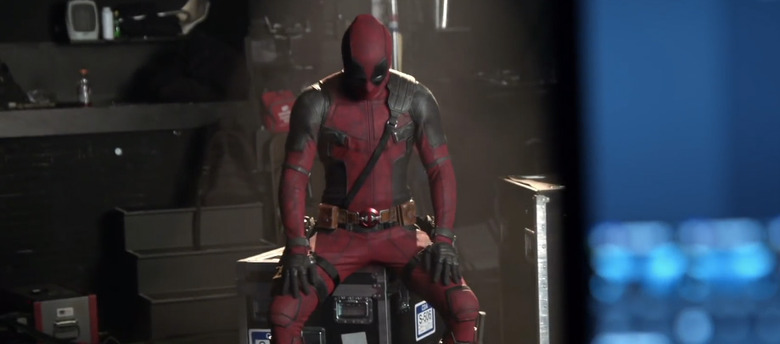 Last week brought the debut of a Deadpool 2 music video that was not what we expected at all. Celine Dion starred in the music video belting out a new single called "Ashes" that will undoubtedly be the breakout song from the Deadpool 2 soundtrack (though the R-rated score might give it a run for its money). And of course, the music video featured the Merc with a Mouth being classier than ever, dancing around Celine Dion beautifully and gracefully.
Now a Deadpool 2 music video featurette takes us behind the scenes of the making of this music video. Ryan Reynolds gets plenty of screentime talking about the production, and he even gets a moment to talk to Celine Dion. Surprsingly, the diva has some questions about the legitimacy of the Merc with a Mouth's chest.
Deadpool 2 Music Video Featurette
It's quite surreal to see Celine Dion on set alongside Deadpool. Years ago, the thought of a Deadpool movie was just a pipedream, and now the Marvel Comics assassin is appearing alongside one of the most beloved divas in the music industry. Perhaps even more ridiculous is that this positions Deadpool 2 to potentially get an Oscar nomination for Best Original Song, which is probably the best chance that the superhero movie has at an Academy Award.
Deadpool Got Some Help from a Professional Dancer
Even though Ryan Reynolds is running off at the mouth as Deadpool in this music video, the Green Lantern star isn't inside the red suit for all that interpretive dancing. The actor revealed on Instagram that the dancing was performed by Yanis Marshall:
Reynolds posted this caption along with the photo:
"Ever wonder, "How does Ryan Reynolds dance so beautifully? Did he have 8 bones surgically removed from his body in order to move as if a graceful swan had sex with Fred Astaire?" The answer may surprise you. Yes. I did have 8 bones removed from my body. But the dancing was all Yanis Marshall. This man is not just a dancer... he's an elite athlete, hero, and all around hilarious person. Follow him on Instagram. Put him in movies. Throw confetti at his feet when you see him. He is a gift to this weary world."
Indeed, Yanis Marshall pulls off some beautiful dance moves in this music video. He looks like the kind of man who could easily maneuver through a laser security system to steal a priceless artifact.